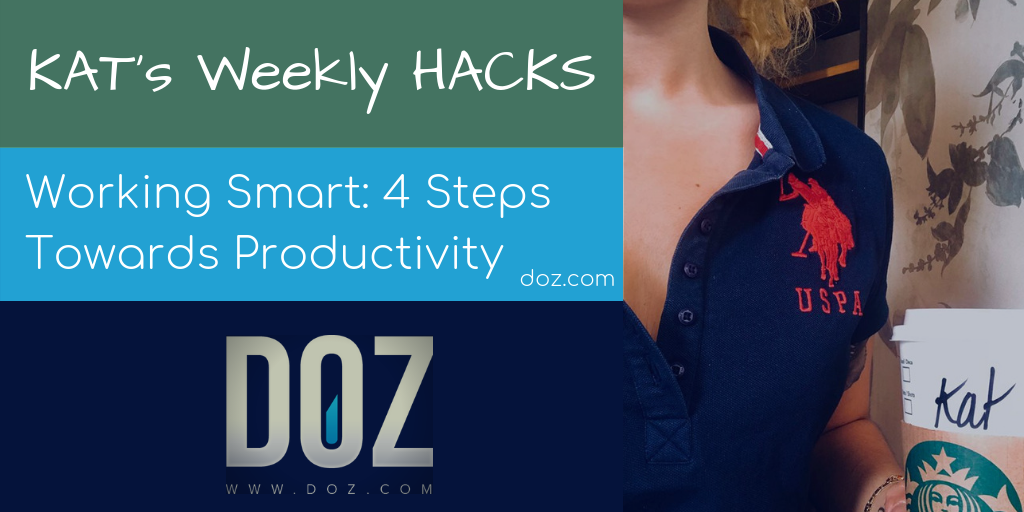 As I have been busy with Varanida lately, I am still finishing up the social media articles. Meanwhile, today, I would like to talk about productivity.
Many people mistake being busy with productivity.
I would like to make it clear that although one implies the other, it does not mandatorily work the other way round. Indeed, when you are productive, you are busy; however, you can be busy without being productive. What is the difference between 'busy' and 'productive'? For the noobies around here, Jennifer Cohen explains it in Forbes:
"There is a huge difference between being busy and being productive. You can be busy all day and still feel like you're behind on accomplishing your goals."
The last sentence is the key difference between productivity and busyness and : productivity takes you a step closer towards your goals while busyness makes you stagnate. To make it easier, you can classify productive and unproductive activities by asking yourself that simple question: by doing this, am I going forward in my mission?
Take the most basic example: doing the laundry.
Is it productive? Well, it depends.
It is if you need clean clothes for later today or tomorrow, but it can wait if you only have a few dirty. It is productive if you need to wash your suit for that meeting tomorrow, it is not if all you are washing are these sandals you only wear in Summer (note taken that we're in Fall).
As a Millennial (I assume) and as a 21st Century First World Country Inhabitant, distractions are always at hand to drive me away from productivity. Any email to answer for work? Cool, I'll check my phone and see I've received texts, let's check them too and start a three hour conversation with my best friend about government conspiracies… (Yes, it is that bad.)
In order to escape my instinctive lack of focus, I have figured out a couple tricks to trick my mind into being productive. These usually productivity work on me as long as I set my mind to it. I hope they help you too.
1 – Prepare the field (the game is about to start)
Firstly, stop thinking you can be productive by working. Working is indeed part the process; however productivity is not limited to working hard. In fact, productivity is more about working smart than working hard. There are pieces of equipment from Archute that are effective in boosting productivity. Check them out yourself. 
And to work smart you must plan.
Pick up a sheet of paper or your Notes app and brainstorm all you have to do. 'All' includes recurring tasks, one-time missions, and full on projects.
Then, you must classify them in order of importance. For projects, divide them in several tasks and apply deadlines to each of them. Remember all of your tasks must have a deadline; otherwise you might never achieve them.
Thanks to these deadlines, you will be able to prioritize and determine which task is the most important to achieve today.
Depending on your personality type and habits, you may want and/or need to plan out each hour of your day. Please note that not everybody functions well with a rigid timetable. Some of us need strict discipline while others require more flexibility. Do not try to force yourself into a system that does not work for you.
2 – Wake up (but make yourself comfortable)
Once the field is ready, the game can start. Yes, now is the time to wake up. You should wake up early (Note: 'early' is a relative notion. For late sleepers 9am can be early, and it is perfectly fine, as long as you manage to have a morning, you are good.).
Why? To take your time.
It is not because you are waking up at 7am that you start working at 7am. In fact you can easily start at 8 or 9, but getting these one or two extra hours awake will help your brain to calmly rise from the sleeping state.
Organize a productivity morning routine to start off in a positive mood, and visualize your day ahead.
You will feel happier, and calmer. Your thoughts will be clearer and you will be more effective; and thus, more productive. 🙂
3 – Do not feel guilty (you'll
really
do it tomorrow)
When busy, you tend to have 100 tasks to achieve in 12 hours, and it seems like you have no time for yourself or for leisure time. In fact, when you do take a pause, you feel guilty. Do you know that dark playground area?
When you stop being busy and start being productive, you leave this area of productivity. You start organizing your day according to your priorities (see #1) and while you decrease the number of tasks achieved per day, you increase your efficiency. Actually, you even have the time to take a break and spend time on activities that truly matter to you.
If you have designed your day to achieve 7 tasks but end up completing only 4, it is fine. In fact, with a little productivity organization, time, and practice, you will be ahead. You can actually say "I'll do it tomorrow" and do it tomorrow. No guilt involved!
4 – Do what you like (that's also being productive)
Truth is: productivity is a constant habit. Is about throwing away your old bad procrastinating habits. Changing one's functioning (especially when you have been doing it wrong for years) is a tough challenge that requires constant care.
Try organizing your free time so as to do what you truly like instead of spending hours watching TV or zoning on social networks. Scheduling quality time with friends, watching a good show, writing a blog post, etc. are also productive ways to spend your leisure time.
Is not that feeling familiar: working all day and once finished realizing that other than that you cannot figure out what to do with your life? (Yes, it also works after binge-watching a TV show.) Planning or thinking ahead prevents that. Productivity prevents that annoying state of mind.
In the end, I have noticed that productivity is what makes one happy. Doing something, feeling useful is a basic human need. In the end, by being productive, you enjoy your free time much more.