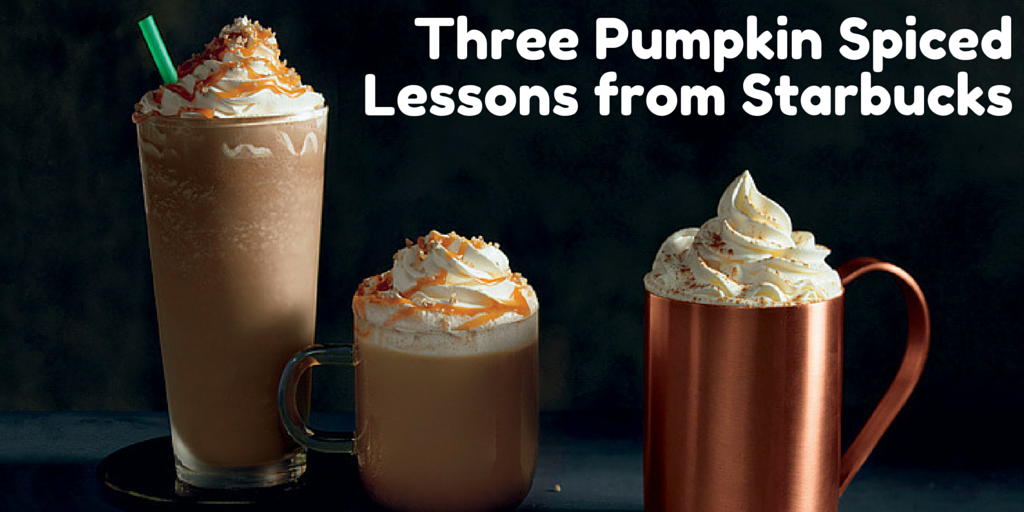 It's finally Fall and that means the leaves are turning brown, Halloween is approaching fast, and Starbucks is selling its famous Pumpkin Spice Latte once again.
While brown leaves have been a part of the season since, well, trees, and though Halloween has been long celebrated, too, Starbucks has only promoted its seasonal drink for a little over ten years.
Yet what a ten years that has been!
The Pumpkin Spice Latte has risen from regional delicacy – it was first tested in only a couple of US cities – to a global phenomenon with a ravenous fan base and even its own hashtag: #PSL.
A marketing juggernaut for the Seattle-based coffee chain, millions of cups of the seasonally spiced latte are sold annually in Starbucks stores from San Francisco to Shanghai and Sydney.
What's even more amazing is that the Pumpkin Spice Latte has now become an annual purchase for many millions of Starbucks customers, predictably driving monthly revenues for the company up in the months ahead of the already-busy Thanksgiving and Christmas period each year.
Pumpkin Spice Mania
The success of the Pumpkin Spice Latte has seen other brands embrace the seasonal spice trend.
Some, like competitors Dunkin' Donuts, have embraced the pumpkin theme with everything rom Pumpkin Coffee to Pumpkin Muffins and Pumpkin Donuts, too (obviously).
Others have added pumpkin spices to everything from baby food to yoghurt, with CNBC calling the retail trend 'pumpkin spice mania'.
With 37% of consumers admitting to buying a pumpkin spiced product this Fall, it's easy to see why businesses are jumping on the Starbucks-driven bandwagon.
But even if your business is not in the food and drink trade, there's still a lot you can learn from the way in which Starbucks has driven their Pumpkin Spice Latte promotion over the last decade.
Here are three PSL's (that's Pumpkin Spiced Lessons!) drawn from the Starbucks experience for any business looking to drive seasonal sales this Fall.
PUMPKIN SPICE LESSON #1: GO SOCIAL
The Starbucks Pumpkin Spice Latte might taste good, but it photographs even better!
In fact, search Instagram or Twitter for the hashtag #PSL and you'll find hundreds, if not thousands, of Fall fans sharing their seasonally spiced shots.
While the individual users are making the posts, Starbucks is encouraging the sharing – and with good reason. Every image of the drink pushed out to friends, family, and followers on social media is promoting the warm orange flavors Starbucks is selling.
That the hashtag #PSL doubles as the barista code on the side of the cup doesn't hurt either.
How can you emulate Starbucks and their social success?
Encourage customers to take photos of your products in action and to share them on social media. Studies demonstrate time and again that images are shared far more often than text-only updates on social networks, so embrace the research and get those photos shared.
In addition, take ownership of a hashtag on social media. Don't just choose a hashtag with seasonal appeal – #autumnafternoons of #fallflowers – but choose something specific to your business that won't get hijacked or confused with another business.
PUMPKIN SPICE LESSON #2: REJECT THE STATUS QUO
Starbucks didn't introduce the Pumpkin Spice Latte for kicks.
And it didn't introduce the Pumpkin Spice Latte because it's baristas needed to be challenged by yet another drink recipe.
It introduced the drink because it wanted to capitalize on a time of the year where coffee sales could drop off significantly. Between the slow days of summer and the increased trade around Thanksgiving, retailers often face issues in motivating consumers to make purchases. Particularly at a time of the year where families are spending up big on school supplies and college-associated costs, sales can drop on non-essential items precipitously – and, yes, there was a time when a Pumpkin Spice Latte was considered a non-essential item!
Starbucks was unwilling to accept this status quo and, instead, found a way to lift revenues in an otherwise slow season.
Could your business do the same?
Consider where the peaks and troughs in your business cycle are. Perhaps you, too, face a season where things slow down a little more than you'd like. Can you find a product to bring customers back when they would normally be focused elsewhere?
Or perhaps your business moves to a daily or weekly rhythm: if Wednesday is your slow day, what can you do to change things? Or if mornings are always slow, what can be done to address this?
Don't accept the rhythm of your industry, especially if that rhythm can be changed to your advantage!
PUMPKIN SPICE LESSON #3: LISTEN TO FEEDBACK
Everyone loves a Pumpkin Spice Latte, right?
No.
In fact, in recent years some people have created a stir online and offline questioning just how pumpkin-y the PSL actually is. Most notably a blogger known as the Food Babe wrote an extensive and high-profile post in 2014 about the artificial ingredients in Starbucks' seasonal spice mix:
I really love the smell of pumpkin (especially in the Fall), but, there is at least one seasonal pumpkin treat that I will never order and that's the Starbucks Pumpkin Spice Latte. With more than 200 million sold to date, these drinks sell like hotcakes this time of year, and Starbucks CEO Howard Schultz said it "still ranks as its most popular seasonal beverage". But, does anyone know what's really in it?
Starbucks listened to the feedback and particularly the criticism that the blogger (and the mainstream media) made of its pumpkin spices not actually including any pumpkin.
Reacting to the feedback, Starbucks' 2015 version of the Pumpkin Spice Latte comes with real pumpkin spices, as the Denver Post reported with this customer-barista exchange:
"I'll have a tall, Pumpkin Spice Latte. Full fat. Give me the whipped cream." I told the cashier. "And aren't they made with real pumpkins now?"
"Yep!" she squealed. "Real, California-grown pumpkins. Before it was just a bunch of spices."
When Starbucks got criticized, they reacted, found a solution that customers would prefer, and introduced it the very next season.
Can your business do the same?
Customer feedback – positive and negative – is some of the most important feedback that any business can receive. Like Starbucks, you should embrace it, work from it, and continue to meet the expectations of the people who pay your bills.
Conclusion
The Fall is a beautiful, colorful time of the year, and nothing warms you up quite like a seasonal Pumpkin Spice Latte from Starbucks. But as much as you might enjoy the taste, you can take more away from the PSL experience that just a slightly orange milk mustache. Starbucks' experience in delivering a decade of autumnal drink sales serves as a great example of how to get your business right, whether on the social networks, in underperforming parts of the business cycle, or in terms of reacting to customer feedback.
What is an earning experience for Starbucks can be a learning experience for your business. Next time you order up your favorite Fall drink, keep the lessons from the season in the back of your mind.