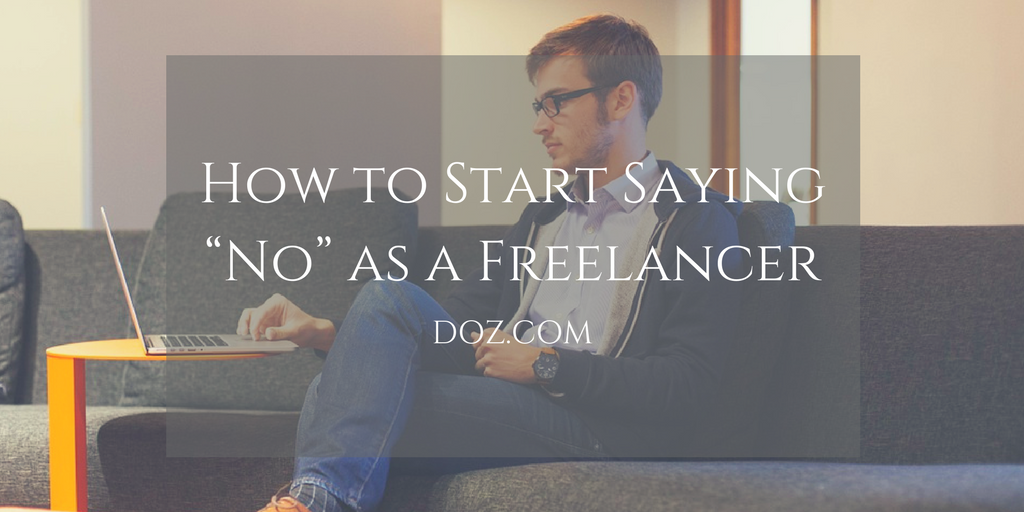 ---
This is a guest post by Josh Elkin, freelancer and founder of Best Coast Marketing a marketing agency that helps increase our clients' traffic through organic link building. Josh enjoys writing about entrepreneurship, marketing, productivity and self-improvement.
---
For many freelancers just starting out, the idea of one day having so much business that they have to turn clients away seems like a dream. It's the goal towards which they strive, but like a dream, it often seems far off. Freelancers just starting out face a very different problem: finding any work at all. Often in the beginning, freelancers will take almost any job offered to them just to pay the bills and add something to their portfolio.
It's not a great position for anyone and can often lead freelancers to taking work that takes advantage of them or work with which they're not entirely comfortable. Eventually, however, most freelancers find good clients who recommend other good clients, and soon they have their pick of work available to them. It's a blessing to reach this point when it comes to finances. It can also be stressful and lead to freelancers in over their heads with too much work if they haven't learned how to say "no."
Saying "no" to potential clients who offer you work might not make you any money, but it will certainly give you peace of mind so you can focus on the work you do want. Saying "no" enables you to actually do the work you enjoy, and not just get by doing whatever you have to do. But saying "no" can also be challenging. For a freelancer, connections are bread and butter. You don't want to offend a client by having to drop them. Add to that the human fear of confrontation, that if you say "no," someone might take it badly, and learning to say "no" can be a bit daunting. It is a necessary skill for any freelancer, though, especially if you can do so tactfully and avoid conflict.
Know What You Can Take On
It's difficult for beginning freelancers to know how much work they can take on without being swallowed by it, and that's okay. The first few months tend to be trial-and-error for freelancers, but take note of what you learn along the way. If you're a freelance web designer, how quickly can you write the code for one web page? Perhaps more importantly, how much work can you take on in a week before you burn out? You should also consider your schedule outside of your freelance work. Do you have another job alongside your work as a freelance website designer? Do you have a weekly book club on Thursdays on the other side of town? Do you have to walk your dog throughout the day? You can also search for recruitment agencies near me to get more job opportunities.
Know Your Comfort Level
If you're a freelance writer and you're uncomfortable with a particular niche, it will show in your writing. If you prefer to write about music, you probably don't want to have to write about yachts, and your client probably doesn't want someone uncomfortable with the subject material to do so, either. Likewise, if you're a graphic designer who specializes in book covers but feels like a fish out of water designing a corporate logo, then a client asking you to design the logo for their law firm probably isn't for you. You might also have personal reasons for not wanting to take a job, and there's nothing wrong with that. You don't have to go into great detail about your reasons for turning the job down, but you are entitled to turn the job down.
Know What You're Worth
Another issue might be a job offer for too little money, or one that seems to take advantage of you. Freelancers frequently receive offers from clients who don't want to pay, but claim the work would be "good exposure" or "good training." Some freelancers want that exposure and take the job, while others aren't quite comfortable with giving away their skills for free. After all, chefs don't cook for free to gain exposure, nor do interior designers design a hotel suite for free in order to master their skills. Don't sell your work short. Be honest with yourself and know what your skills are worth. If a potential client offers you too little, try to counter offer, but don't settle for less than you deserve.
Know What to Say
What you say in turning down a potential client or dropping a client is up to you and often depends on the situation. Tactful honesty is the best way to go: "I'm sorry, I'm just not comfortable with being paid that much less than my standard rate" or "I need time to focus on other projects" are both acceptable ways to say "no." This is not the time to air your grievances with a client or potential client. Always be respectful and thank them for the opportunity. Make sure that you don't burn any bridges unless you're absolutely comfortable doing so.
Know Other Freelancers
One way to soften the blow when you have to turn down work is to recommend another trusted freelancer for the job. This is always good freelance etiquette if you're dropping a client that you've worked with for some time. However, even turning down potential clients offers the opportunity to help out another freelancer by recommending them for the job. This ensures that the client isn't left hanging with no one to do the work, and it keeps your relationship with them friendly in case you want to work with them again at some point.
Know Not to Drag Things Out
Sometimes a freelancer and a client simply have bad chemistry. In this case, it's best to try to suss that out before you take the job. Pay close attention during the interview process to get a sense of the work they need as well as who they are as a person. You may notice warning signs that tell you then that this person isn't someone you want to work with, and you can turn down the work there. If you find yourself with a client or a job that makes you uncomfortable, however, don't drag it out or try to force it. The longer you wait to say no, the more awkward it has the potential to become. If you can improve the situation, try to talk it out. If you don't feel that you can, it's better to let them go to find someone who can do the job than to stay in a bad work environment.
One of the greatest benefits of working as a freelancer is that you have some choice in who you work with. One of the greatest challenges is having to stand up for yourself, because no one else will. In a feast-or-famine market, saying "no" might feel like a risk you can't afford, but it's much more damaging to be too busy with jobs that aren't a good fit to take on the jobs you want.