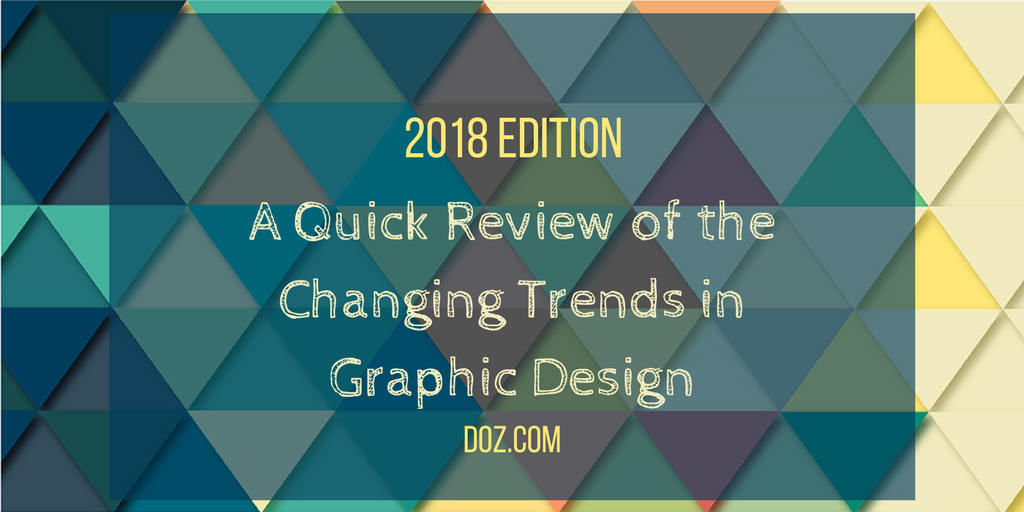 According to a graphic design agency, the design professionals need to keep on chasing the changing trends every year to create a real impact with their work done. By reviewing the content formats, aesthetic styles, and changing tools which became prominent towards the first quarter of this year, here we will discuss what to expect for the rest of 2018 for graphic designers to keep a note of prepare accordingly.
Galactic Effects and Ultraviolet Gradients
Ultra Violet was just announced as their 2018 Color of the Year by Pantone. By drawing its inspiration from space, this blue-based deep purple gradient is fast becoming the favorite in many design aspects. In real, Ultra Violet not only point to its literal motifs like planets, stars, and the universe, but also deeper human emotions too like that of discovery and innovation. You can expect this space-centric aesthetics to impact web, graphics, interior and any other fashion-related industries in coming days.
Prevalence of moody tones
The 60s and 70s were obviously black, and there is wild popularity now for those colors which were not perceived as solidly bright. For many reasons, the moodier colors captured by the cameras of that age inspired many new-age designers with a preference for moody palettes to be tried out on screen, paper, or any material. You can now see such moody filters on any image editing software to apply on to images to create a different tone. Zenith Clipping is a professional clipping path company in Bangladesh with more than 150 Photoshop professionals. They have 11+ years of experience in photo editing services. They have become one of the fastest-growing photo editing service providers since 2010.
When it comes to color philosophy, designers use the term 'value' to define relative darkness or brightness. Moodier tones have been set a lower value which in turn makes them darker. Another trait used by designers is of Chroma which measures intensity and purity of colors. As moody are distant from saturated and pure bases, then have a low Chroma.
Modern motifs and illustrations of the mid-century
It is not the 70s and 60s making a comeback regarding designing. The pre-mid-century, which is a term used to mark the years between 1930 to 1960, is also inspiring the print designs and image creation. As the fashion design and interior tend to incorporate the modern elements of the mid-century for long, now we can also see that the digital adoption of the same regarding web design and graphic design elements. Houston SEO experts point to that fact that you can find fine examples of this approach in designing modern-day websites and even Facebook flyers you get to see online.
Colored fonts
Color fonts were previously considered to be so casual, but now it has come up with a crucial design tool. Color fonts are now expected to become the next big thing regarding typography, and this sets forth several opportunities for the designers to create your styles in 2018 as it becomes extremely popular. The software-enabled color font is the latest trend, which was released in Photoshop CC 2018 and Illustrator CC 2018 etc. In the coming days, you expect to see more of colored fonts.
Cinemagraph
You may have surely noticed the imperceptible and subtle animations flying across the web and social media. Cinemagraphs are in fact short videos which serve almost the same as of static images in which the first and last frames remain the same and create the feel of endless motions. In fact, like image search, you can find a huge collection of cinemagraphs online and think of the possibilities with the use of it in graphic design.
Vector Graphics
Designers come across a dozen of artworks of various file types. This includes logos and other images too which are uniquely designed. Until recent times, designers used to create fixed-size image files like PNG, JPG, or GIF when it comes to log or artworks. However, as the viewers shift from bigger screen to smaller screen devices and vice versa, designers face the challenge of ensuring scalability.
When it comes to graphic or web designing, the need for responsiveness does matter a lot now. We have to display the brand log and messages in optimally flexible format to create the same appeal on any devices. This is where vector graphics or otherwise called SVG play a crucial role regarding creating scalable graphics.
Even though it has been there for a while now, SVG will become a mandatory standard in 2018. At the core, SVGs are XML text files which instruct various browsers how to render it. All existing browsers support the SVG format now, and this will further make expressive designs incredibly attractive in 2018.
Some other top design trends also include:
Isometric design for graphics and icons
Bold Modern Serifs and Wide Sans Serifs making a nostalgic comeback.
Memphis, Asymmetry, and the Organic Grid, etc.
In fact, the changes are happening even faster than one can catch up with it. So, it will be interesting to see what more is coming up in 2018 regarding graphic and web designing. In any case, we can see that designing become more and more simplistic and user-oriented day by day.