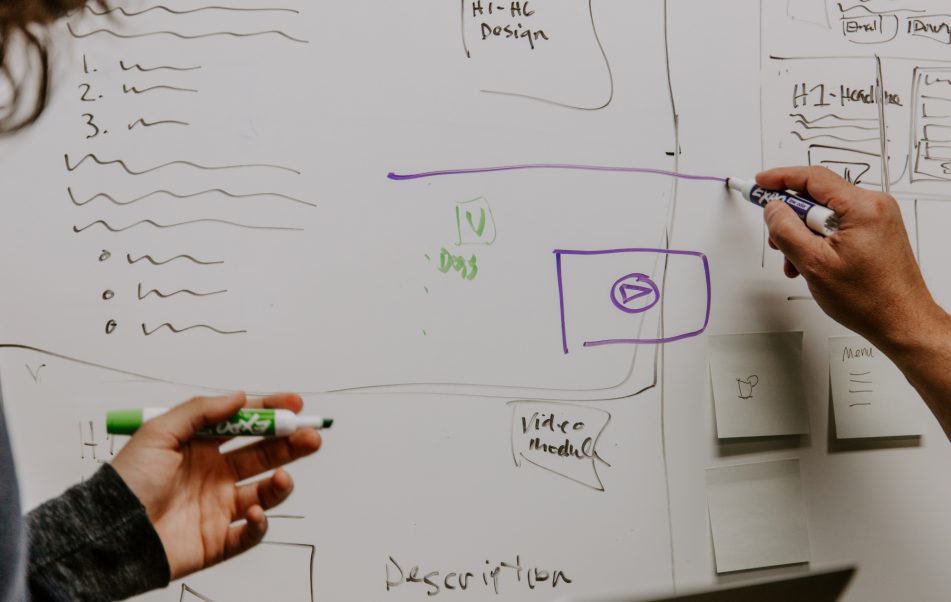 The words "corporate" and "design" are harmless when they are not related to each other, but when they are together, everything is different. The UX of enterprise apps has a pretty bad reputation. If you're thinking about enterprise software, and you have images of irresponsible, slow and clumsy UX combined with ugly and boring user interfaces, you are not alone.
But it doesn't have to be that way. We want to live in a world where good UX applies to all software, especially corporate software. To make a difference, we have selected 4 biggest challenges and explained how you can tackle them in order to achieve a positive user experience in enterprise software.

Corporate apps
In the digital age, it is difficult to imagine a business without information systems that accompany the company's activities. The main task of such applications is to optimise work by speeding up communication between employees, automating typical actions, and storing information important for business. The success of the company directly depends on the choice of the platform, so this issue should be taken seriously.
An enterprise app is a software platform that helps to work in a corporate environment. In other words, an enterprise application is a system of tools that allow a specific set of users to perform business tasks. Typically, such a system has characteristic properties.
Multichannel application
Work can be divided differently for different employees. For some, it is enough to sit at a workplace and use an outdated version of Windows, while others have the privilege of being a digital nomad, working wherever there is an Internet connection.

A quick glance at the remote worker statistics reveals that there are already over 60,000 active employees travelling the world, with Bangkok being the most popular city. In addition, 43% of Americans said they spent at least some time working remotely.

Since the workforce is not homogeneous, it makes sense to create experiences that are tailored to the different ways employees work. This means creating enterprise software that is multichannel.

Multichannel UX means that, for example, accountant John, during working hours, can easily find the place where he is staying at home on his iPad after dinner. All data and information should be available across all channels, without any unexpected change with experience.

5 essential elements for a successful multichannel experience:
Consistency: on all devices, the screens are familiar and intuitive;
Accessibility: Employees should be able to choose when, where, and how they interact with the enterprise software.
Neutrality: Interaction should run equally smoothly on all devices;
Integrity: Enterprise software must be consistent and provide a realistic view of employee performance and integration across channels.

Why do you need good enterprise application design?
Economic efficiency
With a simple and intuitive interface, you can reduce the barrier to entry and the time to adapt to the system. In addition, such a system takes into account the aspects of scalability, which will reduce costs in the future. Bad UX is bad for business these days. Mistakes can cause significant losses for the company.

Data optimisation
Enterprise applications leverage the power of big data to unleash business ideas to their fullest. Most modern companies use big data analytics to better understand their customers.

Employee satisfaction
A well-designed enterprise application solves real problems of real users and does not create new ones. UX design improves the speed and quality of work while reducing the stress level of using the application.

Productivity
Users do not need to waste time searching for the information they need or performing tasks of the same type, which positively affects their productivity.

Biggest Challenges
1. Sticking to a simple user interface
The entire user interface design should be as simple as possible; this is of utmost importance for the UX of enterprise applications.

You want to create an application that employees will be happy to use. But there are too many complaints about complex corporate software in this industry: terrible landing processes, an intuitive user interface, awkward responsiveness. You know what it looks like. People just don't like using enterprise apps.

This is why it is important to stick to a simple user interface. Enterprise software should solve employee problems, not be the cause of them, right? The goal of enterprise applications is to simplify complex processes for employees.

Bringing in UX and UI designers from a good quality SEO agency, who understand the processes involved in enterprise software, can be a step in the right direction. Thus, everyone participates in the conversation and can make their contribution meaningful.

Enterprise software should focus on:

-Screen content and functionality;
-Display of information, access to it and its storage;
-Remember that poor UX in enterprise applications prevents employees from doing their jobs, which can have financial implications.

2. Building meaningful relationships with stakeholders
When you create enterprise software, you will be dealing with stakeholders. Your stakeholders probably can't tell the difference between modals and push notifications.

It's important to remember that you are developing for the end-user, not the client. Your stakeholders have their own set of ideas and assumptions about what they think, what they want, and what they need. Use employee suggestions to improve the UX design of the future application.

Here are some tips that can help you to improve your stakeholder relations:

-Clarification of the goal with a personal contact;
-Determine the scope of the project;
-Do not keep any secrets (share your knowledge, do not accumulate it);
-Ask when you need help.

3. Understanding the culture of the company
It's one thing to design something for a client, but the rules change when it comes to building enterprise software.
Much of enterprise software design involves, in one way or another:

-HR portals;
-Inventory products;
-Content management systems;
-Intranet site.

Since these products will be used on a daily basis by the company, it makes sense to have an understanding of the company's culture. What are the company's values? What are its goals? Knowing this kind of information can be beneficial to your design process.

Corporate clients are devoted to short-term thinking. Oftentimes, you will be prompted to quickly create something that barely works because these clients are not interested in the latest trends or UX best practices.

Of course, you can't revolutionise a company with your design thinking, but it can help when you need to present and explain a design or idea to stakeholders. Give them what they want, but don't be afraid to suggest your alternatives.

Enterprise UX Trends
Personalization
Each employee can customise the application for themselves, in accordance with their habits, desires and needs, using visual development tools.

The convenience of use
Working with convenient, clear interfaces brings more pleasure from using the application.

Functionality
Integration with other systems, access from different devices and a pleasant interface allows you to use the capabilities of the product to the maximum.

Features of corporate applications
Performance
Employees expect an instant response from an app, simply because no one likes to wait. In a business environment, this point is more important, because if there is a need for prompt action, low platform performance can lead to losses.

Reliability
Errors in the operation of the system can cause significant damage to both users and the company as a whole. It is unlikely that anyone will be happy with incorrect calculations or data loss.

Functionality
The system should automate and simplify routine tasks, leaving employees time to focus on more complex issues.
Compatibility, portability, integration
The program should easily interact with the software used in the company since manual data transfer is an overwhelming amount of work with the existing amount of information.

Convenience, simplicity
Even the most productive and functional platform will not be able to optimise the work of a company if it is impossible to understand how to work with it. The main task of an enterprise application is to create the illusion of simplicity through its usability.

Enterprise applications automate complex processes involving a large number of people with different roles and functions. That is why, when creating them, the priorities are shifted to the versatility and functionality of the system as a whole, and not to the comfort of individual users.
If everything is more or less clear with the technical part of the application, then the question of convenience remains open. Is the ergonomics of a corporate system so important if it solves the necessary tasks? Is it worth thinking about design if the platform integrates with all the company's software?

Conclusion
Enterprise applications are necessary to optimise business processes, and therefore, first of all, such systems must cope with the tasks assigned to them. However, technical characteristics are not the only important factor when choosing a system, because people will use the application. Not only the mood of the employees but also the quality of their work, depends on how convenient and pleasant it is to use the system. Isn't this the main reason for introducing enterprise applications?
This is an article by Nick. He is a marketer at AG SEO Agency.