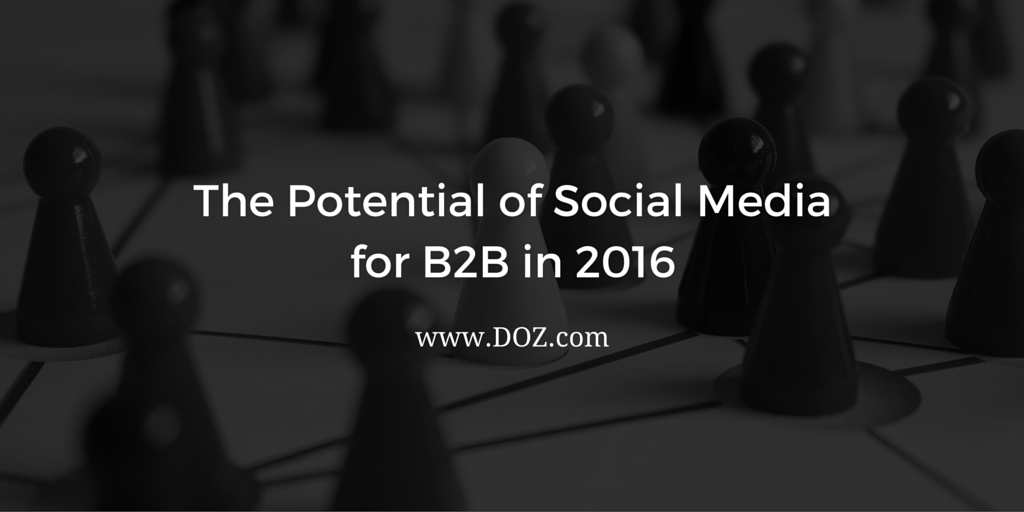 We've written a lot about social media and business in the past but we haven't always focused on the B2B community.
While the advantages of reaching out to consumers by a B2C business are clear and should be straightforward, for a B2B enterprise some different realities might have business owners wondering if investing in the social space is the best option.
After all, is anyone really convinced to make a B2B purchase by a tweet or a Facebook post? And is LinkedIn really good for anything other than filling your inbox with emails about people you don't really know that well? Is Instagram the place to sell your consulting business and can YouTube really convert when there are so many anonymous comments filled with hate attached to every video?
On the surface, these concerns seem valid.
But dig a little deeper and the data suggests that there's good reason for B2B businesses to invest in their social media marketing efforts, especially if they are looking to expand their reach, grow their leads, and make more sales online.
Here's how.
Mapping the Potential of Social Media
Real Business Rescue have produced a wonderful infographic that dives deep into the potential benefits of social media for B2B companies. As the infographic explains:
In 2016, B2B social media will generate leads for over half of all business and continue to break down barriers between you and those you wish to connect with…if you let it.
That last line – if you let it – is the key here. Social media, more than anything else, represents an opportunity for B2B businesses, and one that is expanding in potential with every passing month.
Real Business Rescue outlines the opportunity in terms of real business savings. To start with, there is a saving in marketing expenses (noted by 50% of B2B businesses), improved sales (51%), and growth in inter-business partnerships (55%).
More impressive, though, are the impacts on developing loyal fans (69%), increased traffic to the B2B business website (77%), and increased exposure (90%). In other words, social media has clear payoffs when it comes to building an audience and developing a reputation for a business, even one that is not reaching out or seeking to serve to the billions of consumers online.
What's more, B2B businesses are already enjoying success in developing solid leads on social media. In a space where 72% of Twitter followers are keen to buy from a brand they follow and where 90% of companies use social media as a customer service and outreach tool, it's no surprise that more than half (54%) of B2B marketers are already generating leads from social media.
Where to Focus Your B2B Social Efforts
As Real Business Rescue note, not all social networks are built the same. While Facebook and YouTube have in excess of 1 billion active users each month, other networks like Instagram, LinkedIn, and Twitter have just 400 million monthly active users, or even less.
So where should a B2B enterprise focus their efforts?
Real Business Rescue suggests focusing on the quickly growing social networks where the 'buzz' is rather than the larger, but perhaps stagnating, networks that lack the growth and potential to grow.
Instagram, says Real Business Rescue, is the best place to spend time and resources as the image-centric social network is currently doubling its user base year on year. This is something that Facebook didn't manage as it grew to the current size of Instagram, and its testament to the growing influence of the image-based social networks in the social media space.
B2B Spends Big on Social
Real Business Rescue lays out the big spending that B2B businesses are making on social media. In short:
Digital marketing as a whole is expected to account for 75% of B2B marketing within the next 5 years
B2B marketers are already turning to social media with 51% already using paid social media in 2015
Social media is already grabbing 16% of the digital marketing spend which represents nearly $36 billion
B2B companies that specialize in services and service provision will spend 16% of their entire marketing budget on social media buys in the year ahead
Also interesting is what sort of content is worth investing in. If the best performing content could be summarized in the single word it would be visual.
Video rules the roost – YouTube is way out in front as the most engaging of the social media platforms – but both infographics specifically and images generally play an important part in building leads and generating engagement and sales. Infographics are reported to be 30 times more likely to be read by visitors to a blog or a social platform, while including even a single image in a Facebook or Twitter can see sharing explode by more than 60%!
Challenges for B2B Social Media
So with all of these benefits accruing to B2B businesses on social media, why aren't all B2B businesses using social? Why, in other words, do the objections to social media spending outlined at the top of this post still exist?
Real Business Rescue lays out three main problems for B2B companies:
B2B business have trouble showing the impact of their social campaigns (17% of cases)
B2B businesses have avoided embracing the analysis of marketing analytics (70% of cases)
B2B business have trouble to meet the expectations of their "always-connected" customers (15% of cases)
Overcoming these challenges, however, is possible.
For the most part, the first two challenges can be overcome with a well-planned and targeted marketing campaign. Setting goals and developing appropriate targets, and then measuring these, is basic business and marketing practice – there is no reason it shouldn't apply to a social or digital campaign as it has always applied to traditional marketing.
Furthermore, an always-connected customer base – whether B2C or B2B – is there to be served. Consumers of content, including business leaders and decision makers, are waiting to be connected, engaged, and served by content creators, including other B2B businesses, brands, and service providers. Once again, setting appropriate goals and measuring the path to the achievement of those goals is the way to overcome this challenge.
Conclusion
Real Business Rescue has built a great infographic and its worth reading their concluding tips on developing a social strategy, too, in order to benefit from the information in the infographic. There should be little doubt that social media has a place (or should have a place) in the digital marketing strategy of any business, whether consumer facing or business facing.
The question is: how advanced is your B2B business when it comes to social media?