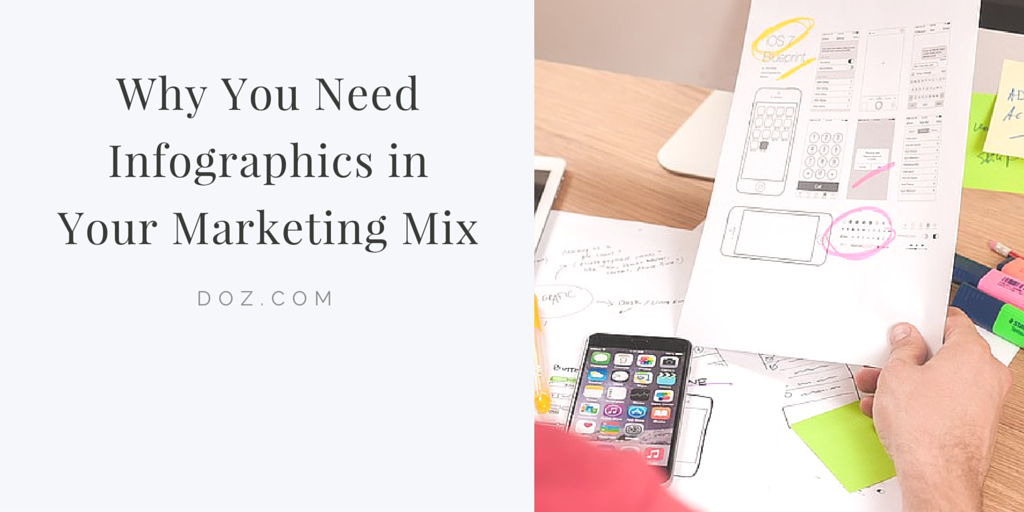 You take something complicated and make it simple to understand. Then you make it beautiful, shareable, and release it to the world. Yes, I'm talking about infographics: the tall, colorful, information-rich images that help even an amateur understand a concept or topic in seconds.
Infographics are increasingly popular amongst content marketers and even more so among social media users where quality infographics are shared time and again. And with every share comes additional exposure for your site, your business, and your brand.
But just how much do users like infographics? And what sort of figures stand behind claims that infographics convert at a higher rate than plain text content?
To answer those questions and more, we have – you guessed it – an infographic.
How an Infographic Helps Business
Mammoth Infographics are specialists in marketing using, well, infographics. It was Mammoth that we turned to when looking for the data to connect the claims of infographics supporters with the reality of marketing.
Their infographic How Infographics Can Benefit Your Business lays out clearly the key benefits of infographics and does so, as you'd expect, in clear, simple, and attractive terms.
Start with the reason that infographics should work. As Mammoth explain, human beings are hard wired to take in visual information and easily absorb visual cues. It's not usually as deep as the information that can be absorbed via reading hundreds of pages of closely-spaced text, but we're not built for absorbing information that way, either.
Think of it in book vs. movie terms. Rarely have I left a cinema confirming that the movie I just watched was better than the book it was based on. Almost always the character development, the scene setting, the dialogue, and the emotions are deeper, clearer, and more moving in the book version of a tale as opposed to the two-hour version that makes it to the screen.
On the other hand, as long as the movie sticks somewhat to the story of the book, someone who has seen the former can probably converse with someone who has read the latter without either feeling like the other misunderstands the key concepts. Sure, there will be differences in the depth of knowledge that the two people bring to the table, but the key concepts and basic elements of the story will have been communicated to both.
The same is true of an infographic. There is a wealth of data that underlies every infographic image, and there are dozens of research papers that contributed to that data, too. Simply put, an infographic succeeds when it is able to communicate something complex to an interested audience who doesn't have time to dig their way through all of the original data it is commenting on.
Infographics: The Big 3-0
One of the stand out figures in the infographic is the number 30.
As Mammoth explain, infographics are 30 times more likely to be read than text articles. Why? Well there are a number of reasons – eight, in fact – but the three stand outs for us here at DOZ are as follows.
First, infographics help a visitor make the decision to stick on a page. Most visitors make a decision in the first five seconds after arriving on a page as to whether they'll stick around. With such short attention spans it's essential to give readers a reason to stay on the page. Infographics are typically bright, attractive, and engaging – just the ticket for converting that accidental visitor into a dedicated reader.
Second, infographics are not only popular reading, they are also popular for sharing, too. The power of social media is such that an interesting and engaging infographic will be shared and could find an audience well beyond that of the readers arriving organically on your site. If you make it easy for people to share the infographics on your page, you'll likely see a pay-off in terms of social traffic, too.
Third, infographics specifically and visual content generally have been proven to drive engagement in a way that text-only content cannot. How good are engagement rates? Mammoth reveals that once brands embraced visual content in their Facebook timelines engagement with users rose 65%. Infographics, of course, are the perfect sort of visual content for connecting with an audience and driving the sort of engagement that brands and businesses crave.
An Audience Hungry for Infographics
Mammoth concludes their infographic by explaining that there's an audience out there for your content – and it's growing every day. As they explain, 25% of the world's population is already using social media and that figure is only growing each year. Infographics are incredibly effective at reaching social media users and as the population of users grows – and it's already approaching 2 billion people! – the number of people who'll have easy access to, and simple sharing options for, your content grows, too.
Mammoth, of course aren't the only infographic experts out there championing the images as an important part of a marketing plan.
Ritu Pant at Business2Community, for example, explained that infographics are incredibly cost effective at reaching out to internet users via social media:
The facts show that infographics can still work as a powerful tool for generating massive amounts of interest in a very quick period of time. They have the potential, when done right, to trigger significant engagement and capture the attention of hundreds of thousands of people. In 2014 alone, 5 infographics topped the 100,000 share plateau—that's not views, that's shares. Nineteen infographics had 50,000 shares or more, and over fifty were shared more than 25,000 times. When you consider the possibilities and the value of the exposure an infographic can generate, you start to realize how critical (and relatively minuscule) the initial investment is.
Looking for more reinforcement when it comes to the power of infographics? Google Trends data reveals how they have taken their place in the minds of marketers over the last couple of years.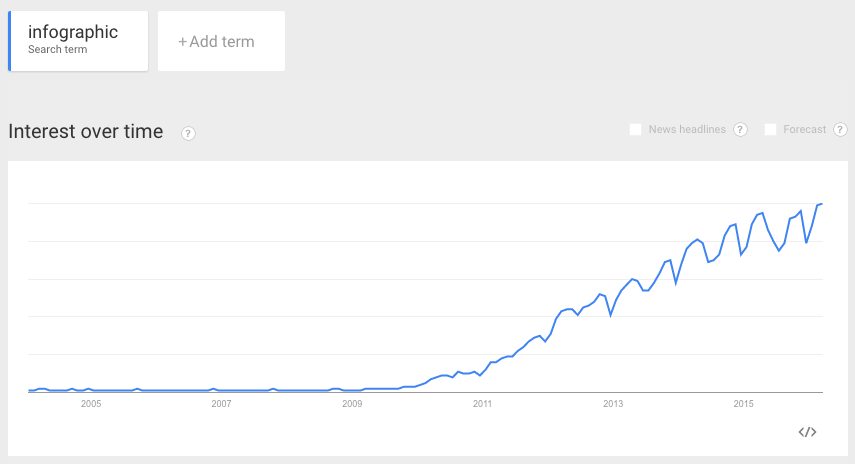 In short: they are popular, and getting more so every month.
Conclusion
Ready to take a dive into infographic marketing? We've got plenty of information on The DOZ Blog about how to do it well and some great examples of the infographics to use as templates and guides for your own efforts.