The Pew Internet & American Life Project researches how Americans use the internet and how the internet impacts their lives. Through phone surveys, online surveys and qualitative research, data is collected on adult users and their findings are organized into many articles throughout the year. One area of research is Social Networking.
Just The Stats

46% of internet users are "creators" and post original photos and materials
41% of internet users are "curators" and repost photos and materials  found on the web
56% of internet users fall into at least one the "creator" or "curator" categories and 32% fall into both
12% of internet users use Pinterest
Pinterest is used mostly by women
12% of internet users use Instagram
27% of Instagram users are between the ages of 18-29
5% of internet users use Tumblr
Instagram and Tumblr have equal use by men and women
66% of internet users use Facebook
20% of internet users use  LinkedIn
15% of internet users use Twitter
26% of 18-29 year old internet users use Twitter
31% of 18-24 year old internet users use Twitter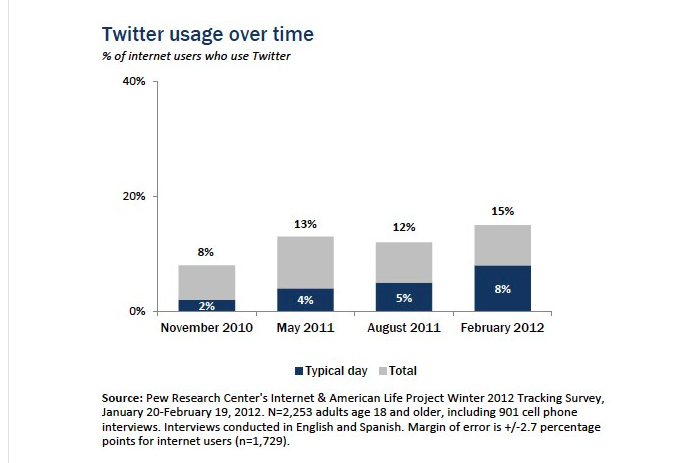 This is only a tiny insight into all the data that has been collected from countless studies. The information delves into multiples measures and more in-dept analysis.
Take note
While some of the data might seem obvious or easily recognized by simply perusing each site, research like this should be paid special attention. Marketers can learn important information about their target audience and how to better target their interests and preferences. Before they can begin a marketing campaign, they are going to need to know who to market to. Such as the information about 41% of internet users being "curators" vs the 46% who are "creators". Both groups are valuable to marketers, but should be handled differently. Understanding the difference in these groups and devising appropriate strategies for each group could lead to outstanding results. This information can be used by a multitude of industries considering different social media sites or ones adjusting their current marketing strategy.
So what do you think is most telling about this research? Want to check out what other data they have uncovered, take a look!
(All information collected from http://pewinternet.org)