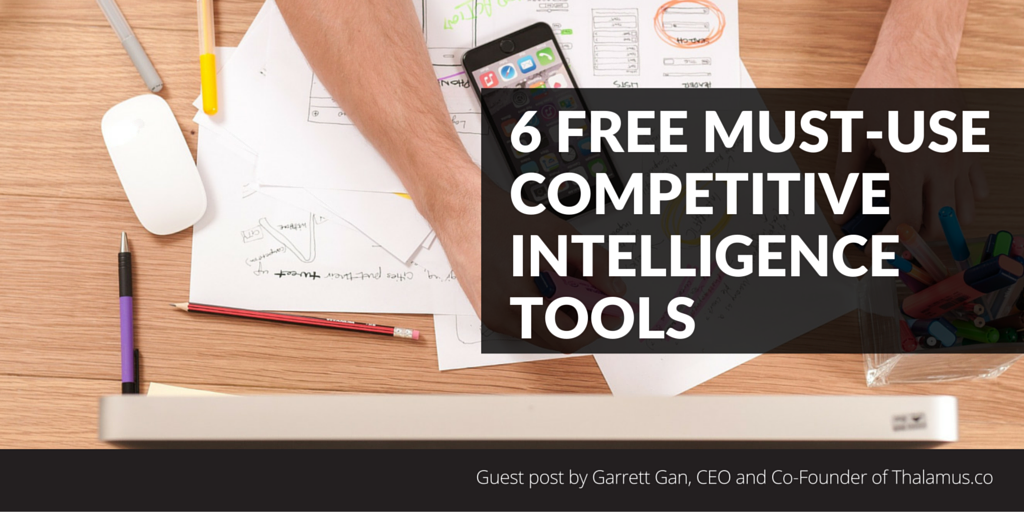 This is a guest post by Garrett Gan is the Co-Founder & CEO of Thalamus, the largest research database of advertising vendors in the world. With over 50,000 ad partners and counting, Thalamus houses the most comprehensive dataset of ad partner capabilities, contacts, files, ad specs, network data, and marketer reviews for vendors across the globe. Follow Thalamus on Twitter, connect with them on LinkedIn
As marketers, one of the biggest challenges we face today is keeping a close eye on the marketplace without having to dig and sift through mountains of data to find the information we need. Data and information asymmetry are key when trying to stay ahead of the competition but with the right tools it is possible to keep up and thrive in this information rich world. The tools that handle these tasks are known as competitive intelligence tools and they help marketers and business owners alike process, analyze, and make better decisions.
But which tools to use?
Here is a list of competitive intelligence tools that can help you get an extra edge when considering how to react to the trends in digital marketing that are shaping and reshaping the online marketing landscape.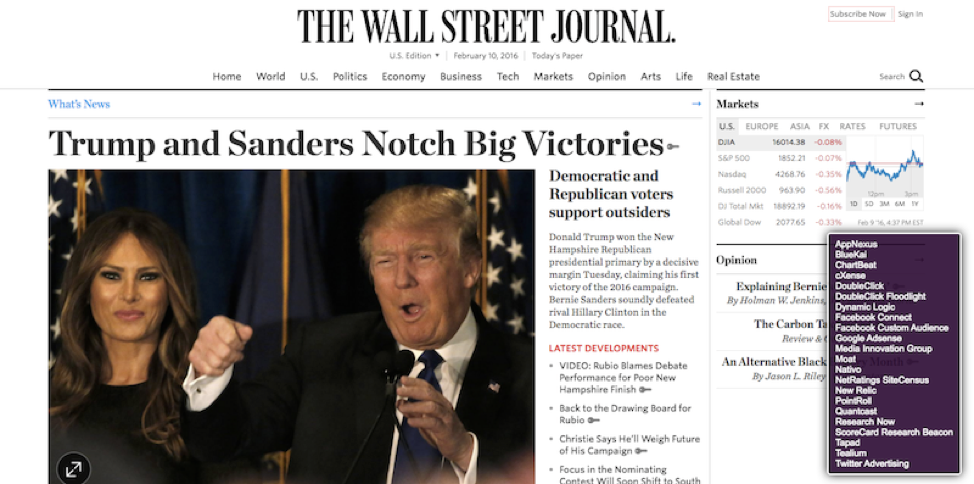 Pricing: Free, but with a paid enterprise solution to manage Web Tag & SDK Compliance, and additional privacy solutions for business.
Ghostery provides visibility into all the pixels or web tags firing on a website. For the most part, these pixels drop a cookie onto a consumer's browser and track them across the internet, for advertising, ad measurement, and data licensing purposes.
Ghostery is one of a number of competitive intelligence tools that empower regular consumers to know which companies are tracking their browser, and they can also learn more about what each company does (and even opt-out of their tracking).
With the explosion in advertising companies over the years, this tool is a must-use for every online marketer.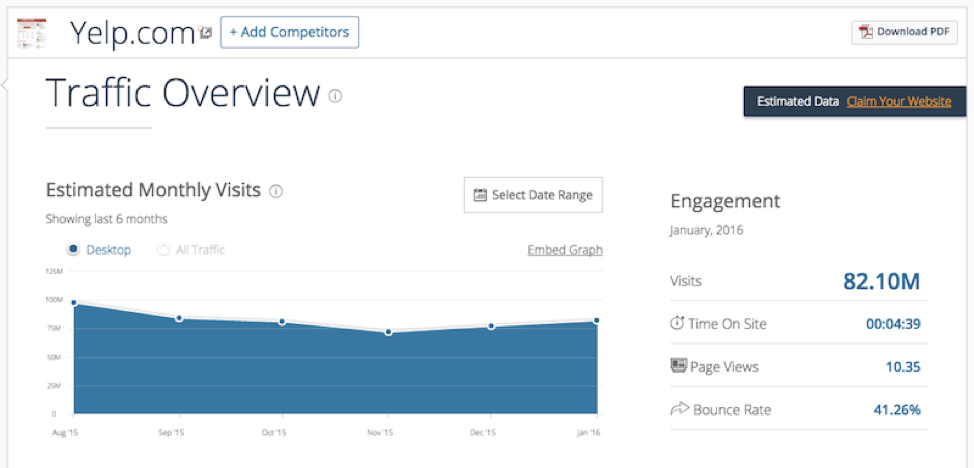 Pricing: Free, but with a paid version that gives access to more in-depth data and rankings.
SimilarWeb is a company that aggregates data from multiple sources to estimate traffic, geography, and referral data for websites and mobile apps. They also have a panel of their own through a browser extension, that allows them to refine their other data sources, by anonymously tracking browser activity across millions of browsers worldwide.
Their traffic data can give insights into the reach of almost any website, and according to one study, SimilarWeb ranked as the most accurate for their traffic estimates and had coverage of almost 90% of the internet.
These traffic estimates can be used to compare the reach of your website with those of your competitors, and gives you a good sense of your standing in the marketplace. The other three metrics of time on site, page views, and bounce rate can also show you the stickiness of your competitors' page. They also offer geographic breakdowns, which can help you ascertain which where your competitor may have the biggest footprint.

One of the best features of competitive intelligence tools like SimilarWeb is seeing the breakout of where a competitors' traffic comes from. Having a lot of direct traffic is a great thing and shows that users view your competitor's site as a destination website, and that it holds a place in their mind.
If they have a lot of traffic from referrals, they may be doing a lot of guest blogging on other websites, or might be getting a lot of press. For search referral traffic, they may be optimizing heavily for certain keywords and this is where you can use tools like Ahrefs or Majestic SEO to find exactly what keywords they are ranking for, and what traffic volume they are getting from each. A lot of traffic from Social can point to them leveraging their blog and writing catchy headlines and emotional posts that are being heavily shared on social networks.
SimilarWeb also shows some of the top referring sites and this can give you an idea about which websites link to them. With a quick search, you can find out the type of article linking to them. They also provide data on top search keywords and top social channels referring traffic to a website.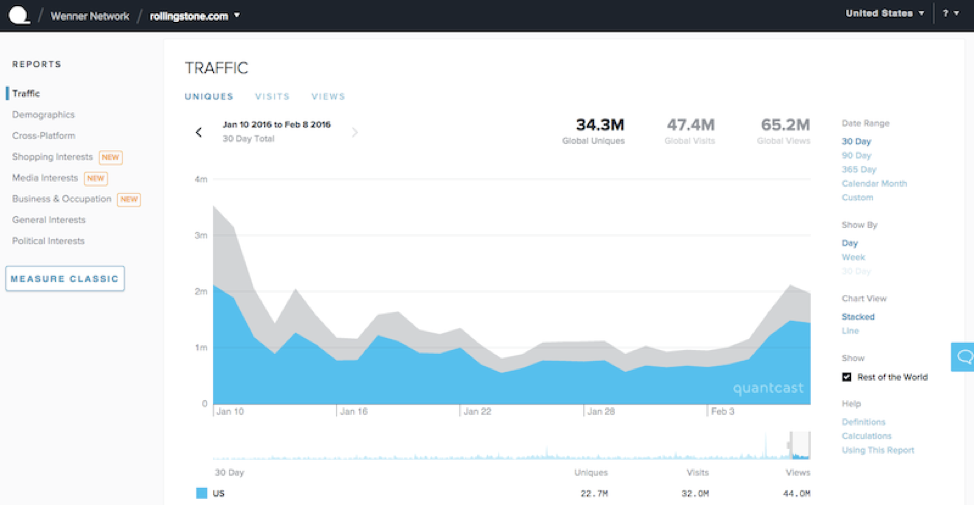 Pricing: Free. Paid Service is using their massive visibility into Internet usage for over 1B users worldwide for effective advertising.
Quantcast is one of the largest players in the competitive intelligence tools market and audience measurement space, and has been around for almost 10 years. The genesis of the company came when the two founders, Konrad Feldman and Paul Sutter, realized there was no 'direct-measurement' of audiences on the web.
The incumbent during the time, comScore, only had a panel-based measurement methodology that gave estimates of website traffic volumes and demographics. This led to many complaints by websites that traffic measurement by comScore were inaccurate, which led to an opening and massive opportunity for Quantcast to disrupt the audience measurement space.
Today, Quantcast is also one of the largest processors of data in the world, processing an estimated 10 petabytes of data per day – second only to Facebook and Google. Their Quantcast measurement pixel has been deployed on over 100 million web destinations and provides the most accurate measurement of traffic volumes, cross-platform visits, demographics, and much more for some of the world's largest publishers like Yelp, NBC Universal, Buzzfeed and Vice.com.
Within the context of competitive intelligence, their data can be used to understand the reach of millions of websites (even your competitors if they have placed a Quantcast pixel on their website), and the trend of traffic they are getting, even down to the specific number of unique visitors and page views they receive by country.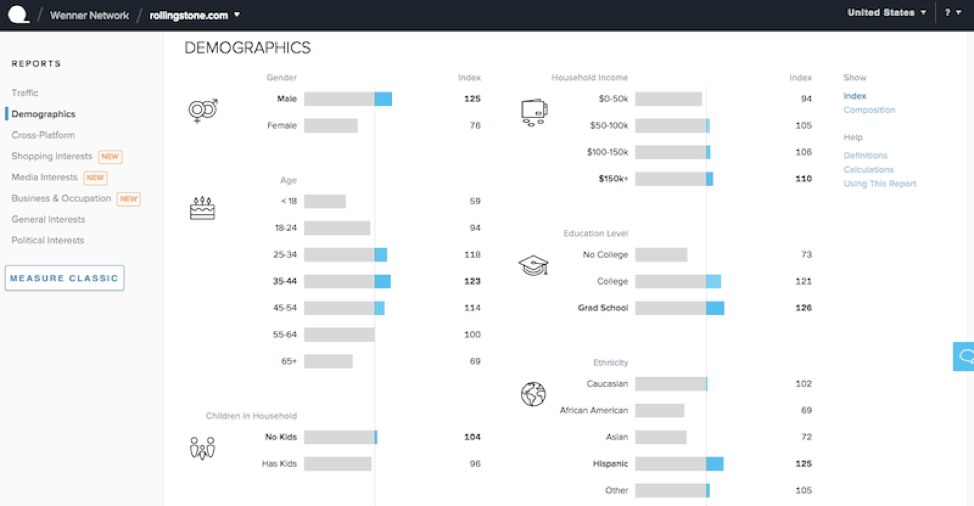 Another really interesting data card by Quantcast is the demographic information they offer for publishers. You can view the index and audience composition with breakouts of gender, age, household income, education level, ethnicity, and even sometimes political affiliation. Quantcast uses an internal inference algorithm to correlate demographic data for all the websites that participate within its publisher program.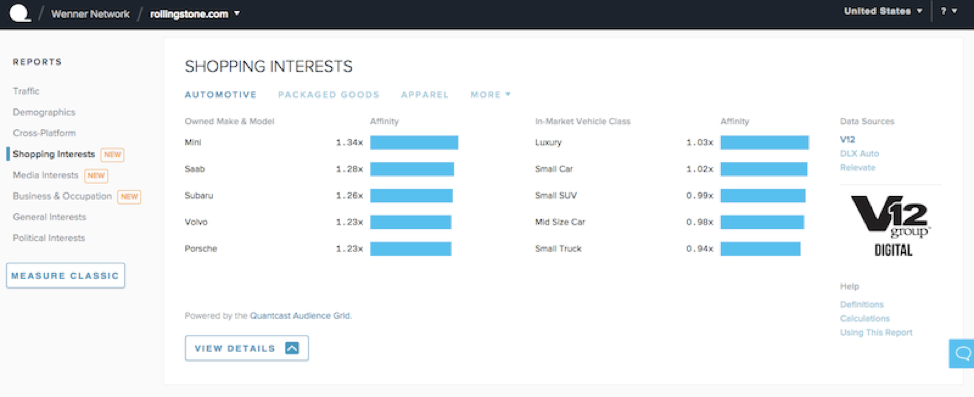 With their new Audience Grid offering, Quantcast ingests data from multiple datasets including V12 Group, Oracle Bluekai & Datalogix, Symphony IRI, and many other data providers to sync 3rd party data with their existing traffic and demographic dataset.
With this data, you can see the affinities that a certain website audience has for car make and models, types of consumer packaged goods, apparel brands, restaurants, and a whole host of other information. This wealth of data empowers the online marketer to better know the psychographics of publisher audiences— information of which can be used to inform their next media buy.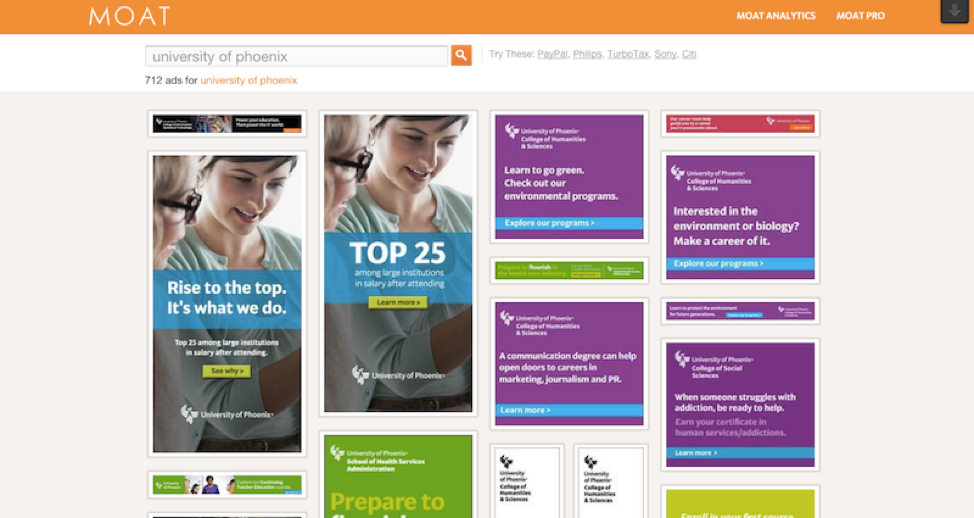 Pricing: Free. Paid Service is providing Ad Intelligence and Cross-Platform Analytics for Ad Viewability.
MOAT is an awesome free tool that displays ads served by companies across the web. You can view not only the actual creative unit, but also other details like what website it appeared on, dimensions of the ad, file size of the ad, and file type of the ad (png, jpg, swf, etc). Rich Media and interactive banners will animate right on the screen so you can see high-impact ads they are running too.
A great way to utilize this tool would be to see the ads your competitors are running, or even view ads the brands you admire are running, so you can learn from their creative prowess. There are other tools that offer this, although they are behind either a login or paywall. Some of these include WhatRunsWhere, Adbeat, AdClarity (offers mobile & video ad intelligence), SEMRush, and Mixrank.
Open SEO Chrome Toolbar
This is one of the must-have competitive intelligence tools for any marketer interested in SEO. This browser extension gives a quick snapshot of the Alexa Rank, Compete Rank, Google PageRank (now deprecated), along with other great data points such as pages indexed and number of backlinks for a website.
The other tabs will quickly allow you to view the meta title, description, keywords, and H1/2/3 tags for any web page, as well as site load speed. This allows you to quickly evaluate many pages on your competitor's website and can help inform any SEO or any media buying decisions you make in the future.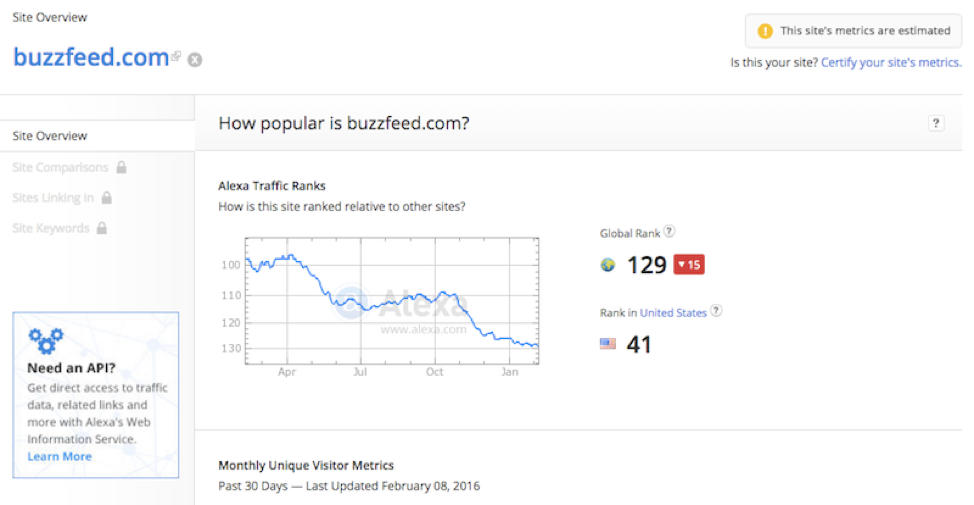 Pricing: Free.  Paid options include deeper analytics on Website metrics, Keyword Research, and other SEO tools.
Amazon bought Alexa back in 1999, I'm assuming due to their belief in the exponential growth of the internet and the need for a service that measured, or at least estimated, the traffic volumes of the proliferating number of websites on the Internet.
Surprisingly, Alexa has had tremendous longevity and is still quoted by Webmasters today (their 'Alexa Rank' specifically) to indicate the traffic volumes of their site.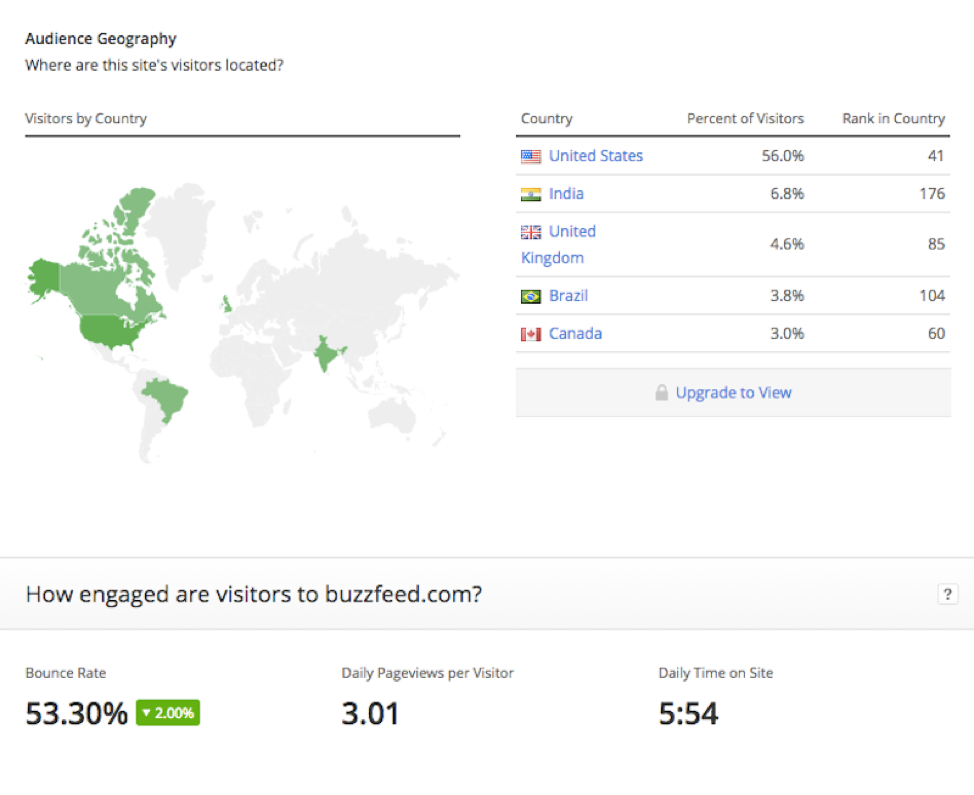 Data listed on Alexa is estimated mainly through panel data and a variety of other sources, but can be used directionally to compare metrics with your competitors' sites. Interesting metrics to compare include: Alexa Rank (Globally and in your Country), Audience Geography, Bounce Rate, Daily Pageviews, Daily Time on Site, Top Search Engine Keywords, and Upstream Sites (Sites Users were at before they visited the domain).
Conclusion
In conclusion, there are quite a few free resources out there a marketer can add to their toolbox but it is important to not get overwhelmed with data when accessing all these tools. Competitive intelligence tools like SimilarWeb, Quantcast, Ghostery, MOAT, Alexa, and Open SEO Chrome Toolbar provide the foundational layer for any online marketer to succeed in the increasingly Darwinian online marketing game.