Building an online marketing strategy requires knowledge and adaptability, and the entire marketing world must take into account the constant changes in the field.
Nothing sits still for long in the world of digital marketing and any expectation that an online marketing strategy can be developed in Year X and still applicable in Year X+1 is misplaced. The consistent and constant change in the field means laying a strong foundation in the fundamentals of online marketing, and then building tactical wins on top of this foundation in order to construct a real and effective overall strategy.
Develop the best online marketing strategy
Thanks to a complete infographic by Aldo Baker, you  will get some tips for your search engine optimization and social media operations.  This infographic also deals with emails, mobile applications, and blogs because those are increasingly used nowadays
Click on the picture below and discover a complete guide to Online Marketing.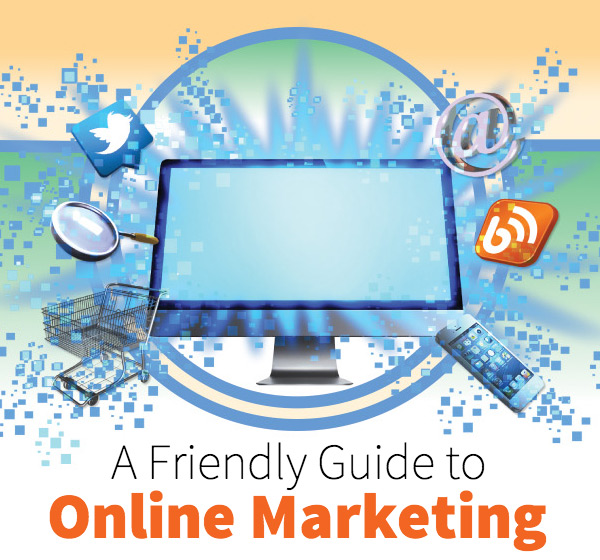 You have an online marketing strategy. Now what?
So you've built your online marketing strategy and it's time to put it into effect.
Some important questions to ask at this point:
Do I have the time to implement all of the plan myself?
What resources in the business can be marshalled to the marketing cause?
Do I need to outsource any of my marketing needs? And, if so, where should I turn?
Time is the first element to get straight. marketing will cost you time and it should, because in the end it will be making you money. Whether you allocate a certain amount of time per day, per week, or set aside a regular block of time on every second Tuesday, you'll need to make sure you have the hours to devote to the task.
Assuming that it is a little too big of a job for you to fit into your own schedule, it's worth considering what can be completed by members of your team. Perhaps design can be pushed to someone on your staff with skills in that domain, or social media can be pushed to an ambitious and tech-savvy team member.
If, however, your own time and your team's limitations mean this is not possible, it is worth considering outsourcing some of your marketing work. This doesn't need to be a hassle, and it doesn't mean losing control. When you use a company like DOZ (shameless plug, I know…)  to connect your company with expert marketers around the world you retain control, have the chance to review work before it is published, and can create custom marketing tasks and campaigns to make sure that every element of your online marketing strategy is deployed as scheduled and as planned.
Conclusion
Every business needs an online marketing strategy and the infographic in this post makes it easy to construct one for your business. And, once you have your strategy planned out, putting it into action is your next step – and one you need to take ASAP to reap the real benefits of online marketing today!