If you are a Google + logged-in users you may have noticed that your Google web search results has changed a little bit. As announced in the Official Google Blog (Search, plus your World) is "transforming Google into a search engine that understands not only content, but also people and relationships".
So what is the big change for you ?
Well, in addition to the usual assortment of results you'd find in a typical Google search page (links, pictures, news items and shopping), you will also find several kinds of Google+ content results.
Google+ content is pushed to the first page of your search queries. You are searching photos? It will push photos from your Google+ friends to the top of the results. Looking for a person? Their Google+ profile will show as a suggested result.
Google+ connections are given more weight. Posts are indexed like every other page on the web but they'll show up in your search results only if the poster is connected to you on Google+. " You will see content from people you're connected to".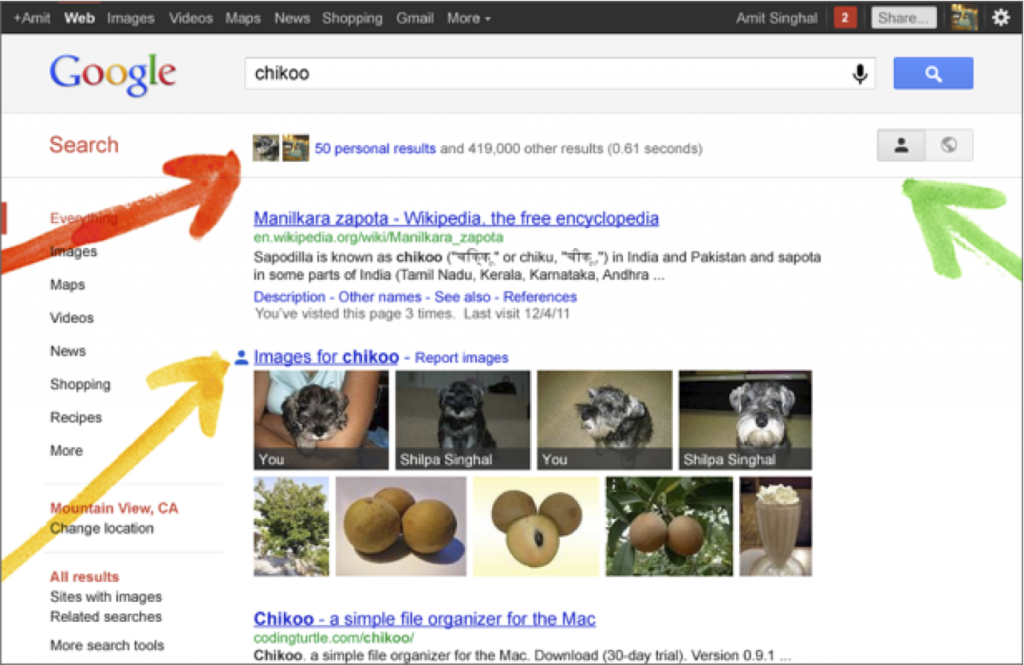 Google+ posts are labeled with a person icon on the left – again, only to searchers who are connected to the original person who posted the photo in question. You'll be able to see whom it's from, with whom it's shared and why it's appearing.
Not interested ?
"Search plus your world," can be toggled on and off by using the "person" and "world" icons on the upper right of search results. It takes one click to disable or enable the new features and see an unpersonalized view of search results. That means no results from your friends, no private information and no personalization of results based on your Web History.

Search, plus Your World against the world!
This new change being called the "most radical transformation ever" is not well welcome. Indeed, "Search Plus Your World" doesn't cover content on Facebook, Twitter, Flickr, or any social network or place where content might be shared to a more limited audience.
No surprise it's considered not being fair in its web-based search and other products. Concerns seem to be growing that Google is using its position as the dominant search engine to promote its other products and give it an unfair edge over Facebook. Since the launch, there's been quite a debate over whether Google is favoring itself in various ways, without mentioning that there might be additional antitrust concerns.
Also on the SEO point of view, it may has huge consequences. If people only consult results that are related to their own network, how can they discover new services, products etc. ? What is the point of doing SEO to be top ranked ? The original algorithm of Google won't be relevant anymore !
What do you think ? Does Google play an unfair game ?