5 SEO and Social Media Tips to go overseas
Last week we went over the general marketing issues which could come up when entering an emerging market, this week we will go over the specific SEO and Social Media challenges which are important to note.

1. Search Style- When preparing to begin an SEO campaign and deciding which keywords to target, it is important to think about the search trends of the area. Maybe certain slang or punctuation marks are commonly used, or not used, which are different from your native country. People in different areas use different terms and structure their inquiries in different ways. Google Keyword Generator can help you to find out the best queries for specific locations. For example, when searching for San Francisco Giants fan apparel online, the table to the right shows in this market, the most formal term, "san francisco giants apparel" would fair the best.
2. Language- As well as knowing the search style, it is important to make sure the right language is being used, and it may not be the official language in the country. It's important to do your research and see what is the most relevant language to use for your marketing campaign. As well, when writing SEO friendly content, make sure you have a skilled native writer and not just direct translations. For example, if you are trying to market an immigrant population, say Thai, in a foreign country, try Thai keywords.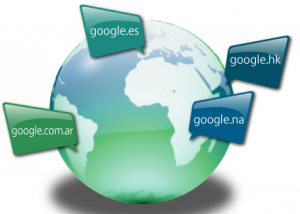 3. Search Engine- It is important to make sure all your SEO work is relevant for the particular nation you are targeting. For example when marketing to France, make sure you are doing your research and SEO work on www.google.fr or when marketing in India use  www.google.co.in. As well, Google is not the most popular search engine in every country, in Russia Yandex holds 64% of the market share.
4. Fan Interaction- It is important to be aware of how people interact locally and what approach a social media manager should take to win over fans' affection. The goal is to blend in culturally and stand out with quality. For example, if you are marketing a product in Brazil, it is important to use video content. Youtube is very popular and brands such as Burger King have been able to be very successful through video marketing campaigns.
5. Social Media Sites- While Facebook's popularity is overwhelming in the U.S and similarly so in many countries, there are some places where Facebook is not the most popular option. It is important to make sure you are using the most appropriate social media site for the country and topic you are promoting.  For example, if you take a look at the map below, in Russia Facebook is not the main Social Media site and actually is third in popularity to Odnoklassniki and V Kintakte.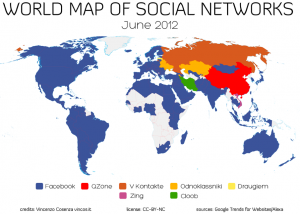 What are other important tips you can think of? Have any experiences to share?
 (For more in-depth advice about International SEO check out this post from SEOmoz)