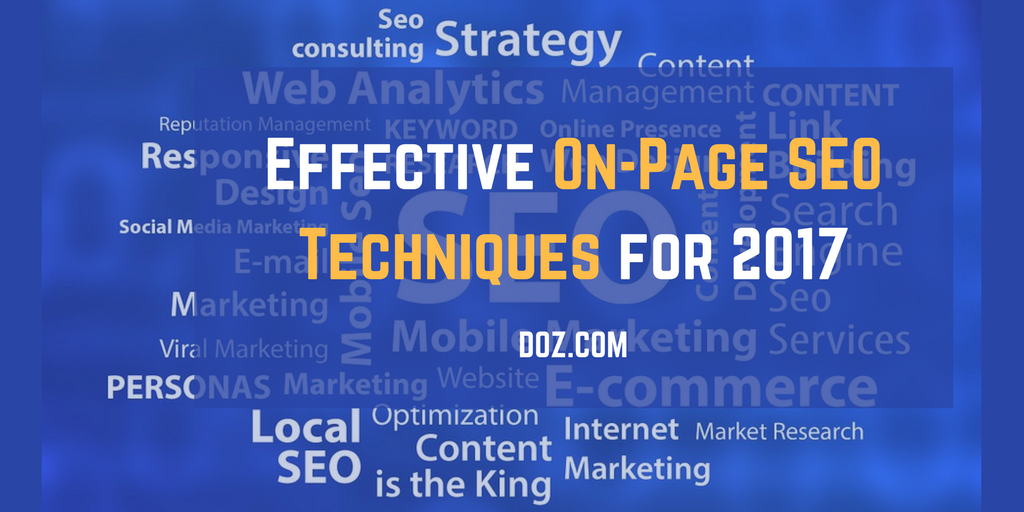 ---
This is an article by Walter Moore. He is a notable management consultant and digital marketing expert. He is a guest author for notable site GingerDomain.com. He has recently taken to blogging to share his thoughts, ideas, and expertise with his readers.
---
Effective On-Page SEO Techniques for 2017
You must be using some kind of a checklist while optimizing a page for ranking well to make sure that you are doing the correct things. You must be using the checklist using an SEO plug-in such as On-Page Grader from Moz Pro or through Yoast or maybe you are using just a mental checklist. The major issue is that there are many flaws in the way SEOs and marketers approach on-page SEO. In this post, we would be talking about On-Page SEO and some of the most efficient ways of boosting your rankings on Search Engines.
You Must Avoid the Keyword Repetition Rules
Many tools both paid and free usually check the number of times a keyword has been inserted on a page. But it is better for you if you simply go through the rules and the checking process of tools to make sure that you are fulfilling the minimum bar. You must not take any note of or consider any advice such as use 1 keyword phrase for every 10 words or minimum 4 keyword uses in HTML text. You must never forget the fact that Google appreciates a lot and is concerned about how the visitors to your site are interacting with your content.
If the searchers fail to click on your specific listing, or even if they do but they again bounce back pretty soon to the SERP as you are unable to deliver the experience or content they are looking for, you would be out of page one for sure. It is still important to include the keyword into your title, on the page and even your description but repetition-based rules would no longer be instrumental in boosting your rankings, instead, they would be responsible for inhibiting your usability and adversely affecting your content quality.
Discover What Searchers Are Looking For
You need to fulfill the goals and aspirations of the searcher. You have to focus on delivering the experience the searchers are looking for. You need to deliver the precise answers they want. In reality, this is far more crucial as compared to any keyword use rule. Your primary objective should be to understand clearly and exactly, what searchers desire for and you must deliver it efficiently to them.
It is far easier to generate any kind of content that would be catering to the precise needs of your visitors first, and then you could consider retrofitting that content with the keyword rules. Stop focusing on keyword usage; instead, concentrate on the quality of content. You need to focus on discovering what searchers are looking for and then deliver accordingly before worrying about keyword usage or even repetition in your content. You could use the services of bulk mailer Mumbai for marketing success.
Remember Related Keywords and Topics Are Vital
Simplistic rules and raw keyword repetitions would not earn you success in 2017. However, related topics would surely do. Google wishes to see documents which have intelligently used words and phrases which effectively connect lexically, logically and semantically to the searchers' queries. Those topics would be conveying to the On-Page Quality Analysis systems of Google that your specific content is relevant and on-topic; it has accurate and credible information and offers crucial answers to the searchers' precise questions. You could come across keywords that are beyond raw repetitions and synonyms which could boost your ranking. You could easily locate them with tools or manually and use them effectively in your content for dramatically boosting on-page SEO.
Do Not Assume that Links Would Always Be Beating On-Page
You need to do away with your biased thoughts about content and links that date back to 2012. During those days, low-quality and an irrelevant page of content could rank higher than other valuable pages simply by adding a few links along with anchor text. Today blunt-force link building would be of no use and should not be your weapon for success. Placing links to your other website pages, is a great way of improving your site and used properly, internal links can be a useful weapon in your SEO arsenal. Not only does it make it much easier for your visitors to navigate around your site and find all of your content, but it also ensures that your site gets properly crawled allowing the search engines to find all of your pages. It also helps to build the relevancy of a page to relevant keywords and phrases, whilst also helping to increase the Google Page Rank of your pages. Content links are very useful when used properly. These are links that are placed within your article posts, which redirect people to other relevant pages on your site. Advanced on-page SEO relies on Word usage, content formatting and user satisfaction for success.
Conclusion
It is time to give up the on-page SEO practices and techniques belonging to the old-school. If you follow the above-discussed modern techniques you could get them right. These were basic and important techniques for On-Page SEO. You must follow all the above-discussed points for success.