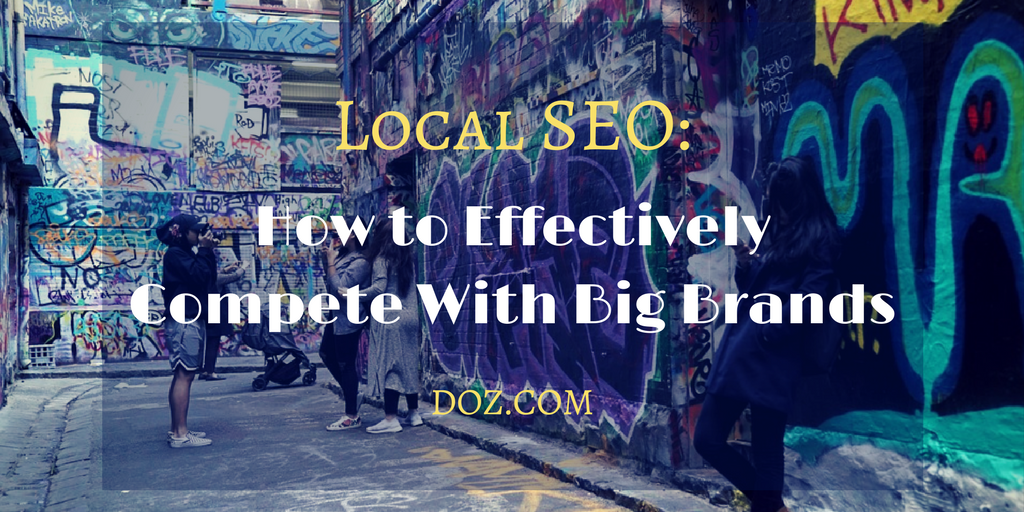 ---
This is an article by Judy Farrel. She is a passionate online marketer who is fascinated by the social media. Although she has worked for some SEO agence, she is passionate about doing some innovate experiments in marketing by using the social media. Her hobby is photography.
---
With the right approach in local SEO, small businesses can compete effectively with the bigger ones
Can all sizes of business make use of SEO? This question is often asked because there is a feeling that when implementing SEO, small businesses often face the broadside from more prominent companies. It is not that big business houses act like big brother. It might appear that due to their bigger size, more resources, and stronger financial muscles, big businesses dominate the SEO scene especially in maintaining good ranks in search results. While this might be true partially, it does not create impediments for small businesses that can still make good use of SEO, provided they know the methods and acquire the skills to cut through competition with lesser resources and experience.
For small businesses, the most heartening fact is that Google does not discriminate between companies and treats all entities in the same way. Google has always believed and practiced fair business and has never given any importance to numbers over quality as any SEO agence would vouch for. Google judges websites very objectively based on defined parameters d does not consider the business at all. The SEO qualities speak for themselves and influence search rankings. To alleviate the concerns of small companies, Google has given special focus to local SEO that reflects in the manner of display of search results of small businesses. Taking advantage of it, small businesses can now make better use of local SEO to give big companies a run for their money. As you read this article, you would know about the strategies that would help to earn good ranks in search results.
Hold on to your niche
Base your SEO strategy on what you specialize instead of dabbling in too many areas of business in trying to gain wide exposure that can turn counterproductive. Instead of highlighting too many aspects of your business, highlight the one that you are most confident about and in which you can excel. Straying away from the niche would dilute your attention and prevent the SEO campaign from flourishing. You might get more exposure on many keywords, but the relevance of these keywords would be low. Instead, focusing on one expertise or specialization would result in more searches concentrating on it thereby increasing visibility that leads to high traffic in that niche.
Focus on local SEO
If your goal is to beat the competition and challenge the more significant business entities, then you have to make use of local SEO. Local SEO provides the perfect platform to establish you as a significant player in your business niche and helps to gain a toehold in the local market, which almost is the exclusive domain of small business. By using the same platform, you should be able to give a much more comprehensive and national perspective to your business, as you would be garnering the strength to compete with larger firms effectively.
For increasing your relevance at the local level, be present in forums and communities of the locality that act as the gateway to the local market. To popularize your name, attend various events like festivals and fairs and arrange for local reviews on reputed review sites. Positive reviews appearing in Yelp or Trip Advisor help to push up search rankings. It is easier for small businesses to take this route to advance the cause of SEO rather than focusing too much on content development and link building.
Use long tail keywords
When you concentrate on a niche, it is clear that you do not mind smaller traffic volume in exchange of higher relevance. Staying relevant is more important to you because it can drive more traffic in the long run and to stay relevant it makes sense to depend on long tail keywords. When short keywords are extended by attaching phrases to it, it results in long tail keywords. High-ranking keywords might result in moderate ranks, but long tail keywords help you to work with less popular keywords yet earn high ranks. Moreover, you face less competition with long tail keywords while the chances of better ranking are more. Google Webmaster tools help in researching long tail keywords.
Build brand through content strategy
Engage in the process of building a brand for your business by creating good quality content regularly. The exercise helps in creating trust, loyalty, and credibility that are so essential to stay ahead in the competition. Maintain a steady stream of quality content that you can publish continuously and extend the activity further by including, videos, e-books, webinars and podcasts that help to establish authority in your business niche. Adopt a proper system for distributing content so that you can achieve the maximum outreach that ensures the highest ROI.
Add a personal factor to the brand that is highly effective in countering the competition arising from big businesses. The promise of personalized experience influences consumers positively as you develop better relationships that usher good times for local SEO.