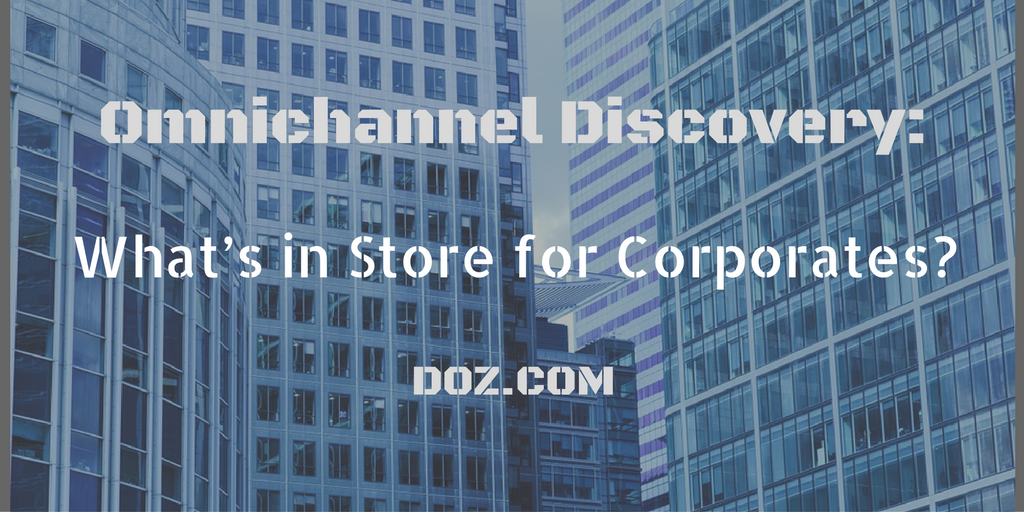 ---
This is an article by Derek Iwasiuk. He is a digital market expert with extensive experience in various digital marketing strategies. Currently, he works for a California based SEO firm. Do you have a question for him? Feel free to visit his website.
---
For those who might be seeing the name for the first time, you might be tempted to think or even believe that Omnichannel marketing is a new concept; it isn't. However, the whole idea has never ceased to amaze leading brands and writers as well. Truth be told, the multi-dimensional change in consumer behavior is worrying, especially if you have to respond to them to remain afloat in business. Initially, the headache was brands coordinating their marketing across various channels. The reality today is completely different. Instead of grappling with the concept of multi-channel marketing, businesses have to deal with the saddening reality that consumers are using myriad platforms, communication techniques and devices to get what they want. Do you know that one only needs to voice out his order through Amazon Echo to have Pizza delivered at his doorstep? That is how fast this latest realization is driving the corporate world.
Here comes Omnichannel
With the entry of multiple devices and innovative technologies, consumers have long changed how they carry out their searches. Previously, Google was synonymous to online search. You only needed the services of a good SEO firm to win the digital marketing game because all the answers were in Google. Things have changed overtime and accepting the reality on the ground is the way to go. The average American owns at least four devices and spends over six hours weekly consuming varied content from their devices. Did you know that? Thanks to Nielsen, now you know.
In a recent survey by Forrester Research, it was observed that many consumers now find out about brands and interact with them across multiple platforms and devices; thanks to technology. From social networks to mobile applications, consumers no longer need to wait for television advertisements to learn about leading brands or the latest pizza den in town. This drastic change in consumer behavior has led to people making rapid decisions pertaining to their purchases and actions; what Google terms as micro-moments. Within seconds of interaction with brands, consumers are able to take decisive actions that trickle down to affect major brands in the corporate realm.
It's time to gain
What many businesses might not have realized is that they stand to gain massively from omnichannel discovery. All they need to do is lead the customers in a seamless way across the multiple channels. You might probably be wondering how possible you can achieve that with your business. Well, you only need to figure out how to create the perfect experience for consumers in every channel. Take a mobile wallet for instance. It might be ideal for someone using Google to carry out his searches, but not equally applicable to a Snapchat user who just wants an exciting experience. In your journey of figuring out how best to embrace this latest discovery, you might want to learn from brands, which are already reaping big from omnichannel discovery.
Domino's Pizza
Domino's is a proud owner of over 5200 stores in the United States alone. If you had no clue, more than half of Domino's sales are accredited to digital channels. Interestingly, 50% of the digital sales come from mobile. Is that something to be excited about? You know the answer! What could Domino's have realized that others didn't? Responding to growing changes in consumer behaviors is the way to go. For those who might think that ordering Pizzas through emojis and voices commands are gimmicks; you are wrong. It is the transparent reflection of people's interactions with brands and with each other in the post-digital era.
Dominos' CEO, Patrick Doyle might have understood better the need to make it easier for customers to order Pizza regardless of where they are and what they are doing. As some would put it, he transitioned the company to a point where customers can order pizza while waiting for the spotlight! Interestingly, that hasn't changed. Besides Twitter and Echo, you can now order Domino's Pizza from other multiple channels including Facebook, Smart Televisions, Mobile Apps, and even your apple watch! It is all about creating the ideal experience for the consumer, device, and concerned channel!
Disney World
Disney takes advantage of various devices and platforms to guide Disney World visitors through a seamless Omnichannel journey. From mobile applications, wearables to Desktops, Disney understands the needs of its clients and responds to them appropriately. Take a look at My Disney Experience website. It is a multi-function platform with capabilities of planning visits, buying tickets and even selecting preferred accommodation plans. For a resounding experience, there is even live chat and click-to call icon!
Disney Experience gives users the opportunity of finding out 'to do things.' Even more, Disney makes it easier for visitors to manage common transactions like food purchase by providing them with MagicBand RFID wearables. The advanced technology that stores critical information of guests (including specific locations of visitors throughout the day) makes it possible to deliver more personalised customer experiences.
What Next for Your Business?
With everything said, all that remains is giving your customers the deserving experience by taking advantage of omnichannel discovery. Which quick steps can help you achieve this? Let's run through them:
Design Omnichannel Location Data Plan: Once you have a concise idea of the multiple channels your customers use, ensure visibility of your brand across the channels. Simply having the accurate data on the location pages of your store is not enough. Ensure you distribute your location data across the multiple discovery channels.
Fathom the Omnichannel Journey of your Consumers: You need to have an accurate idea of your customer's journey right from the moment they leave home to the minute they arrive in stores. Use tools such as journey maps to discover the number of touch points encountered within their journey.
Give them a lead after Brand Discovery: It is important to create a next moment ideal for each channel. Simply, it refers to the proceeding action after successful discovery of your brand by a customer. For instance, you can have a next moment on Instagram featuring promoted visual content.
Ideally, omnichannel discovery comes with a greater realization for various brands. For those who are able to use advanced analytic and consumer measurement tools alongside other workable strategies like ideal positioning, the future couldn't have been more promising than it is right now!