Spend Valentines Day With The President
On Tuesday, President Obama made his State of the Union address to a joint session of Congress, but on Thursday, he will address your questions directly in a Google+ Hangout. This is his second "Fireside Hangout", the first being last January, and is a rebirth of FDR's famous fireside chats. You can submit questions for review or vote on other submissions on the White House YouTube page. The Hangout will start at 4:50 p.m. ET Thursday and will be streamed live on Google+ as well on the White House YouTube channel.
A Very Social President
President Obama is no newbie to social media. His and the White House social media channels includeTwitter, Facebook, Google+, Pinterest and Youtube accounts. As well, during his last campaign for the presidency, he engaged with voters' questions through a Reddit AMA (Ask Me Anything) live chat. This chat was so popular, and had so many visitors, the site crashed. President Obama has used social media to target and connect with the younger demographic in a way that is familiar and relevant in their lives. With over 27 million Twitter followers and over 35 million likes on Facebook, it is clear people want to hear from him as well. In addition to offering the chance to speak directly with President Obama, dedicated social media followers of the The White House have the opportunity to attend the White House State of the Union Social. Those chosen will watch the State of the Union Address live at the White House and after engage in a discussion with Administration officials about the speech. This event is part of the larger White House Social series, in person meetings offered to people who engage with the many social media outlets of the White House.  Past events include a Twitter Town Hall, Pinterest Holiday Social and Google+ Photowalk.
Social Media Possibilities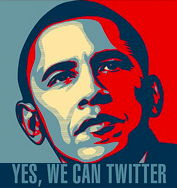 What does this tell you about the capabilities of social media? Sky's the limit! Who would have suspected the White House would have taken to Pinterest to throw a holiday party? No longer just for brands or personal use, social media is important in carrying out civic duties and responsibilities. It used to be important to call or write your representatives, but now you can Tweet them and receive feedback instantly. If you think that social media does not apply to your situation, take a second look. There is probably an innovative way to take advantage of it you did not realize was even a possibility before. Brands looking to energize their marketing tactics should take note of the original ways the White House and President Obama have used social media to interact with the American public.
What do you think of the opportunity to chat with President Obama directly? Have you ever engaged in a previous social media event with President Obama or the White House?