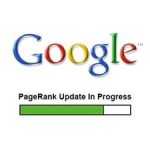 While everybody was talking about the Grammy's ceremony, getting flowers for Valentine's day, nobody seems to care about Capseo's +1 PageRank. I still wonder why! That means now our page rank is 4, before it was 3.

Well, at least I know why our page finally got +1. I would say that we have been working hard on our webpages for months to get it, but I would be lying. To be honest with you this is thanks to what we have all been waiting for: the Google PageRank Update. Done during the night of February 6, 2012, everybody- or should I say those who work hard to attract readers- has been waiting for this moment.  For those who really care about their PageRank I'm sure you agree that it was a sneaky update.
To show you how much I care about my readers, and also because Valentine's day made me a little more tender, I will explain how the PageRank works.
The first thing you should know is that it's a "numeric value that represents how important a page is on the web. Google figures that when one page links to another page, it is effectively casting a vote for the other page. The more votes that are cast for a page, the more important the page must be. Also, the importance of the page that is casting the vote determines how important the vote itself is."
Google assigns a PageRank to every page of a website and/or blog with a grade between 1 and 10, 10 points being the highest. Google gives ratings on the basis of many factors such as:
Google links to your site while maintaining relevancy
Interlinking
Quality of content on the site
Website load speed
Bounce rate
Number of pages on your site etc
Backlinks help in getting PR 1-2, but to get higher PR, backlinks quality and domain age should be considered more seriously.

Here are some tips to get better PageRank since the new update:
Writing posts on a regular basis, at least 1 article daily
Giving a better design to your site so users can interact easily
Commenting on related blogs/articles to build related backlinks
Being active in social media like facebook and twitte
You can also hire an SEO (Search Engine Optimization) expert (We have a great one in our team)

For the wellness of the pages of your blog/website, please, I'm begging you, treat it well!
And for this, you should ask  Capseo