Social media is becoming one of the most important marketing tools. Use the right tools well to ensure easy success.
1. Social media are important for all businesses, especially small businesses, because they serve as free marketing. Many tasks associated with social media campaigns are "do it yourself". Social sites are easy to navigate, most platforms are free, and they all fill a niche. Oakland, CA, recently held a social media day to equip small business with the benefits of social tools. Read more about this campaign.
2. While most people with basic knowledge of social media can create their own page and campaign, it never hurts to seek professional social media marketing (SMM) consultation. Professionals can help optimize timeline or hashtag content and collect data on traffic habits and viewer demographics.
3. Word of mouth proves important to social media activity. Many people view, like, or follow pages because they see that their friend has done so or because a friend suggests it to them. On Facebook, such activity shows up on newsfeeds; people click on pages that their close friends have liked or that particularly interest them. Thus, the natural flow of suggestions and interest within online communities provides a great way to gather a genuine following.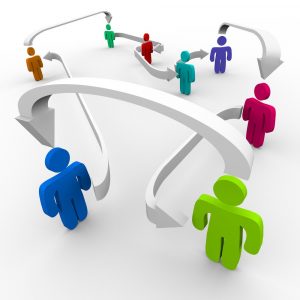 4. It is off-putting to solicit likes and shares from followers. People will "like" or share posts if they agree with the content; there is no need to ask people to do so. You can follow this link for a more extensive description of SMM etiquette.
5. Most people do not use social media, aside from Linkedin, for primarily business purposes. Even amongst Linkedin users, only 26% use their account primarily for business. Social tools are indeed critical media for any business, but they serve to benefit customer engagement. Facebook pages, Twitter accounts, etc. should be informal, positive, friendly. Above all, they should convey valuable information. Few things are more likely to alienate followers than annoying, impertinent posts flooding their newsfeeds. Use these social media to make announcements, run contests and campaigns to boost loyalty, and receive customer feedback.
Social media should become a company's conversation with current and potential customers.