For many people the mere mention of "social media", "politics" and "shook up" in a headline is going to point to one thing: Weinergate.
While the US Representative from New York might be a stand out example of a politician whose career nosedived after he got caught out tweeting his privates to the public, this is not really what this post is about.
Instead, we are looking at times when social media shook up politics, campaigns, and elections in ways that were a little more real than the (former) career of a (formerly) anonymous Congressman from the Empire State.
Social media spreads fast, demands brevity, and has the distinct ability to shape media narratives around politics and politicians. Here are five times that social media drove the story and changed the way that politics worked.
Anne Romney Smacks Down Rosen with First Tweet
In the 2012 US Presidential campaign Democrat operative Hilary Rosen hit out at the wife of Republican candidate Mitt Romney for never having worked a regular job. Said Rosen, Anne Romney "has actually never worked a day in her life. She's never really dealt with the kinds of economic issues that a majority of the women in this country are facing in terms of how do we feed our kids, how do we send them to school and how do we — why we worry about their future."
As the story – repeated and amplified by social media – gained traction, Anne Romney took to Twitter and, in her debut tweet, hit back at Rosen. This was no typical "First tweet!" post – it was a slap to Rosen that left a big red mark.
I made a choice to stay home and raise five boys. Believe me, it was hard work.

— Ann Romney (@AnnRomney) April 12, 2012
Boom.
Romney used her first foray into social media to immediately change the narrative and remind some on the other side of politics that stay-at-home-moms are working hard, too. Politico described the tweet as "succinct, personal and elegant, a far better choice than the old-world ways of issuing a press release or appearing on a morning show". They were right.
'This Seat's Taken'
A common criticism of President Obama has been that he is an 'empty suit' or an 'empty chair' – essentially that there is little of substance to the leader of the free world.
This criticism was taken to the next level at the 2012 GOP convention where Clint Eastwood gave a speech alongside an empty chair, representing President Obama and his lack of leadership.
How did President Obama respond? With a tweet.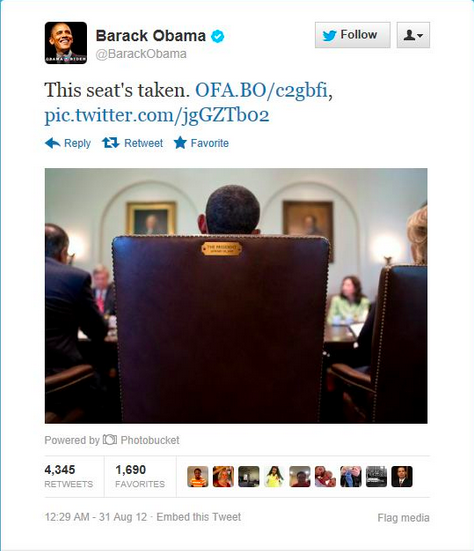 Aw, snap!
Three words were enough to remind everyone who was sitting in the Oval Office and that he wasn't keen to give up his seat at the Cabinet Table without a fight.
Facebook at the Forum
At the most recent Australian Federal Election the polls were tight when the two party leaders met for a one-on-one debate at the People's Forum. Before heading on-stage both the Liberal Party's Tony Abbott and the Labor Party's Kevin Rudd had their make-up applied by the same make-up artist, Lily Fontana.
Having completed the make-up job on both men, Fontana posted to her personal Facebook page about her experience meeting the two most powerful men in Australia:
Just finished doing Kevin Rudd and Tony Abbott's makeup for the People's Forum at the Broncos Leagues Club. One of them was absolutely lovely, engaged in genuine conversation with me, acknowledge that I had a job to do and was very appreciative. The other did the exact opposite! Oh boy, I have ever [sic] had anyone treat me so badly. Political opinions aside…from one human being to another…Mr Abbott, you win hands down
Fontana's comment helped reinforce the perception of Rudd as a man who disliked 'regular' people – he had previously been caught verbally abusing a woman serving him on an airplane – while reinforcing the notion that Tony Abbott was a regular, nice guy.
Was it any surprise when Abbott went on to knock the incumbent Rudd out of contention for the country's top job?
Ron Paul Remembers the 5th of November
On 5 November 1605 Guy Fawkes attempted to assassinate King James I by blowing up the British Parliament.
On 5 November 2007 supporters of Ron Paul attempted to blow up the narrative surrounding the 'inevitable' rise of John McCain or Mitt Romney to the top of the GOP presidential ticket.
Fans of Paul and a group of online organizers attempted to set a new one-day record for political fundraising and, in doing so, focus attention on a man who had a lot of scattered support publicly but whose libertarian message resonated with many online.
As the New York Times reported:
On Monday, a group of Paul supporters helped raised more than $4.07 million in one day — approaching what the campaign raised in the entire last quarter — through a Web site called ThisNovember5th.com, a reference to the day the British commemorate the thwarted bombing.
Many fans of Mr. Paul know of the day primarily through a movie based on the futuristic graphic novel "V for Vendetta," by Alan Moore and David Lloyd, in which a terrorist modeled after Fawkes battles a fascist government that has taken over Britain…
ThisNovember5th.com includes video clips and the text of a speech by Mr. Paul, a 10-term Texas congressman. In it, Mr. Paul declares, "The true patriot challenges the state when the state embarks on enhancing its power at the expense of the individual."
Paul would go on to raise another $6 million in a single day about a month later when his supporters commemorated the Boston Tea Party with a second "money bomb". While his presidential campaign wen nowhere, his online presence remains influential.
Joe Miller Counts His Chickens
There's confidence and then there's over-confidence.
Running for a US Senate seat Republican nominee Joe Miller took a trip to Washington DC and then took to Twitter to report on his time there:
Though ahead in the polls at that point, the overconfidence did not go down well in conservative Alaska, and Millers numbers began to slide. On election day he would lose to a write-in Republican rival, Lisa Murkowski, he had toppled in the GOP primary, with his Twitter misstep just one of a series of media bungles on Miller's part.
There's no word on whether he was stuck with the office furniture.
This week DOZ is exploring the nexus between marketing and politics, with a particular emphasis on political campaigning online. Click through everyday as we look at the way the internet has changed political campaigning, the key points that a politician needs to get straight with their campaign manager, the importance of social media to online campaigns, and five times that the internet played a big role in a political story.