The Details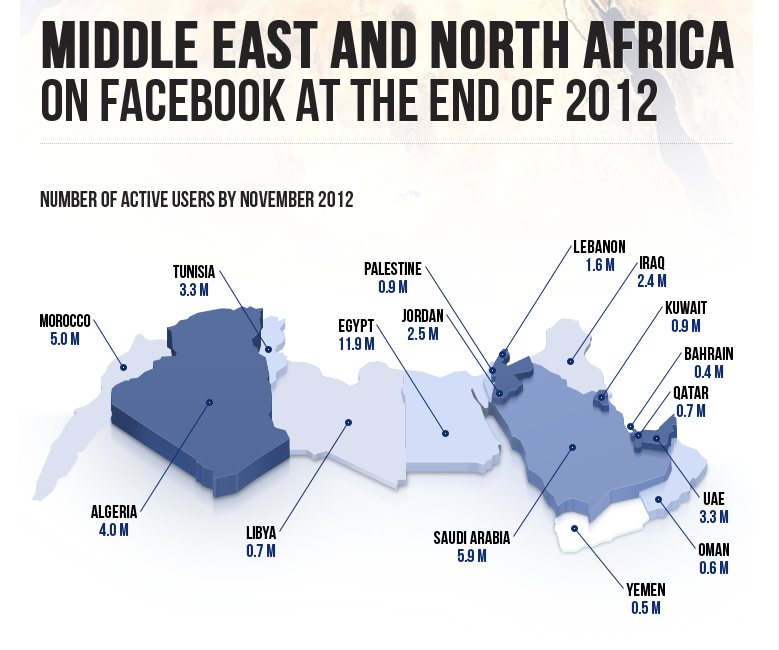 Facebook's growth in the MENA (Middle East and North African) nations is quickly on the rise, in a study by Socialbakers, the region shows a 29% growth this year adding 10 million new users to the site. The fastest growing regions reported are Qatar, Libya, and Iraq, but Egypt had the highest user growth over all with the addition of 2.5 millions new users and boasts the area's most concentrated Facebook population with 17 million total users. MENA users are overwhelmingly male at 65% and young, the largest growing age group is 18-24 year olds, making up 36% of the growth. The most popular industries were Media, E-commerce, Airlines and Electronics and the most popular brands on are mobile phone operator Mobinil, dairy foods company Almarai, and Samsung Egypt. The least engaged companies are those in the alcohol and fashion industries.
Room For Improvement
While growth has boomed in Facebook use, user involvement and stimulation by marketers is lacking. Social managers lack frequent posts and brand updates and in turn the response rates by users is low, under 65% of a socially devoted page. Although users, 9 out of 10, report that they would participate more in brand pages if they had the opportunity to.
Brands Take Note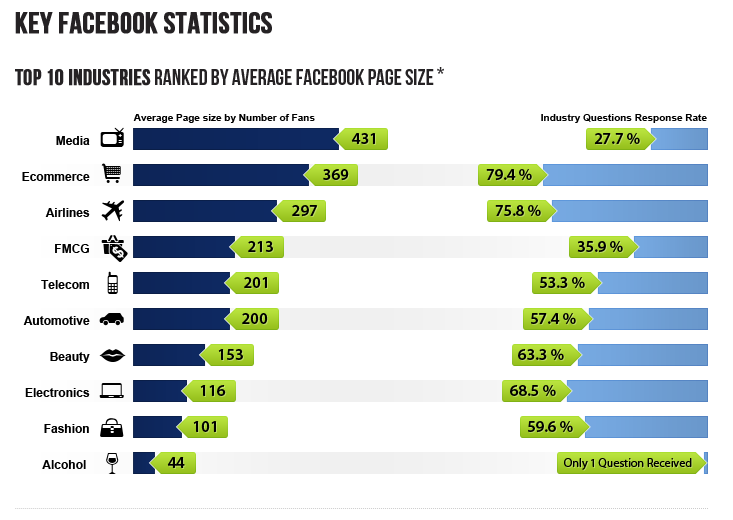 So just as the famous movie quote goes, "If you build it, they will come", the data supports the idea that if brands build engaging pages, users will flock to them. Young people in the MENA are taking to social media, they want to engage with brands, and are waiting for more opportunities to do so. The right brands in this emerging market have an enthusiastic audience to engage, if they know what they are doing. It will take localized knowledge of the culture to insure the page and fan interaction is properly managed to increase user interaction and satisfaction. With a growing user rate increasing by 21 people per minute, the possibilities are great, competition is low and the population is ready and eager.