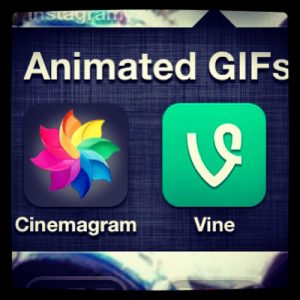 My fist intent was to expose how Vine, the new Twitter owned app, could be used as a Marketing Tool and I then realized that  I was about to "promote" a so called "Span" app while Cinemagram, which operates in the same general market as Vine, deserves somehow, its shot too. So, I will first compare both apps, or should I say highlight the features that Vine does not have. I will then do my job which is to say : explain why you should use one of these apps as marketing tool for business.
Just for those of you who might not know Vine, its an app launched by Twitter that allows you to create 6 second videos, BUT not any regular videos!  You can start/stop recording by simply holding your finger on the screen when you want to record, take it off, put it back once again , as many times as you want (or can) before a total 6 seconds of video is recorded.
Cinemagram Vs Vine
Vine videos can show up a series of "scenes," despite the brevity of the app's concept.  The videos continuous loop, gives it an animated .gif feel.  You can then post them via an Instagram'esque interface and share them on the platform as well as Twitter and Facebook. Social functionality mirrors that of Instagram, so yes you will find the now very common "like" and "comment" button plus the twitter hashtags on  each and every Vine videos.
I have been reading a lot about Vine lately, and it is widely compared to Instragram but to me it is more like Cinemagram. I would rather compare Vine to Cinemagram which should be compared to Instagram.First of all, note that concept is the same. You  record and pause with the simple push of a button. Amongst the small features that can make a difference, Cinemagram can let you do the following :
Use any video
You can either shoot a video (called Cine) with the app or import it from your camera roll. With Vine, you can use only videos you've just shot.
Apply filters
Offers up to 15 filters giving you a variety of colors and effects, (quite comparable to Instagram's filters for photos).
Go backwards
You have the option of looping your video in reverse instead of forward. With Cinemagram, you can also adjust the speed of your video.
Use a mask
Perhaps the most intriguing use of Cinemagram! You can designate an area of your video to move while the rest appears still.
Tag friends
Gives you the ability to identify and reference people in the videos.
Share to more places
In addition to Facebook and Twitter you can also share the Cine directly on Tumblr by turning sharing on for each service once you've finished your video.
And … unfortunately, Cinemagrams videos are silent. Sadest thing about Cinemagram I agree !
You might have noticed that I am a Cinemagram advocate, it's because I find it more appealing and it wasn't that much of a craze when it was launched. Whose fault ? The lack of communication maybe. But still I have to admit that Vine  has its plus. You can view Vines natively in Twitter for iOS with other third party Twitter apps to follow while a Cinemagram viewer must download Cinemagram to natively view a 'Cine'.
 Why use short video ?
Anyways, both are "great" tools for your marketing. So what exactly can short video do for your business? I could list an infinite number of  things to do in 6 second video but Social Media Examiner  and Hubspotalready did it for Vine so I would rather think of the main reasons why you should definitely use these short video to benefit your company. Well first of all, and it's the most valuable reason, because your customers are there! And for the following reasons :
Grow your Brand Awareness / Humanize Your Brand
•    Share fun facts about your company's history
•    Take viewers inside your office, store or plant and show them where you brainstorm ideas, make products and execute services
•    Introduce (new) staff with short interviews
Build Buzz
•    Provide sneak peaks of upcoming events, soon-to-be-released products or hint at big company news
•    Promote events with short clips from your trade show booth, store opening or conference
•    Stores can share daily deals and restaurants can share today's menu specials
Educate on Products and Services
•    Demonstrate how new products, features and services work
•    Provide answers to FAQs on new products
Engage Connect with Your  Follower / Customers
•    Make your brand ambassadors feel by showing their videos of them discussing your business
•    Hold contests and ask for video submissions from followers
So you will consequently, attract new customers  and Increase sales .
Anyhow, remember that short videos may be the hot idea of the moment, but it certainly doesn't break down any video production barriers to entry.
While I was writing this article I discovered the Android version of Cinemagram  has just come out. Perfect timing to capitalize on a lack in a market left behind by the absence of Vine on Android.
Give your business a chance too, and get marketers ready  to tell us a story in a short time span and tell us:  which of Vine or Cinemagram would you rather use ?