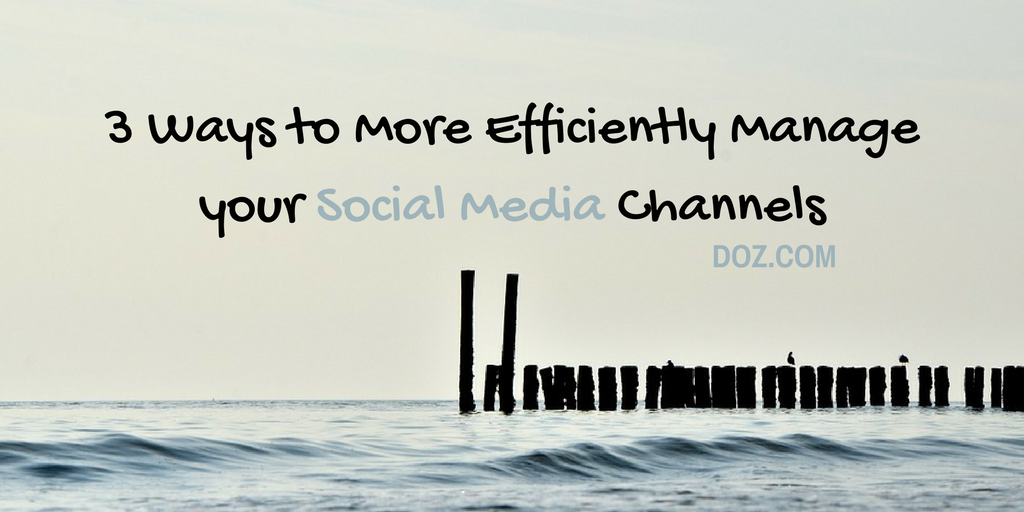 ---
This is an article by Chris Makara. Since 2003, he has developed a broad digital marketing background with a focus on SEO, Social Media, Automation and Analytics. He is the founder of Bulkly, a social media automation tool for individuals and small businesses. Feel free to find him on Google+, LinkedIn, or Twitter.
---
Whether you're managing your own social media channels, or those belonging to your clients, you know that time is money.
And at the end of the day, your ultimate goal is to find a way to do more with less.
Do more work in less time, that is.
The key is efficiency. But you already knew that.
What you need to know is how to become more efficient managing your social channels so that you can take on more business in the time you have – or free up more of your time under your current workload.
Here are three easy and inexpensive ways to make that happen.
1.    Monitor your social media channels – all in one place.
Monitoring your social channels is important. You need to know what your followers are saying so you can engage, analyze and use your findings to post better (or more great) content.
If you have a collection of social channels on your plate, it takes time to log in and out of each one to check notifications. Or dig through a zillion Facebook email updates. Or have a million tabs open on your desktop at any given moment.
While it may be smart to have notification emails coming in as reminders or to check each channel individually once in a while, the ability to monitor everything from a single dashboard is definitely the way to go.
My recommendation for the best social tool for efficient monitoring? Hootsuite.
Hootsuite is easy to use and extremely economical if you're looking for an intuitive tool that does a lot for a small fee. It's free to users looking to essentially test it with 3 social profiles, but upgrading to the "Pro" package that gives you access to the majority of the tool's features is only $8.99/mo (when paid annually).
Simply create your account, log in and follow the step-by-step process to sync your collection of social channels to the dashboard.
At this point, separate tabs are created for each channel (Twitter, LinkedIn, Facebook, etc.). Within these tabs you have the ability to create multiple "streams" of social updates based on mentions of your company name, popular hashtags, your competitors, etc.
Additionally, you'll be able to view the content currently being posted to each of your channels in real-time, as well as conversations and replies – just the way you would in the notifications section of each of your accounts.
Pretty snazzy, huh? Imagine how much time you could save…and how much free head space you'll clear up without all those passwords running around in there.
2.    Design your own social images in minutes – for free.
Ugh, stock photos. Can't live with them, can't live without them.
But you don't have to succumb to the march of the masses using the same boring office shots – or waste your time sifting through endless free image sites for the one that might look just a little different.
And no, I'm not talking about signing up for a free crash course in graphic design.
I'm talking about Canva.
Ever heard of it?
If you find yourself beating your head against the wall for an amazing image, and lacking the resources to buy your own images, Canva offers a wide selection of templates and tools to help you create a digital masterpiece. No, seriously.
Just create your account – for free – and get going.
First you pick a category of design to start with, organized by the appropriate sizing. Your options span from Facebook Posts to Blog Graphics and more.
Next, pick a background, choosing either a solid color, pattern, stock photo or even your own uploaded image. Then add text, images, designs, you name it, and before you know it, you've got yourself your very own digital Picasso.
And with Canva, you can become a paying customer as you please – if you're sick of the free, standard variety of backgrounds (and believe me, it'll take a while to run through them), you have the option of selecting a premium image, design, picture, etc. for $1 each. That's it.
When you're done, you just hit download, select the file type you prefer, and voila! – social image in seconds.
3.    Schedule out social media updates all at once – in advance.
So this last one is going to be a bit of an investment up-front, but it ends up paying off the most in terms of efficiency at the end. Worth it, right?
I'll answer that for you. Yes!
To become more efficient when posting updates to your social channels, I'd recommend using Buffer.
Is it inexpensive? Yes – Buffer offers both free and paid accounts, but for just $10/month you'll gain access to the majority of features you'll need to get rolling.
The time investment that will lead to future efficiency will be your having to build out a social media calendar of updates to go out on various dates and times. But you probably already put together something like that to keep yourself on track, right?
Creating this calendar gives you a ready-made list of updates that cover the span of time you're looking to post – days, weeks, months – so you can then schedule them out in Buffer.
Here's how it works.
Simply set up your account, log in and sync your collection of social channels by following the steps to provide the appropriate usernames and passwords. Once your accounts have been synced they should show up in a list on the left side of your Buffer dashboard.
By clicking on each individual channel within that list, you can then choose the "schedule" tab at the top of your dashboard to select when updates will be shared to that specific channel.
By clicking on the "content" tab at the top, you'll find a form that allows you to compose social media updates, just as you would to that stand alone channel. But instead of sending them out immediately, Buffer allots them to go out according to the posting schedule you've already created. So you're essentially building up a queue of future posts in advance.
This is where your social media calendar creates efficiency.
Using your calendar for reference, you can literally spend an hour or two knocking out a whole month's worth of social updates to various channels. Bingo. Work done ahead of time. All in one shot.
Not only can you add content directly in Buffer, but if you install the Chrome extension you'll be able to add content from any website and add it to some or all of your social media accounts.
How's that for posting efficiency?
And if you really want to maximize Buffer you can recycle your social media posts automatically.
Efficiency is a learned skill – that takes practice
Learning a new skill takes time. Or at least time to become really good, or efficient, at it.
But these three social media tools can help you upgrade your monitoring, image creation and posting efficiency with minimal effort – and expense.
Give them a try. Once you get going, you won't be able to stop.