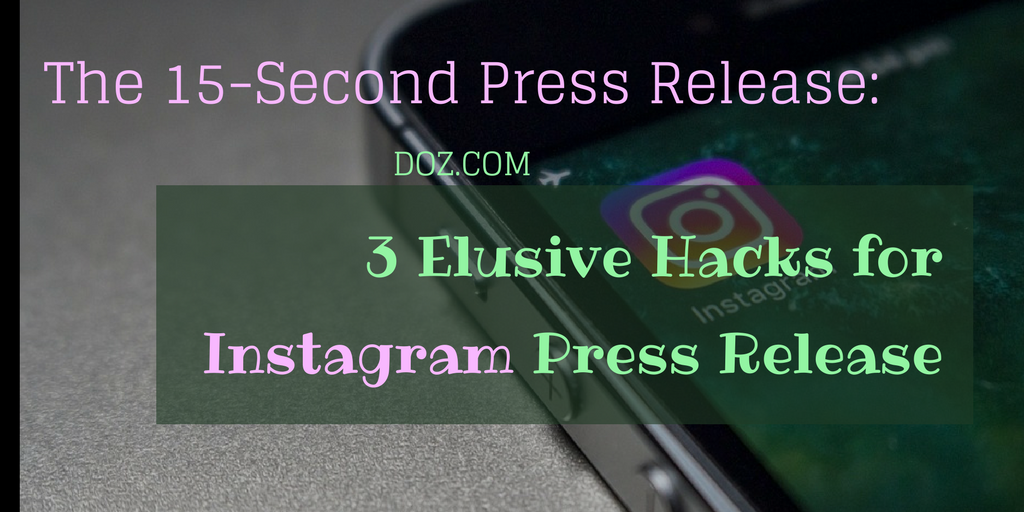 ---
This is an article by Isabella Rossellini. She is a social media-marketing expert. She is the professional to approach if you need thousands of Instagram followers overnight. You can contact her via email or be part of her followers for Instagram and Twitter.
---
When most brands think of social media press release, they think of 'big players' in the market like Facebook, Twitter, and LinkedIn. Well, it appears so normal ignoring the rest until you realize the massive gains your competitors are reaping from image based platforms like Instagram. The world is changing so rapidly and any brand that is not willing to play along will find itself sitting on the fence, watching the rest gather the remains of what would have been theirs. If you had no clue, Instagram is a priceless asset to any brand's press release marketing campaign. The big question is how to make it fit. The answers are all here for you.
Get creative with videos
The normal press release videos are long and generally full of company promotional contents. Instagram gives you 60 seconds or less to pass the message on to your Instagram followers. How do you take advantage of this? You can edit the original video shared over other social media platforms and only leave the engaging content. Alternatively, you can create a new video, specifically for Instagram. You must remember to factor in your brand's identity without forgetting to create value to your viewers. It doesn't have to be complicated stuff. Some great ideas of short clips that have worked in the past include;
Customer's testimonial or quote
Your product in use
Quick incentive
Used with a captivating headline, the video strategy can work miracles for Instagram press release.
Think of Catchy Hashtags and Descriptions
Everyone might want to say the power of Instagram is in photos, which I am not disputing, but the real gem lies in descriptions. For social media press releases that are so much dependent on words, taking advantage of this fact is the greatest favor you can do for your brand. Use an elusive description, alongside a simple hashtag like #PressRelease. Embedded in the descriptions should be keyword hashtags and a link to the original press release.
Capitalize on the power of vision
Instagram is well known for photos. How well you take advantage of this determines whether your press release will be successful or not. To promote your press release on Instagram, you need to capitalize on an image that is capable of grabbing the attention of followers for Instagram and other social media sites users as well. Captivating photos will definitely get great shares but only informative and engaging press release photos will get clicks.
The secret therefore, is blending the art of ideal photography and interactive text. It is worth remembering that links shared via Instagram are not live links. The only way to take advantage is to have a memorable link on the official press release image. Alternatively, you can have a screenshot of the press release.
Conclusion
Over the years, Instagram has proved itself as a powerful tool that can be used in enhancing brand awareness. If used in the right way, you can capitalize on the power of Instagram to issue authoritative and engaging press releases that will no doubt bring greater ROI.