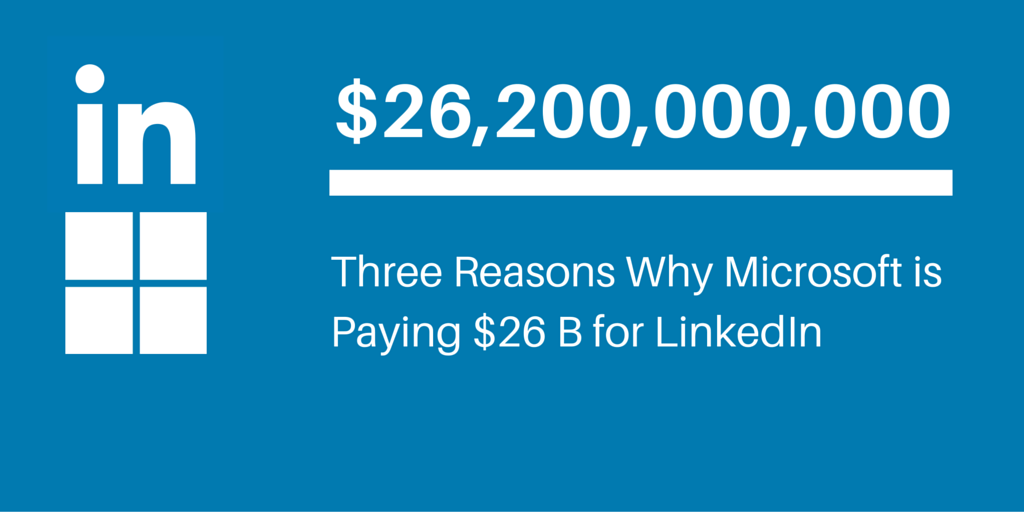 News broke today that Microsoft is set to acquire professional social networking site LinkedIn.
In an all-cash deal worth $26.2 billion the giant of professional software offer is worth $196 per share, a significant premium over LinkedIn's Friday closing price of $131 per share.
While nowhere near the largest acquisition in history, it is amongst the biggest acquisitions in social networking, new media, and technology sectors in recent years. In particular, the $26 billion far outstrips the the $22 billion that rival network Facebook paid for messaging application company WhatsApp in 2014.
What Microsoft is getting for its money can be summarized in a few words: connections, subscriptions, and growth.
Connections
LinkedIn connections are functionally different to the 'friends' and 'followers' of competing social networks.
Unlike a Facebook Friend, for example, a LinkedIn connection represents a public alignment in a professional sense. A LinkedIn connection is someone that a user is proud to have associated with their public professional profile. There is not the same social pressure to add every second-cousin or high school classmate to your LinkedIn connection list because, far from being a space for sharing memes and holiday snaps, LinkedIn remains largely a professional space. Similarly, unlike Twitter Followers that might represent nothing more than a passing appreciation of a rock band, actor, or comedian, LinkedIn connections represent stronger and longer lasting bonds between people.
This makes the social data that LinkedIn has collected and mines incredibly attractive for a company with enterprise solutions and professional software to sell. While trawling a person's Twitter stream for clues as to their professional interests might yield everything from a close approximation to a wildly inaccurate guess, LinkedIn is built to provide just the information that an enterprise software firm like Microsoft values so much.
Subscriptions
LinkedIn has a revenue model that is both similar to its competitors in the social space but which also has some features that the competitors cannot match.
While there is advertising on LinkedIn it is not limited to sidebar or in-feed ads promoting consumer or professional products and services. Instead, LinkedIn supplements this stock-standard social advertising with a strong and burgeoning employment program. Businesses have proven happy to search for their next hire on LinkedIn in a way that they have never sought out talent on Facebook, Google+, or Instagram – and why not? LinkedIn, after all, is a social network that is built on a profile structured similarly to a professional resume and there's not another successful social network that offers businesses a better basis for making a strong hire.
But more than that, LinkedIn is the only major social network to have developed a subscription based revenue model that actually works. While the basic LinkedIn access is free there are additional membership levels that allow users to do more with their LinkedIn account. LinkedIn sells these membership levels with consistent reminders that the best companies are willing to pay the annual subscriptions for their employees on the site, a subtle but effective means of ensuring that the subscription services not only exist but thrive.
For Microsoft, then, LinkedIn represents the rare social network with a diverse revenue base and one of the only ones with a successful subscription model to underlie its display advertising revenues.
Growth
LinkedIn has had competitors in the professional social networking space and has managed, over time, to dispatch them all.
Competitors to LinkedIn have emerged and grown before crashing and burning rather regularly. Viadeo, for example, grew fast to count some 35 million users within a few years of launch but it had trouble expanding from its European base and ran into significant trouble finding traction in East Asia. It is now an after thought in the professional networking space, a company that woulda, shoulda and coulda been a contender if it hadn't been for some disastrous decision making and LinkedIn's continued expansion.
Xing, too, tried to challenge LinkedIn for the crown of the leading social network for professionals and enterprise. While the company has managed to record some impressive growth over its nearly 13 year history it has also had difficulty escaping from its linguistic and geographic boundaries. Nearly 4 out of 5 page views on Xing still come from Germany which, while a significant player in the international economy, is not at the center of the world economy in the way that the United States is.
Simply put, the 105 million unique monthly users and 160 billion annual page views that LinkedIn offers to Microsoft represents a market leading position that has dispatched every competitor, that has shown an ability to break through in all corners of the world, and that has established a lead in the race for professional networking dollars that is unlikely to be challenged.
A Smart Move by Redmond 
Microsoft has made a bold but smart move in acquiring the profitable LinkedIn. While the deal is yet to be confirmed by shareholders in the social network the significant premium on the shares should ensure it sails through approval in coming months and that we enter 2017 with LinkedIn under new ownership, if not new management. The benefits to the shareholders are obvious – cash up front – and for the LinkedIn team the injection of Microsoft cash should help in the development of future products, too.
But the biggest winner is Microsoft itself that, with access to the connections, subscriptions, and market-leading positioning that LinkedIn offers it in the social networking space, can finally lay claim to clear leadership in the enterprise software, cloud, and networking space. With Google+ now little more than a laugh line and with Microsoft Office cementing its place as the cloud computing software suite of choice, Microsoft is once again back on top in the world of business tech.