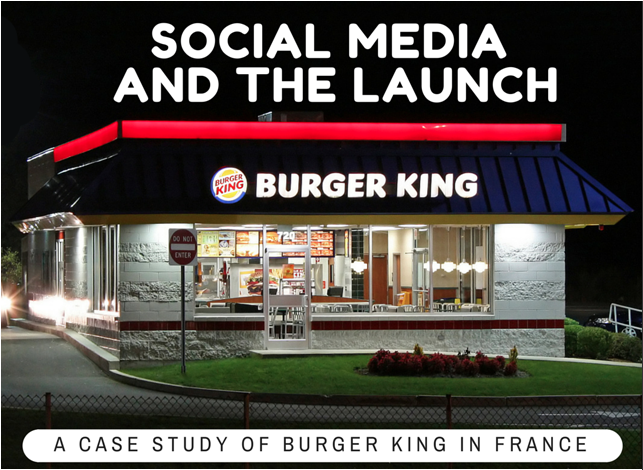 As someone who grew up in Australia where American fast food restaurants are ubiquitous and ordinary, the idea that someone might queue for half an hour for a mass produced hamburger strikes me as something fantastical. It connotes images of McDonald's arriving in the Soviet Union or opening its first store in Beijing, China – a cultural artifact from the days of the Cold War long since relegated to history.
So when Burger King launched in France I was more than a little surprised to see queues forming every lunch time in front of its stores. And I was more surprised to see those lines continue to form every day a month after the store opened.
France is no stranger to American fast food chains. McDonald's is well established here with 1285 restaurants and Subway restaurants have exploded since the first was opened in Paris in 2001 and now number more than 500. KFC has more than 170 locations in the country and Dominos and Pizza Hut share more than 350 restaurants and take-out outlets between them.
Burger King – with just 16 stores so far opened in France – is the only one that has to install barriers to control the lunchtime crowds and the only one where people wait patiently for a half hour to order their burger and fries. Being a relatively new entrant to the market is part of the reason for this takeaway food phenomenon, but it is far from the only reason.
Indeed, Burger King's entry to the French market is a textbook example of a brand getting its launch marketing strategy perfectly right. In particular, the social media marketing of the brand and its engagement with the French consumer has been exceptional and has created a 'buzz' around the brand that others in the fast food industry – and many more beyond – are rightly envious of.
Here are a few things that Burger King France and their marketing agency, Buzzman, produced that caught our attention.
The Biggest (Virtual) Burger in the World
Restaurants producing the 'World's Biggest…' product is nothing new in marketing terms.
The biggest wheel of cheese in the world, a world record pizza pie, or a local specialty produced in gigantic proportions earns some free media and might work to promote a brand to a customer base for that product.
But it is also a very local and time limited event. If you aren't there when the giant pizza is served, you miss out. The newspaper story the next day might catch your attention but it quickly fades into the memory.
So when Burger King France sought to create some media buzz around the World's Biggest Burger they needed to overcome a few difficulties: it needed to be more than a one day story, it needed to be more than a local story, and it needed to remain at the top of consumer minds, those consumers being France's youth.
So Burger King turned to Instagram.
Taking advantage of the layout of the Instagram app on the smartphones of their target market, Burger King produced a series of high resolution photos that, when viewed on a device, would appear as a giant, mouthwatering Burger King Whopper.
In an associated competition Burger King encouraged its Instagram followers to 'like' the very first image in the company's Instagram account to go into a draw for 50 free Whoppers – a negligible food cost for the company balanced against the earned media the social media exploit received and the not-negligible customer engagement that the brand developed.
Tweets With Consequences
Of all the mainstream social networks it is perhaps Twitter that is perhaps the most likely to encourage users to make comments they might later regret.
It's also the social network that Burger King turned to create online buzz before the grand opening of their restaurants.
Take the case of the new Burger King recently opened in Lille in the north of the country. As the restaurant was being fitted out and the newly hired staff trained, the exterior of the store was covered with a sheet that recalled a local residents tweet. As The Local reported:
In October, a French youth who goes by the Twitter handle of @vanoukia cheekily challenged the American fast-food giant Burger King to launch a restaurant in her city by tweeting: "When there's a Burger King in Lille I'll treat you all to a meal."
But the young tweeter, whose full identity has not been revealed, may have spoken too soon. Earlier this week, Burger King France responded to her tweet announcing its opening in Lille with a photo of vanoukia's tweet plastered on a giant red tarpaulin along with the message: "Dear @vanoukia, luckily no one has printed your tweet on tarpaulin."
Burger King had, of course, done exactly that.
The follow up tweet from the Burger King account took the tweet on the tarpaulin global:
https://twitter.com/BurgerKingLille/status/550344551203110912
The New York Daily News reported that the offer resulted in more than 7000 Twitter users choosing to follow @vanoukia's account, and a potential cost of $2 million for the young Lille resident.
The earned media – on both sides of the Atlantic – was worth at least that to the brand which had pulled a similar tweet-centred promotion in the south-western city of Lyon earlier in 2014 before the opening of a restaurant there.
Not Facebook Fans but Facebook Fanatics
Brands and companies on Facebook exert significant effort to develop a fan base and gather 'likes' for the official company page.
Burger King, however, doesn't want fans. They want fanatics.
The header on their Facebook page explains simply that 'Being a fan is not enough' and is followed by the hashtag #onlyforfanatics. What makes a fanatic? Someone who is willing to line up for a burger, someone who is willing to sign up and be among the first customers served in a new Burger King restaurant, and someone who is willing to share Burger King with their friends on the social media platform.
Burger King fanatics get invited to restaurant openings, get priority access to purchase Whoppers before their friends and family, and through their social sharing, they create a real buzz about the Burger King brand in France and beyond.
Burger King's Facebook page ties in neatly with their other social media networks on Instagram and Twitter, and while it is far more active than these complementary networks, it does help drive traffic to them. The company's Twitter and Instagram feeds are prominently displayed on the Facebook page and more than 100,000 French likes points to the success that the brand has had gathering eyeballs on the platform (and in generating fanatics for its restaurants).
Burger King has had a great social launch in France with the buzz generated leading to increased revenues and customer conversion in Burger King restaurants across the country. When it comes to using social media effectively to launch a brand, Burger King gets everything right.
All this week DOZ is looking at the launch. Whether it's the role of the outside expert, tips for business owners, using social media effectively to launch in a new market, or proven launch strategies to emulate, you'll find something for everyone this week at DOZ.