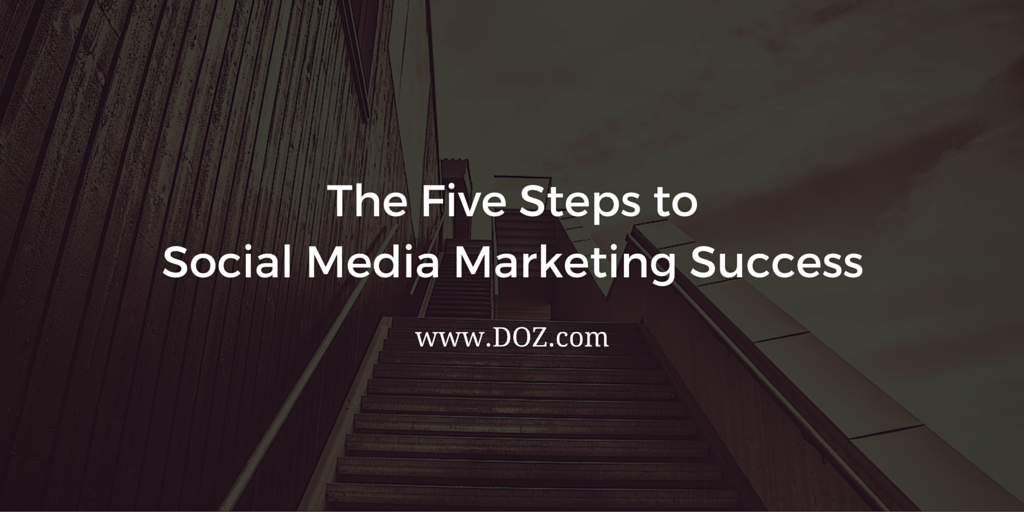 It has now become an accepted fact that social media marketing is essential for business success.
Being active on social media is no longer a choice. Instead, it is more about how you magnify your online social presence and reach out to your target audience.
The steps required to succeed in social media marketing are evolving with each passing day. In order to be at the top of your game, your brand needs to focus on developing its social strategy, defining clear branding goals and working on your marketing communications.
Is this a bit esoteric? Need something a little more practical? Here are the five steps to success on social media.
Understand Your Target Market
It is absolutely crucial to identify your target audience, their likes and dislikes, their tastes and preferences. To ensure higher levels of engagement, an overall psychographic and demographic understanding of your target market is crucial so that you know how to craft your business message without being tagged as a braggart obsessed with a self-promoting sales syndrome.

Focus on Creating Real Relationships
Whether you are hitting the top social channels for your business or just hanging out with your social circle, you need to create real rapport. Be a patient listener and do not just go about making promotional points. Being socially active is key and it means you converse, discuss, remain receptive to feedback and suggestions and understand that a real-time response matters in making or breaking the image of your brand. 
Offer Real Value, Not Self-Promotion
Social media marketing is about offering value and it must be in tune with what your target audience would love to know, are curious about, and topics on which they are showing interest. In other words: offer something useful in the new cool when you are dealing with the dynamic 21st century medium that is social media! Figure out your brand's voice, cling to it, and create a buzzing, social, and congenial environment. 
Develop a Content Strategy
Content is king.
You've heard this repeated often in strategizing social media marketing campaigns. You need to promote your products and services but the way you plan to attract traffic and generate optimal levels of brand exposure should be a part of your campaign and not the campaign itself. Bank on real engagement; fret less about reach and frequency which were major parameters for tracking business in traditional forms of advertising. Content marketing trends proclaim that while video as a part of marketing strategy takes the cake, it is closely followed by visuals, blogging, live video and podcasting! 
Understand the Most Popular Social Platforms
You cannot have everything you want to wear in your wardrobe. It depends on your figure, dress sense and fashion insights as to what you will find room for – and your business is no different! Understand the thematic essence of your brand, derive your brand personality from the marketing you undertake and once you have the basic and succinct knowledge about the various platforms and their usability with the picture of your brand image on mind, then you can derive the right business juice from the social channels.
Here are the ones you'll need to know: 
Facebook
From being the everyday platform flooded with likes, shares, comments, and memes this has become a second web that people browse to derive information about what is happening around the globe. The overwhelming popularity of Facebook is not going to die out soon and businesses, no matter which industry it competes in, turn to Facebook promotion as a stepping stone to social media marketing success. 
YouTube
Video is one of the best media to create instant connectivity with people and YouTube has been elevated to the status of being the second most coveted search engine in the world! Understanding and building on success on this social media platform is a great way to reach out to your audience and get youtube views, a small investment in equipment and creativity can pay big dividends.
Twitter
The game on Twitter is about being 'on', holding on to the moment before it lapses and the shelf-life of a tweet is believed to be about 18 minutes – or until it is retweeted. If you can create that sort of engagement then your marketing message will live longer than a quarter-hour, so offer a mixed bag of sales pitches, discounts or product launch news interspersed with thought-proving anecdotes or something light, quirky on funny about your domain, to play it right! 
LinkedIn
The place for professionals to discuss, network, and interact. Your aim here is to earn business recommendation on your LinkedIn profile. In social media, the 3R's (reviews, ratings, and recommendations) go a long way in cementing the credibility of your brand. Make sure you, your staff, and your customers connect and promote your business on LinkedIn as, like all social networks, it's about the connections, not the megaphone of a company page.
Instagram
The all-clean, picture-perfect world of perfectly filtered photos and videos is creating a buzz and helping to engage millennials in exciting ways. Make your target audience think, inspire and aspire to be your customer with effective Instagram marketing of your brand. Let the marketing pros do magic with content, tools, new algorithm updates and more! Tap the flow of influencer marketing and make Instagram your go-to social network for success.
Pinterest
It goes out loud and clear that this is the social channel for retail sites. What's more, with its higher female fanbase and a strong focus on home décor, food, fashion and beauty, there is plenty of scope to reach specific users who don't always find their way onto Twitter, LinkedIn, and other social spaces. It's a visually stunning medium that can connect and hook into customers many and varied who adore passing their days on the pinboards! 
Google+
This is one of the best social channels and the one where your SEO and SMM efforts can prove best applied. Learn how to explore the potential of Google+ communities, hashtags and offer your target customers better search experience with effective optimization. 
So let the social media marketing pros offer a great social makeover to your business while you successfully create, build and sustain your brand image after earning optimum level of exposure in your targeted niche!