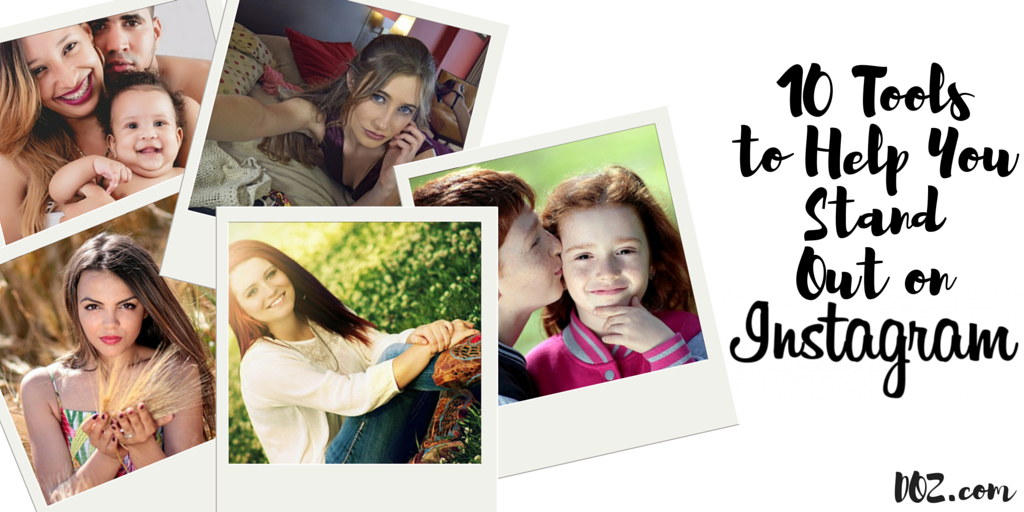 This is a guest post by Sandra Christie. She is a social media writer at iDigic.net who also contributes for hundreds of other blogs. Her articles predominantly focus on social media marketing and are widely followed by readers from all over the world.
More than  55 million photos are shared on Instagram to a very active base of users every day.  That is quite the number any entrepreneur would love to market to. It is the most rapidly growing social media platform as well.
More than, 36% of marketers use Instagram to push various products from popular brands. But marketing on Instagram is no walk in the park. You have to devise a well-written strategy to engage the users the way you want.
These 10 apps will help in taking your marketing to the next level
#1 – Instagram for Business
It is one of the best places for users to find tools that will help in growing your business. The blog page of Instagram for business provides you with tips, brand spotlights, API examples, etc. Since it's from Instagram itself, news from Instagram headquarters is also available first hand. It is also rolling out a set of business tools to boost your reach. This will include account insights, Ad insights, and Ad staging. The service is free of cost as well.
#2 – Schedugram
If you have multiple accounts and do not have time to keep posting on Instagram. Then this app is for you. Schedugram offers a feature where you can upload multiple images and then schedule them to be posted later. Multiple users can log into your Schedugram account, and it will keep a log of who is posting what. This will be helpful if you have a social media team.
It has a direct integration feature with the application Canva which will help you to design images according to your needs. The only drawback is that it is not free of cost and charges 5$ per week. You can get a free 7-day trial as well.
#3 – Picodash
Picodash  acts as a search engine for Instagram users. You can search trending hashtags, dates, location and users regarding a keyword or topic. Multiple accounts can be used on Picodash and provides you with basic features like posting comments and managing followers. There is a feature which enables the user to visualize photos on a map.
#4 – Piqora
This is an Instagram tool which helps in devising your content strategy. It will let us know what kind of posts are getting the most number of likes and comments and also give you recommendations thus helping you to post better content.
Piqora also offers an app called Topshop, which will help increase your sales. This application provides your audience with a custom page of products they have liked.  They will also get an email with links to buy your product.
#5 – Tagboard
Tagboard Is a service that integrates content from social media through hashtags. Each tagboard consists of content and posts that use one particular hashtag. Since Instagram thrives on hashtags, this application might come handy. These tagboards can be integrated into mobile applications and can also be embedded on your websites as well. This application enables viewers to comment like or reply directly from your tagboard. The basic services are free of cost.
#6 – INK361
This web application enables you to create albums, discover new contacts and set up an alert for new posts as well while managing your Instagram account. The application also assists you in keeping a track of the impact of your posts. Ink361 allows you to showcase an Instagram gallery by embedding it on your website or blog. The application also has features which will let you view your Instagram images on Facebook and share them on your page as well. INK361 Is a free web application.
#7 – Iconosquare
This is an iconic, icon-based analytics tool to manage and promote your Instagram account. This will help you in analyzing key metrics like activities and follower growth related to your account. Your Instagram account can be promoted on other social media using photo widgets or feed tabs. You can set up contests, promote it and publish the results through Iconosquare. The service is not free of cost. It is used by many international brands like Coca-Cola, Ford, Nike, Starbucks, The Gap, etc.
#8 – Crowdfire
If you are wondering who your true followers are and want to cater more to them, then Crowdfire is the ideal application for you. The application helps you manage relationships between you and your followers.  The app helps you identify who your inactive followers are. It also keeps a log of who unfollowed you as well.  This will also help to understand the impact of your posts on your followers. The application is free of cost.
Crowdfire also offers an app called Takeoff which helps you to schedule posts on Instagram. The application will determine when a post will reach the customers the most and will post accordingly. It suggests hashtags as well. It is also free of cost.
#9 – Inselly
If you are trying not to just market your products, but also increase the sales of it through social media. Then you should try out Inselly. Since hashtags are the most pivotal element of Instagram, Inselly uses it to sell your products. The tool allows you to use its hashtag, #inselly.
This will indicate and reach out to the users that your product is up for sale. The sales and payments are processed through PayPal. The tool also enables the user to have unlimited listings as well. The basic version is free, Paid version of Inselly is also available.
#10 – Repost
Reposting plays a critical part on Instagram. It further widens the reach of a post and the content. But most of the time the original post and account go uncredited.  Repost helps in reposting photos and videos on Instagram while giving credit to the original account.
There is a bookmark feature which helps you bookmark videos and photos to repost them later. Searches can be done by user or hashtag. The application is free of cost but only have basic functions. The pro upgrade will enable you to manage multiple accounts.
We all know that Social media has a significant role in developing businesses these days. But, these Instagram applications will help you be a notch above the rest. These applications will help you schedule posts, know the adequate metrics, recommend you hashtags and even help sell your products.  Offerpop, Slidagram, Agora Pulse, Union Metrics and Worddream are the other apps in contention. Take a look at successful case studies and recommendations available to devise the content for marketing. I would like to remind you this quote by  Jay Baer, "If content is fire, Social media is gasoline."