The BIG Announcement
The tech world is abuzz about Facebook's announcement that they are entering SEARCH! The Facebook Graph Search is a search engine for your friends, that is able to use your network of friends and their interests to answer searches such as, "who lives in Palo Alto" or  "what is a good restaurant in San Francisco." Interests, locations, preferences etc., it is a search engine tailored to you and your friends, only this information will come up, you are not searching the entire web. This venture is in partnership with Microsoft's Bing search engine, although Zuckerberg did say that he would "love" to work with Google.  Bing now has a much more in depth social search as a result of this partnership and the influx of Facebook Graph data available to Microsoft.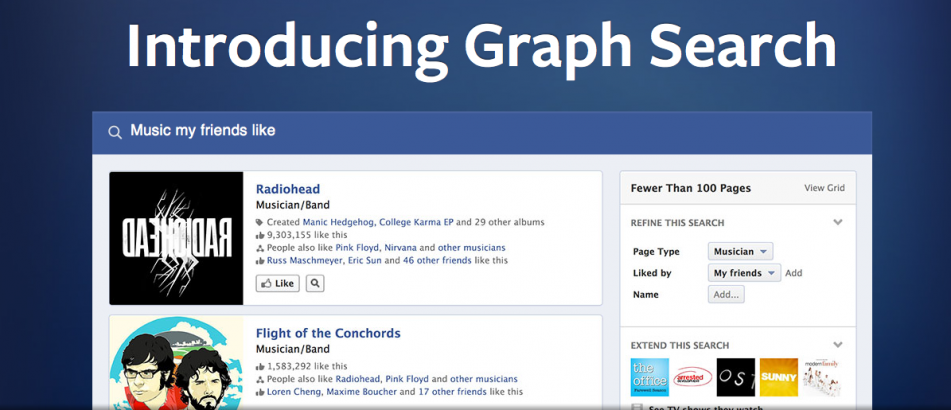 What a like could mean now ?
So of course this begs the questions: What can marketers do with this? Facebook Graph and its search function means that "likes", being "fans", "joining" events, downloading apps and every other action that can be done on Facebook have become even more important. The more exposure and activity with your brand, means the higher likelihood you will appear at the top of a search. Organic traffic has hit Facebook.
Is paid traffic now ?
This brings about the question of paid ads, like what Google has. Will brands be able to pay to appear at the top of searches? We know organic traffic has a higher success rate, but brands devote huge budgets for pay per click on Google Ads. It is logical that after Facebook Ads and Promoted Posts, that they would also integrate paid ads into their search engine. But it seems to not be in check with the philosophy of Graph Search, specific results tailored to your circle of friends, so it will remain to be seen how this might be resolved.
Google vs. Facebook
There is a rumored consensus that this search will become more popular and valuable than Google. I am not too sure about that. Sure Facebook Graph Search will be useful and a good source of information for certain inquiries, but I don't see how this is superior; it is just different. I for one will not always want a limited range of data when searching for social events, I want to know everything going on, not just what my friends are up to, I want to see all the options.
What do you think? In theory, is this a better search than Google?