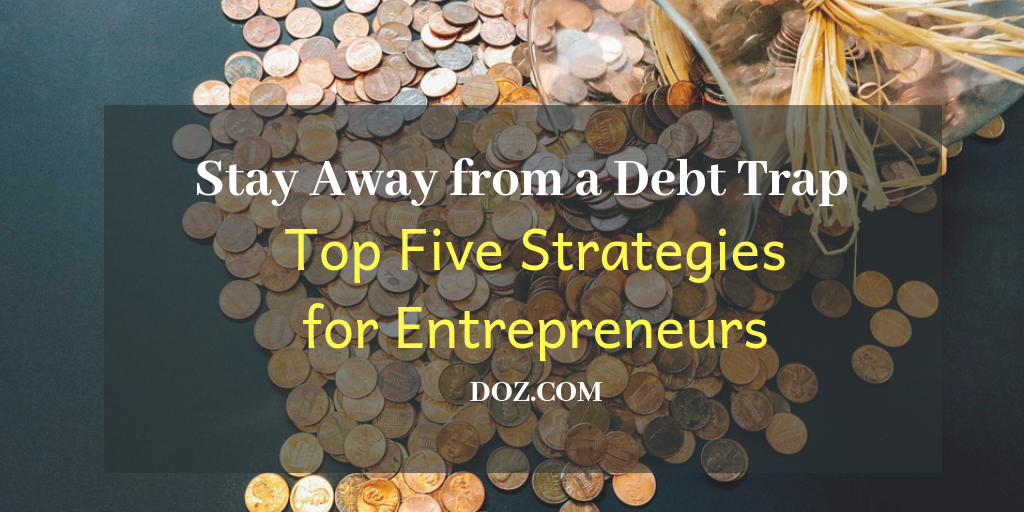 Debt is an everyday part of life and business. From college students to employees, everyone incurs liabilities at some point or the other. When we take a business debt, it helps us to pay off our monetary bills, but it also keeps us obligated somewhere else. And entrepreneurs are aware of this. As they have to loan out money for business development, expansion, product launches and many more. But entrepreneurs, who intend to make it big in business need to manage their cash-flow and debts better.
Business debts and entrepreneurs
Unlike job employees, entrepreneurs don't have a monthly pay cheque to rely on very month! Instead, entrepreneurs collate all their resources and invest it in their start-up business. It means that they are placing their money in business expansion and not in any debt that might have accumulated. But that is not always the scenario.
Every entrepreneur dream of being a millionaire. And in the desire to make profits, sometimes they end up incurring more debt than profit. Entrepreneurs who've become millionaires have smart strategies to stay out of debt.
However, entrepreneurs who wish to be successful, expand their brand and reach the millionaire's bracket should start by stepping out of the debt trap. How to do it? Here are five useful ways to implement.
You need to get your homework done
Always check other options available, before you apply for a business loan. Smart start-up entrepreneurs always check if they can repay the loan amount they're planning to opt-in. If you have the faintest doubt, it's best you stop than impulsively opting in for a loan. Instead, checkup other options available, like start-up incubators and crowd-funding.
You also need to conduct some basic research. It is done to check if you are sourcing the correct loan type for the business. Before applying for a business loan, mull over the following questions:
Is the bank providing me the exact business loan for my purpose?
Does the loan need any substantial collateral?
Will the loan amount impact my business budget and existing cash-flow?
And how can the loan affect my budget and cash-flow?
The moment you've done all the research source an apt loan type and are confident about your ability to repay it back, you can get on to a budget plan.
Plan a budget and be committed to it
Planning a strategy on the way to repay the loan amount is essential. It helps you to find out the amount you can pay every month. Budget plays a vital role here. A professional service provider can always suggest you the best strategy here. To know and plan better you can browse online and check out sites like National Debt Brief to get more idea.
Going forward you can count on the following steps:
Tally the income sources and find out the amount you're generating on a monthly basis.
Outline the fixed expenses and know the bills that recur every month.
Add on all the variable costs and remember to add in items that fluctuate monthly.
Estimate the one-time expenditures. Some expenses would be unexpected, such as substituting an old computing device. Also keep aside a certain amount for other one-time spends, such as recruiting a copywriter for writing product notes, press releases, and other written collaterals.
Pull all of it together. The moment the steps mentioned above gets completed; you are in an excellent place to set up a budget.
Avert credit cards and any other form of extra debts
Are you trying to stay away from business debts? If yes, then don't add on more, before repaying your existing debts. For instance, there's an event you're arranging and need capital for promotional purposes. You can design T-shirts with your logo and get the printouts done. But always stick to your budget. Don't get over-enthused and invest in pens, phone cases or flash drives. You can avoid these additional expenses if you don't have adequate financial resources.
Avoiding credit card debt is always beneficial. Entrepreneurs still find it tempting to use the credit card. But to exercise discretion and not use it until required is a smart call. It's true that credit cards can be useful to generate credit, earn perks such as travel miles and many more. But its use should be reserved for emergency situations that might occur in business.
Generate money on your side
It's a fair thing to wait for your start-up business to pick up the pace and make money. It could be just the necessary amount to manage the costs. But it's always helpful if you want to earn extra money parallel. You need to have a steady income to pay your daily bills.
And this income can be sourced by selling something like unused commodities on online stores. Some entrepreneurs keep doing their job until their business starts making good profits at a stretch. This arrangement might seem harsh for some time, but it's entirely a smart choice for entrepreneurs who want to stay away from incurring debts. Smart entrepreneurs do all that is required to succeed in the long-run.
Prioritize the bills and consolidate
If you have been browsing the financial domain online, you will be aware of the term debt consolidation loans. The process is simple. Debt consolidation loans are all about repaying one big chunk of the loan amount that covers all the business loans. It means entrepreneurs don't have to repay many debt collectors or companies at a go. Consolidate the loans into one amount, payable monthly at a low-interest rate. Check out debt consolidation loan nz for the best possible deal for your business.
Debt consolidation has been helpful for many business owners. Alternatively, entrepreneurs can also resort to the "debt snowball method." Here you start by repaying the low-value loan amount and then reach for the high-value ones. Gradually, you'll become completely debt free. Additionally, you can always prioritize your monthly payments. Decide on the bills that are crucial, and repay the same first. Keep your payroll service and taxes at the top of your list. It's also now very likely that your business will span many countries so if that's the case look into this excellent international payroll and HR provider as they are a great help.
Economic fluctuations and change in business trends often make entrepreneurs loan out a certain sum of money from creditors or financial institutions. If an entrepreneur can repay the amount, there isn't any trouble. Things go wrong when the business hasn't picked up the pace, and you have a considerable amount to repay. When it happens repeatedly, it's called a debt trap. The five tactics discussed above will help entrepreneurs to avoid business debts.
Tight budget? No worries: our credit system will enable you to efficiently manage your marketing budget. Subscribe now and receive your first SEO Analysis for free. 🌟
---
This article was written by Isabella Rossellini. She is a marketing and communication expert. She also serves as a content developer with many years of experience. She has previously covered an extensive range of topics in her posts, including business and start-ups. You can follow her on Twitter.