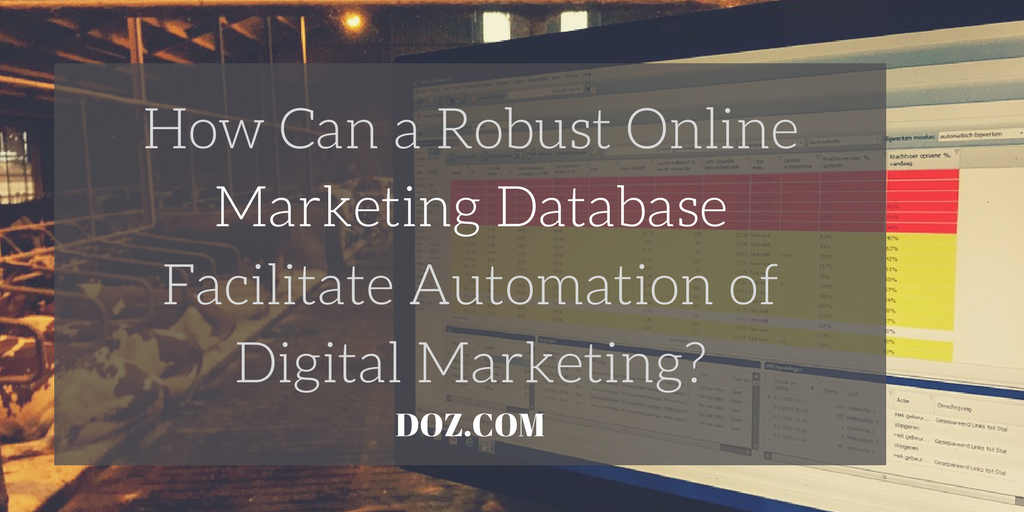 ---
This is an article by Ariya Stark. She is a renowned database expert. Her work revolves around optimizing databases for automation of marketing processes. 
---
Several businesses are thriving in digital marketing. Even though it is highly effective, the ROI can skyrocket when companies discount the manual part of it. Therefore, multiple enterprises are leaning towards the automation of social media marketing, email marketing, and search engine marketing. Their biggest concern is the lack of availability of real-time data from reliable sources.
Automation relies on the accuracy of available data to a great extent. Gaps in data collection and the lack of complete data can lead to disruption in the process of automation. For example – it can omit a customer's concern or query about a particular product on your official website. That's a very simple mistake, but an unanswered question inside a forum can give rise to a domino effect. Firstly, this will not be the only instance of missed data. Secondly, the dissatisfied customer can share their experience via social media. The result in either of the cases is the bad reputation of the company. 
Businesses need better data cohesion
Bad data or corrupt data can compromise any marketing campaign. It can damage customer relationships, and it can create a lot of confusion among team members working on UX. As per a recent market survey, 55% of the customers participating in the study have received irrelevant product promotions and information about unrelated discounts in the past one year. This shows that although more than 70% of the businesses participating in digital marketing believe to possess optimized databases, their data is not cohesive enough to drive automation of their online marketing process. This is a grim reality, considering almost 51% of all businesses in the USA have defined digital marketing strategies.
Another study shows that businesses often rely on market data that is about 40% incomplete. This is true for over 62% of all businesses across the USA. That presents a staggering number of entrepreneurs, who might just be turning their customers away for want of a better customer database, marketing database, and data mining process. Businesses need competent and trained data experts to curate the right kind of data and store it for future use.
Looking at the ideal online marketing database features
The ideal online marketing database should have holistic customer information, customer-business interaction data and more. This should power the automation process to utmost perfection and discount any probability of a future error.
Transaction data:

Your customers have bought several items from you and will like buy something different in the future. Based on their likes and dislikes and shopping preferences you can suggest new items in your inventory. This will promote sales, as well as help your customer feel wanted.

Behavioral data:

Your customer has certain proclivities when it comes to web interactions and social media interactions. You can

keep a tab on their activities

through social media listening tools and customer metric tools to understand your future steps.

Complete customer profile:

This is a bit complex since it involves quite a few aspects across several levels. A

complete customer profile

is equivalent to capturing the buyer psyche within the database. It involves the inclusion of information about website interactions, store habits and direct sales for creating a wholesome view.
Three essential data compliance steps
Collecting data can be a never-ending step if you have to go back to the beginning every time you incorporate a mistake. To prevent reiterations and repetitions, your database should adhere to 3 simple compliance steps –
Test the quality, consistency, and reliability of your data: Find out where the data came from and what standards it adheres to. In case it does not contribute to your future automation efforts or proves to be unreliable, do away with it. Always judge the relevance of data as per your marketing needs.
Stick to the same data format throughout: Your data can be rich and fertile, but it will be of no use if the format is varied. Databases, even NoSQL ones need parity in data formats for harnessing the data. This will help the DBA or data expert identify the integral data and separate it from external or new data. 
Create a checkpoint before automation: This far we have repeatedly emphasized the importance of accuracy of automation. It is only fair on the DBA's part to create a checkpoint before the automation process to test the consistency and quality of data.
Database integration into marketing does not have to be overly complex. Keeping the sources streamlined and the data in the same format are the two fundamental ways to start a database that will facilitate automation of digital marketing in the recent future for your company.