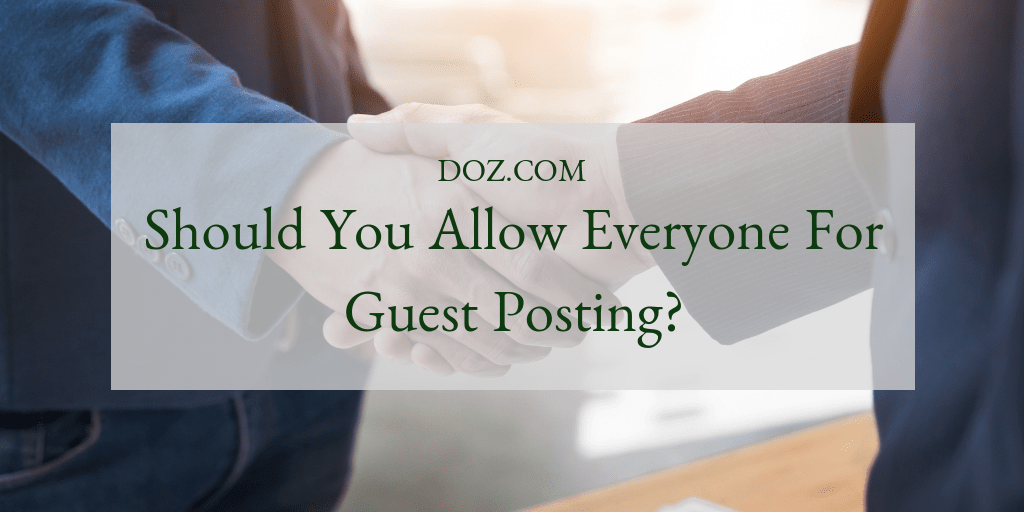 Generally, guest posts are known for increasing site traffic. That's why many well-reputed websites allow guest posts. However, this practice might raise the number of visitors on your website, but a website owner can not publish guest posts as he receives. He needs to keep various measures in his mind before accepting and publishing it. Some of the key measures are mentioned below:
The Author Should Have Decent History Of Writing
Several writers who would gladly script guest blogs for your site. However, you should not welcome everyone's composition. The first thing you need to examine is the history of the author. His track record will spell out so many realities about him. Moreover, you would aware either he has a grip on the topic related to your website's niche or not.
It is not difficult to do that. You can use Google to trace the writer's previous record. If his record does not seem impressive, better move on without publishing his work. Try to publish the work of someone who has some reputation. This habit would add more value and trust in your blog.
Pay Attention To Outgoing Links on your guest post
There are both kinds of content marketing websites available on the internet. The first one who maintains all the outgoing links and another one that removes all such hyperlinks in guest posts. But the best approach would be to allow the writers to add outgoing links as long as they are educating your readers. Likewise, links which don't have anything to offer to your audience must be removed.
Also, you should think beyond the competition. So even if there is a link which sends traffic to your competitor's site but proving to be informative for readers, you should place it in the article.
Concerning the outgoing links, make sure you take the following measures:
Don't add more than 1 or 2 links in the introduction. Adding too many links, in the beginning, might distract the reader's attention.

At least include 4 or 5 relevant links in a single blog. The number can be increased depending on the topic.

Links should not be out of the context from your post.
Set A Content Limit
Setting the content limit is very important. But the question is what should exactly be the word limit? Well, it depends on the topics your website covers. But make sure every guest article is at least 500 words long. Because Google generally likes detailed articles.
To keep the check on the length of the text, you can use Word Count Jet. It is a free online tool which helps you to calculate the exact number of words as well as characters.
Check Out For Duplicate Content on your guest post
Needless to say, you should absolutely avoid copied material on your blog. It is demeaning for the reputation of your website. Therefore, before measuring the word count, it is recommended that you should first determine whether the guest blog is copied or not.
Google can be an excellent tool to identify plagiarism. Although, people usually spin the content which could be hard to detect by Google. Authors take the article from one site and literally rephrase it. To avoid such plagiarism, there are two widely used tools, that is, Copy Escape and Turnitin. Make sure you run every guest post through these tools to ensure your audience reads quality write-ups.
Make Sure Images Don't Have Copy Right Issues
Most of the website owners don't pay attention to copied images as compared to the focus given to copied content. Out of ignorance, they post blogs even if there are copyrights issues with pictures placed in their posts.
This is falling short of professionalism. You need to understand that copyrights of images are equally important and you simply can not afford to ignore them. When you are not sure about the originality of the image, consider running a reverse image search. It will make your life a lot easier.
Maintain Quality
Being the owner of the site comes up with a lot of responsibilities. Acting as an editor is one of them. Therefore, as an in-charge of the website you also have to look after the following things to maintain the quality of your guest posts.
Check facts and figures. Numbers keep changing with the time, so it is your job to include recent stats and to remove the old data.
Make sure the right sources and references are included. Sometimes the authors can mistakenly add wrong sources. You have to recheck and provide exact source of information.
Formatting is key. Reading on a screen is very demanding. So the role of format becomes even more critical. You have to structure the text in a way that it does not exhaust the reader. Thus, consider techniques like using bullet points, including quotations, adding charts, writing short paragraphs and so on.
Make the content more lively and engaging. No matter how much research work is included in the post, people will find it difficult to read if the piece if it is not arrestive. Try to capture the reader in the first few paragraphs if not, you have pretty much lost him. Hemingway is a remarkable component to make your content more natural and engaging for the audience. It shortens the length of sentences plus replaces complicated terms with easier ones. AcademistHelp is another tool which increases the readability score of text and makes the reader glued to the screen.
Don't Accept Blogs Which Are Irrelevant To Your Niche
Irrespective of how well-written it may be, don't be tempted to accept a guest post if it does not fit your website. It might bring you traffic for the time being, but your regular readers will be disappointed, and you could even lose them. So, it is in your long term benefit to consider the relevant posts only.
Similarly, don't be trapped by the reputation of the writer either. If the post does not represent your blog, simply sideline it without any second thought.
To save authors from sending you irrelevant guest posts, you should list the topics which are acceptable to you.
There Should Not Be Too Much Self-Promotion In Guest Posts
As they say, there is nothing like free lunch. Not many people will be encouraged to write guest posts for you if you discard self-promotion entirely. Self-promotion motivates others to contribute to your blog. Although, you should not allow excessive self-promotion by any mean. Posts with overboard with promotion look quite non-professional and damage the overall standing of your blog.
The most significant benefit to allowing the self-promotion:
The guest author will actively engage in comments and replies.

He will also take part in social sharing which will help you to grow your community.
Look After Spelling Mistakes
Not many things are as annoying for a reader as spelling mistakes. So you have to deal with them as professionally as possible because these small errors have the potential to drop the standard of your site.
You can use Grammarly to take care of spelling errors. Other than that, you can also use MHR Writers to deal with the issues regarding tenses.
Author Bio
Stella Lincoln is a single mom. She is currently working as a part-time marketing tutor at Academist Help. Besides, Stella is into writing and also has her personal blog Educator House where she publishes about Marketing, Education, Management and Entrepreneurship. She takes lessons for playing the guitar in her free time. Feel free to connect with her on LinkedIn , Twitter and Facebook.