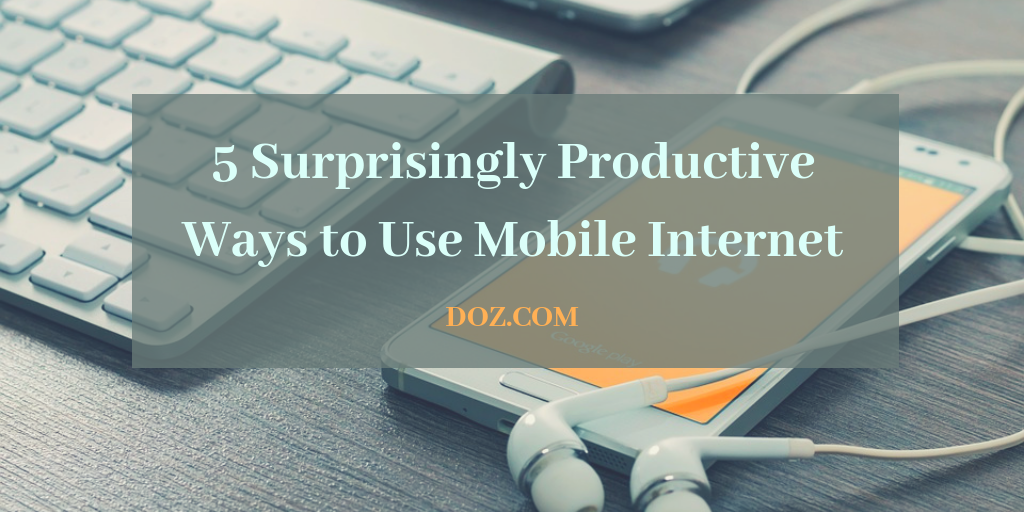 Today, having a mobile phone means being connected to the Internet 24/7. To know the latest news and trends, the weather, to watch videos and stream music, you don't have to turn on your desktop or laptop; you simply need to use your smartphone.
But aside from using your mobile Internet to stay entertained, you can also use it for more productive things. With your smartphone and good Internet connection via data or Wi-Fi, you can have more than just an escape from boredom.
Below are five productive ways to use your mobile Internet that you may not be aware of:
1.   Learn something new about the mobile internet
When you're online, chances are, you immediately check your favorite social media, entertainment or gossip, and sports site to get the latest news.
However, why not make more productive use of your time by using an app or visiting a website where you can learn new information or skills you can use in your work or everyday life?
Some of the websites and apps you should look into are:
Coursera – The website and mobile app allow users to access hundreds of free courses on a multitude of topics and skill areas.
HowStuffWorks – A subsidiary of Discovery Communications, Howstuffworks provides users easy-to-understand facts about nearly everything from how clocks work to the process of producing antibiotics.
LifeHacker – A great source of tips for getting things done. It covers a variety of topics as well, from lawn care and maintenance to carpentry and more technical stuff.
Duolingo – This app allows users to learn other languages.
With the mobile internet you take up a formal online course or read an article or two every day, you will learn something new that will prove to be useful and valuable now and in the future.
2.   To be inspired
If you're bored, instead of watching funny cat videos on mobile internet, take a look at some of the most inspirational videos on the Internet. These videos will not only give you additional knowledge but also change or expand your way of thinking and view of life.
This is something that you should be doing regularly especially if you feel you are stuck in a rut. Spend 10 to 20 minutes watching and listening to renowned influencers, great thinkers, and industry pioneers and movers every day. By doing so, you will get the motivation you need to be more productive in work and life.
Some of the best websites and apps that can give you the inspiration you need are:
The Invisible Mentor
Michelle Chappel
Rational Optimist
Tiny Buddha
3.   To develop better opinions and expand your worldview
Having pointless opinions is as bad as and even worse than having no opinion at all. You can brush up on your worldview and life perspectives by subscribing to interesting YouTube channels and watching videos on TED Talks thanks to your mobile internet.
You can also read articles on Entrepreneur, Forbes, and other high-ranking websites to take note of the ideas and opinions of trusted writers and influencers which you can use as the foundation for your own viewpoints. 
4.   To teach others
Everyone has something they are good at. If you have already mastered a particular talent such as baking, writing blog posts, hairstyling, or playing a musical instrument, you can teach others these skills via mobile Internet, too.
Start a YouTube channel and provide step-by-step instructions on camera. There are many people who are on the lookout for an expert like you. Share your talent online so that people from around the world can learn from you.
Aside from posting online videos, you can teach and help others by keeping and writing blog posts. You can now create and maintain a web or blog site using an app. Doing this will be easy as long as you have the right handset, commitment and a good Internet connection. A great example of the benefits of mobile internet would be Connected Solutions Group – mobile command centers which has tremendously helped the healthcare industry to be as efficient as possible.
5.   To be more creative and artistic
Have you always wanted to explore your artistic side or cultivate a hidden talent? There are various websites and apps that will turn the time you spend online towards learning about and creating artistic works.
Through your smartphone and mobile Internet, you can learn about photo editing, graphic design, pattern design, and arts and crafts. Some apps you should try are:
Tayasui Sketches – A sketching app for creating beautiful sketches, paintings, and illustrations.
Brushes – With this app and a stylus, you can turn your phone or tablet into a mobile easel and palette.
Glitche – This app transforms existing images into pixelated and artistic works of art.
Animated Easy Origami – If you have always wanted to learn origami, download this app. It offers animated instructional how-to videos that will show you how to make different classic origami creations.
Craftsy – This free craft tutorials app has a vast library of lessons on weaving, jewelry making, simple wood craftsmanship, etc.
These apps and websites will not only allow you to explore your talent and skills but also make you feel more relaxed, give you peace of mind, and a sense of satisfaction.
By knowing the right apps and websites, you can be sure that the extra minutes you spend online using your phone on mobile internet are both productive and meaningful.
---
This article was written by Azhar Abulhamayel. He is the Head of Marketing – National Segment and High Value at Zain KSA.