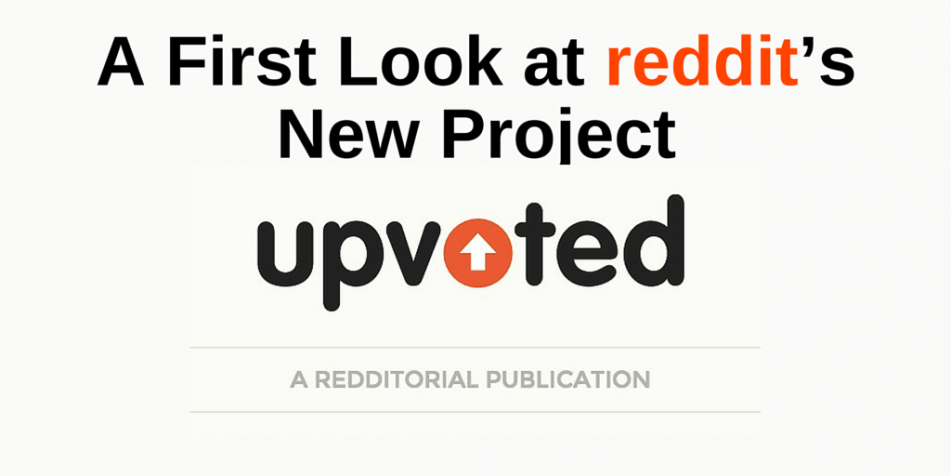 You can find almost anything you might seek on reddit.
One of the world's most popular websites and the self-proclaimed 'front page of the internet', reddit's suite of thousands of community forums and discussion/message boards (known as subreddits) host discussions on everything from breaking news to international politics to My Little Pony, problems unique to British people, and ultramarathon running.
Always on top of the news, reddit has found itself the focus of news in recent years as numerous issues threatened the startup's climb to internet success. The distribution on reddit of nude images of celebrities and the response by reddit administrators saw the company make significant waves. They would make news, again, with a subsequent crackdown on certain subreddits that were designated as either racist, sexist, or hate mongering. The departure after only a short tenure of interim CEO and controversial Silicon Valley figure Ellen Pao attracted further unwanted attention to reddit, and the company teetered on the edge of user revolt for weeks.
Yet with the return of reddit co-founder Steve Huffman to the role of CEO and with the launch of a new suite of products it seems reddit is turning a corner. No longer just in the content aggregation game, reddit is now creating its own content.
The first major news and native content stream was the popular upvoted by reddit podcast (hosted by Huffman's co-founder Alexis Ohanian) that has recently celebrated its 38th episode. To the podcast reddit added a weekly newsletter highlighting interesting stories that most reddit users may have missed as they never made it to the traffic-boosting reddit front page.
And now reddit is taking the next step in content marketing. No longer satisfied with aggregation (on the subreddits) or curation (in the newsletter), the company is embracing content creation with the launch of a new website called upvoted.
In this post we take a look at the motivations behind the upvoted project, a first look at the content that populates the upvoted site, and the prospects for success of the upvoted project.
What's behind reddit's Upvoted project?
Here's an experience that almost any redditor – a.k.a. a reddit user – will recognize immediately.
A friend posts something on Facebook which they find hilarious and just had to share…
A work colleague forwards a hilarious meme around the office…
A family member tweets out something amazing that they can't believe is true…
…and the redditor just shakes their head because they saw it all two days ago on reddit.
When it comes to shareable content, reddit is the king. What's more, for user generated content (known as OC, or original content, on the site) reddit is a treasure trove. Whether you are looking for something funny, something inspiring, something distracting, or something flat-out interesting, reddit is the place to turn.
Unfortunately for reddit, though, this turn to reddit for content doesn't only appeal to casual internet users but to journalists and content curators, too.
Which is why something that blows up on reddit in the morning can be found on Buzzfeed, Mashable, Lifehacker, Gizmodo, Upworthy, and Tech Crunch by the afternoon. What's more, for stories of a particular bent, there's a good chance it'll turn up on the nightly television news, in The New York Times, and every social network known to man.
And for reddit, that's a problem in two ways.
The first is that the original redditor who created the content often finds themselves without credit for that work. When their original image is published by a major media property, for example, not only is the content creator not recognized, but often the fact that the image was first posted to reddit is not reported, either. Instead, the media property presents the image (or commentary, or citizen reporting, or other material) as original work of their in-house reporting team and reaps the benefits of the hundreds of thousands of page views and the advertising impressions that come with it. With none of this revenue flowing to the original content creators posting to reddit, there is little incentive to create truly original work and post it to reddit.
The second problem is that reddit itself makes no money out of the readers who get drawn away to other media properties. Every time a story gets reposted at Buzzfeed or shared on Twitter or Facebook without pushing readers back to reddit, reddit loses out. While it maintains its own native advertising system and while some reddit users donate 'reddit gold' to the company to keep the lights on, the servers ticking over, and the staff paid, reddit has never made enough money to break even and continues to burn through the venture capital invested in the Huffman-Ohanian site year after year.
Reddit's new project, upvoted, is part of an attempt to address both of these problems.
Connecting the Content to the Creators
As described in Wired magazine, reddit's upvoted project will connect original stories posted on reddit with the people who posted them. Something akin to a reddit digital magazine, upvoted will be original editorial content that digs behind the stories that make it to reddit's front page, or maybe never make it there but should have. In a sense, it's a combination of the longform storytelling that the upvoted by reddit podcast has used and the highlighting of interesting but little seen content that the upvoted newsletter has been used to push to subscribers.
Except it's going to be a whole lot busier that a once-a-week audio effort or a curated newsletter.
Instead, reddit will be producing original content on a site that is expected to publish around a dozen original stories a day on debut, with up to forty stories a day being pushed as the site gets up to speed.
And every story will include a link back to the reddit site, back to the original post, and back to the original reddit discussion that piqued the interest of the upvoted editorial team in the first place.
Which helps address the second problem reddit has been facing.
Making Money Off Curated Content
Upvoted is a way for reddit to better monetize the content that makes the site so attractive in the first place. It accomplishes this in two distinct ways.
First, it will ensure that for every story that emerges from reddit on upvoted the reader has a chance to (a) visit reddit to read the story in its original context (and be exposed to reddit ads), and (b) view ads on the upvoted site instead of on Buzzfeed, Lifehacker, and the homepage of The New York Times.
Second, it provides reddit with an opportunity to work with corporate partners to produce sponsored content that will be of interest to upvoted readers, the majority of whom will likely be existing or prospective reddit users, too. With a keen idea of what makes for attractive content to the average redditor, the team should be able to work with advertisers and sponsors to develop original editorial content that will not only attract readers, but also position the brand positively in the eyes of those readers.
And a key change to the reddit way will help maintain that positivity and attract those sponsors.
No Upvoting and No Comments
A popular feature of the reddit site today is the ability of the user base to 'upvote' or 'downvote' content. The upvoting and downvoting of the content allows for it to rise and fall on individual subreddits and on reddit as a whole (on the powerful /r/all page) and the number of upvotes content receives acts as a rough proxy for its popularity (upvotes are supposed to be given for useful, relevant content and not just popular content the user likes, but in practice voting by users is less than objective).
On reddit's new upvoted project page there will be no upvoting and downvoting of content. Instead, an editorial team will decide what is worthy of being posted and when it is no longer worthy or relevant to the readership. While standard for curated media properties online, it is a departure for reddit where upvoting and downvoting content has long been a part of the site's culture.
Also missing on upvoted: the chance for readers to comment. On reddit's main site the comments outnumber the submissions by the hundreds of thousands and form the basis for the community and interaction that reddit encourages and is known for. On the new site, however, comments are not only not encouraged, they are downright not allowed. This naturally results in a far different experience for the user and for the advertiser, too.
Users will find their content curated, well written, and presented without the sarcasm, jokes, counter-arguments and, yes, the sometimes offensive speech that perpetuates some conversations on reddit. This will be a reading and content consumption environment that is very different to the standard reddit environment, something that some current redditors will welcome and new readers who have never visited the reddit site before might also find attractive.
For sponsors and advertisers this comment-free environment will also be welcome, though for different reasons. Marketing on reddit is notoriously difficult as the reddit user base generally dislikes promoted and sponsored content no matter which shape of form it takes. Protective of the freedoms and user-centered environment that reddit enables, any encroachment by corporate interests is quickly called out, downvoted, and mocked on the site. On upvoted the sponsored content will sit alongside the original editorial content, and while it will likely be clearly marked as such, there will be no opportunity for the readers to downvote the content nor call it out or criticize it in comments.
It's a major change for reddit and while the separate site will deflect much of the criticism, it is still evidence of a company culture that is turning away from its days as the free speech capital of the internet and towards a tech company that is growing up and needs to start turning a profit.
A First Look at Upvoted
When upvoted launched yesterday the DOZ team immediately took a close look. After all, when one of the biggest names in the internet economy branches out into something new, it's enough to get a team of startup employees to drop what they are doing and check it out.
Arriving on site and above the fold it's clear that this is not going to be confused with the reddit front page by anyone. It's clean, there is a lot of white space, and the images are not thumbnail-sized alongside links but rather large, bright, and attractive.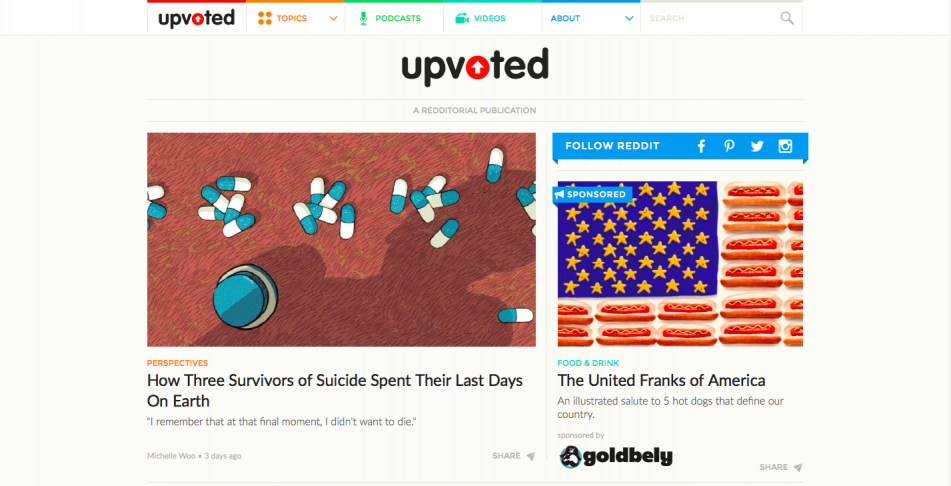 It's immediately clear which content is sponsored and which is not. Reddit seems to have gone the extra mile here by including a 'sponsored' tag on the image heading the story, and also including a 'Sponsored by' text tag beneath the story, too. This should help the company avoid charges of hiding sponsored content amongst editorial content and belay some fears that reddit fans have for the site.
Scrolling down the page things get a little more crowded but not overly so. The layout has a Buzzfeed-y feel to it, with a line of 'trending' stories topping links to other stories on the upvoted site.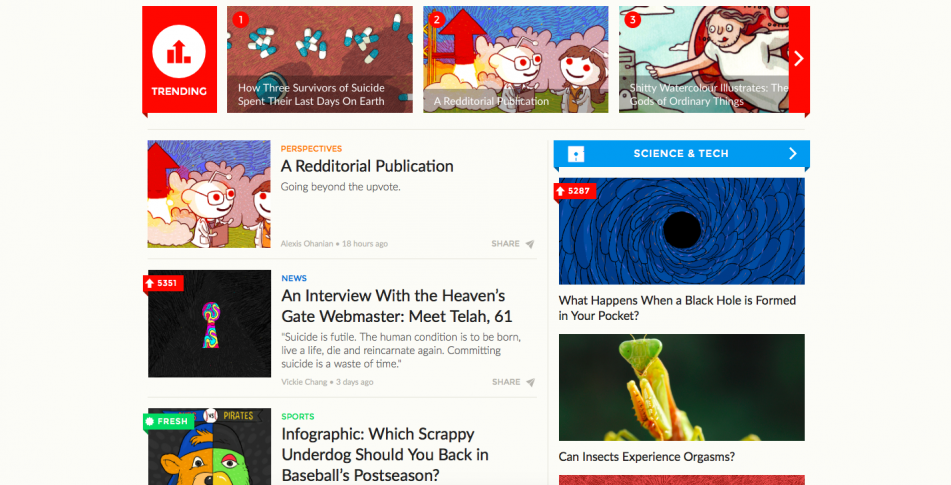 Some nods to the reddit culture and the original content that the company has already created are found a little further down the upvoted page. The hugely popular reddit AMAs (Ask Me Anything – essentially a chance for redditors to ask unscripted questions of celebrities and get an answer) are found in video form, with redditor favorite Neil deGrasse Tyson and singer Hilary Duff featured for the moment.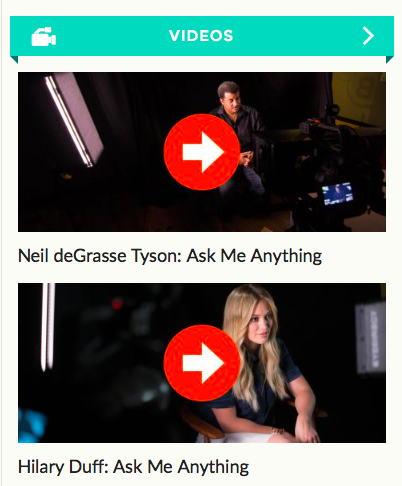 At the bottom of the page there is a chance to catch up with reddit's most recent episode of the upvoted by reddit podcast, as well as click through to the latest original video (for the moment this is the same deGrasse Tyson AMA video mentioned above).
Upvoted: Prospects for Success
As an avenue for content promotion, dissemination, and for extending the reddit brand away from its recent run-ins with some less-savory elements, upvoted seems to be a good direction for reddit to be heading in.
What's more, from a content strategy and content marketing perspective, the launch of upvoted as a separate site seems sensible and complementary to the existing original content projects (podcast and newsletter) that reddit has been experimenting with.
From a branding perspective it works, too, with upvoting being directly associated with reddit and thus the name upvoted will be immediately associated with, if still differentiated from, the reddit project as a whole.
On the other hand, reddit is entering a crowded and competitive space. It lacks experience for the moment in delivering the quantity of content that larger sites like Buzzfeed manage, and as a result it offers less exposure for potential sponsors.
What's more, while upvoted gives reddit a way to feed readers back to the original content on reddit and a means of promoting some of the great user generated content on reddit to a wider and different audience, it doesn't solve the problem of other media properties, both online and offline, using reddit as a source, and often an uncited source. At best it dilutes the content acquisition strategy of its media competitors, but this does not make the problem go away.
Conclusion
Whenever reddit makes a move its talked about – and not just on reddit itself. Upvoted is a new direction for the company and marks another move towards a long term strategy positioning reddit as a content creator, not just a content aggregator or content curator.
In these first few days it is impossible, or at least unwise, to proclaim upvoted a definite success or a definite failure. What we can say for sure is that a major internet property is pivoting from its erstwhile strategy, and the industry is keeping a keen eye on just how this pivot will pay out for the internet's front page kings.
Have you visited upvoted? What did you think? Let us know in comments below or on Twitter!