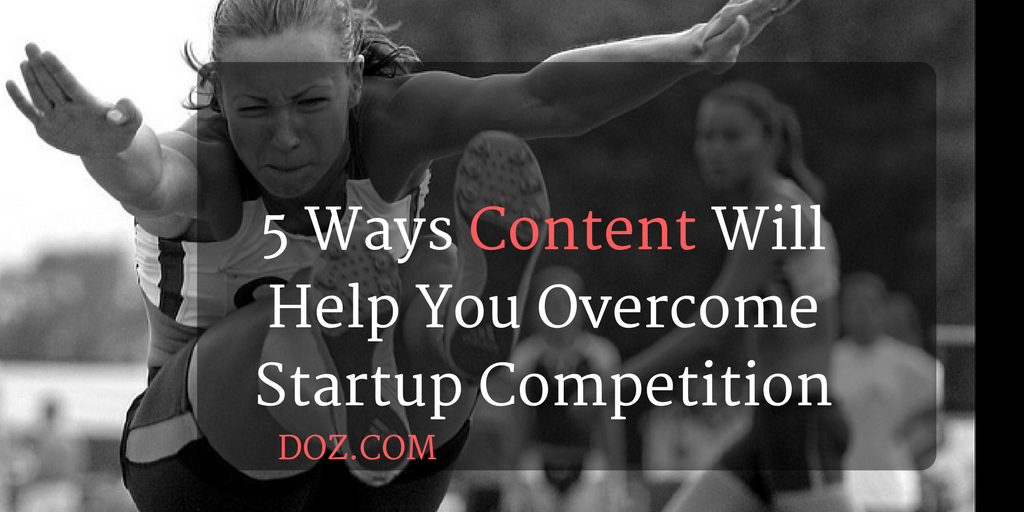 ---
This is an article by Fred Hall. He writes on a variety of subjects from marketing to business start up financing. Having seen the evolution of search engine optimization for more than a decade as an SEO specialist, he offers valuable insight into digital marketing. He is greatly attracted to science fictions.
---
Small business start-ups should use content marketing to overcome competition
SEO used to be solely technical oriented but no more only the IT people drive it. It has changed quite a bit and now it is capable of supporting all digital marketing features. This trend is like to continue for days to come and therefore do not be surprised to see SEO at the core of any digital marketing program. Any new business starts up depends a lot on SEO to cut through the intense competition and get a toehold in the digital marketing space. The odds are stacked against the new entrants, as they encounter the strangle hold of established brands that leverage their brand equity to stay ahead in the race. To position the new brand at least at par with the established ones, business start-ups have to rely on their marketing acumen to make up for the brand equity that they lack.
The prime target should be to attain equal status with seasoned brands, as trying to overtake them could be too much for the asking. To achieve the goal, you have to devise a marketing strategy that helps to build brand equity and at the same time ensures broad exposure on the internet. Considering the immense powers of content marketing that can ride on the SEO plan, you must implement a sound strategy in creating and promoting high-quality content that gives a credible identity to your business that gradually helps to build brand equity. If you are wondering, why content marketing is your best bet to break into the market and take the fight into the camp of bigger brands, then keep on reading.
Establish your business as a credible brand
Advertisements have long lost its importance in the digital world because online audiences are so wary of ads intruding into their virtual worlds that they block it with ad blockers or simply ignore it. You will be surprised that 70 million Americans are likely to make use of ad blockers in 2017.
Against this backdrop, the biggest challenge is to get close to the audience by overcoming the barrier. The only way to establish your credibility is to prove your credentials to the audience as a valuable source of information. If you can get over this first hurdle, it would be as good as winning half the battle to garner the attention of the audience. Creating blogs that contain useful and relevant information for the audience is at the core of content marketing because blogs are authoritative sources of trustworthy information available online. Content marketing helps to build your credibility to the online audience.
The value that you add to each piece of content will establish your authority in the industry niche as people would recognize you as a reliable source of information. People would be interested in spreading the good word by sharing content as you experience more exposure.
Create SEO strategy for building traffic
If you are a rank outsider and want to make a foray into digital marketing, then the only way is to seek help from an SEO specialist. She would show you the way to make the best use of search engine optimization strategies, which remain the most effective online marketing tool even today. With 93 percent of all online experiences starting with search engines, it is no wonder why SEO is still central to any online marketing strategy. SEO remains the largest crowd puller and to build a steady flow of traffic, you have to implement SEO in the best possible way under the guidance of expert professionals. They would ensure that your website figures among the top ranks in search results. For achieving higher ranks, you could also gain from content marketing by using long tail keywords in the content that drives more traffic to the website.
Improve lead generation and conversion
The purpose of establishing brand equity is to generate leads that would translate into sales. It will not happen that you send a message and the audience feels like becoming your customer. You must expose your brand to them consistently and build a relationship through content marketing in a sustained manner to drive them gradually towards making a purchase. The initial content that you serve to the audience must leave them asking for more. In the next step, ask them to sign up and with the help of a call to action or registering for subscription, lead them to gated content in the most natural manner. Sticking to the process would result in more lead generation, and more you can provide them the content of their choice higher are the chances of conversion.
Use content to convey value proposition of your brand
Content gives you the opportunity of explaining to your audience in many words and in many ways why they would find enough value in your products or service. Creating beautiful blogs, using videos, whitepapers, and infographics to tell them about the benefits they would get from your offerings would help to gain the confidence of the audience that would, in turn, influence their decision-making process positively. However, before you engage with the audience firmly, you must conduct customer surveys to establish the buying personas that are essential to creating the right kind of content. Just as a speaker would know about the audience in advance to articulate his speech appropriately, you must serve the content that the audience would find valuable.
Use content to build the foundation of digital marketing
Content marketing is one of many activities that you undertake in digital marketing. Under no circumstances should it become your ultimate goal. Instead, use content marketing as the backbone of the entire marketing strategy that includes everything that you do digitally. The principle of content remains the same whether you use it for email marketing, social media marketing or for your website. If needed, you can swap content between the channels and use it interchangeably.
Content marketing is not only effective in giving results but is cost effective too. It only needs dedication, patience, and hard work to see that the business start up transforms into an established business.