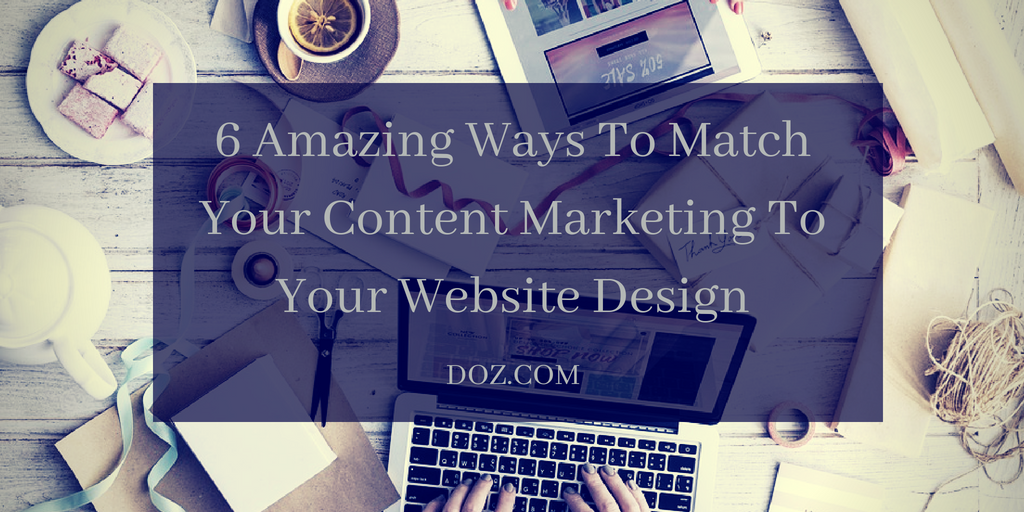 Content marketing is a great way to engage with your readers and offer them something useful to read. This can make you look professional in your clients eyes, especially if you already have an established position in your field.
However, writing good content simply isn't enough. You need to make it look appealing, readable and comfortable. Another thing that you should keep in mind is that there are probably plenty of articles online on your subject already so you need to make your article stand out.
Here are some tips on how to do just that.
Make sure that your website is running optimally
While the design is extremely important, what matters even more is that everything is in sync for running optimally. This encompasses a few things:
Loading time. People simply don't like to wait for more than a few seconds to get your page loaded. This is why you need to make it run smoothly and without lags, no matter how much videos or images your pages feature.
Mobile optimization. More and more people read on their smart phones nowadays and your website needs to be responsive to smaller screens. Make your text adaptable, compress your images and implement a 'toast menu' solution to make your menu usable on mobile devices.
SEO optimization. Your website needs to be SEO optimized at all times. This is the best way to gain traffic. Use plenty of keywords, optimize your images and your URLs.
Strategize
Start by testing different versions of your content, titles etc. to see which attracts more attention. Split testing is a good idea as it is one of the most popular methods at the moment. Next, base your strategies and plans on that.
"After that, what you have to do is track your performance and how well you content does in terms of gaining attention, visitors and ultimately, subscribers, which generate leads for your website. You can use Google Analytics for this. Measure the bounce rate as well, so that you can know if your content needs fixing or something else needs to be done with your website", – explains Virginia Neil, a UX Manager at Australian help.
If you want to lower your bounce rate, improve loading speed, make sure that you add links to similar articles or articles on related subjects. This keeps people exploring your website.
Good first impressions go a long way
Making good first impressions is just as important in business and on your website as it is in real life when meeting new people. Here are some things that go into that first impression of your website and could potentially make people leave your page.
Too many distractions, bad choice of colors or fonts etc. all affect how people perceive your website and your business. Make sure that there aren't too many distractions that make your text hard to focus on, choose fonts that are easy to read and neutral colors that are light on the eyes of your readers.
Pop-ups. Let's be honest, people hate seeing a pop-up invitation to subscribe, purchase something or otherwise get involved when they first visit a website. They still have no idea what you are about and the only thing you'll get from them is a quick goodbye. Follow the lead of Neil Pattel and his website where he offers subscribe pop-ups only to people who have already been to his website a few times.
Page structure. If people see a page structure that's hard to navigate, understand and read, they'll simply leave your website for a better one. Make sure that your feed is well-organized and easy to look at.
Format your content properly
Once you have the design figured out, it's time to focus on the appearance of your content. There are some things that you can do to improve the readability of your text.
Use a lot of headlines
Use readable fonts (pt. 14 or pt. 16 are optimal for reading according to studies)
Bold important parts
Use lists and bullet points
Use visuals
Keep your paragraphs short
Here are some tools to help you out:
– Via Writing and Academized offer content writing and formatting guides to show you the best practices in formatting your content.
– Big Assignments is a formatting and proofreading tool. Another important thing to remember is to always have your content proofread – spelling mistakes repel readers.
– Essayroo and Oxessays are online grammar tools and guides that can offer you excellent tips on how to write accurate content.
– My Writing Way is a tool that will help you create content of proper length. Content length matters immensely since there are certain preferences on how long content should be to offer optimal value without being too long.
– Revieweal and Boomessays are tools that can help you add references in an accurate way. This won't matter as much to your readers but it is important for cooperation with other websites and for SEO.
5. Get to know your users
You can't write proper content or do anything else for that matter without knowing your users. Familiarize with your target market and segment it so that you can write content specifically for those segments.
Use buyer personas and personalize your approach for best results. Do some deep research on what your readers may need from your content, what their problems are and how they like to interact with a brand. By knowing your users, you can build a surefire way for you to succeed.
Have a clear focus

Nothing is possible without you having a clear focus on what you want to achieve. Every step needs to bring you closer to your goals. Jamie Tolan, a Content Strategist at Eliteassignmenthelp comments: "Maybe you want to improve your sales or your lead generating – this can all be achieved if you maintain a focus on your goals. Write content and design your website in a way that will be beneficial to your cause".
Over to you
Content marketing is easy to match to your website design if you follow these simple steps. It should be easy to read, understand and it should also look attractive to your readers. Put yourself in the shoes of your reader or buyer persona and look at your content and design with fresh eyes. This way, you'll know if you need to change anything and how to change it.

---
Freddie Tubbs is a UX manager at UK Writings. He regularly takes part in online design conferences and contributes case studies and posts. You can follow him on Twitter.