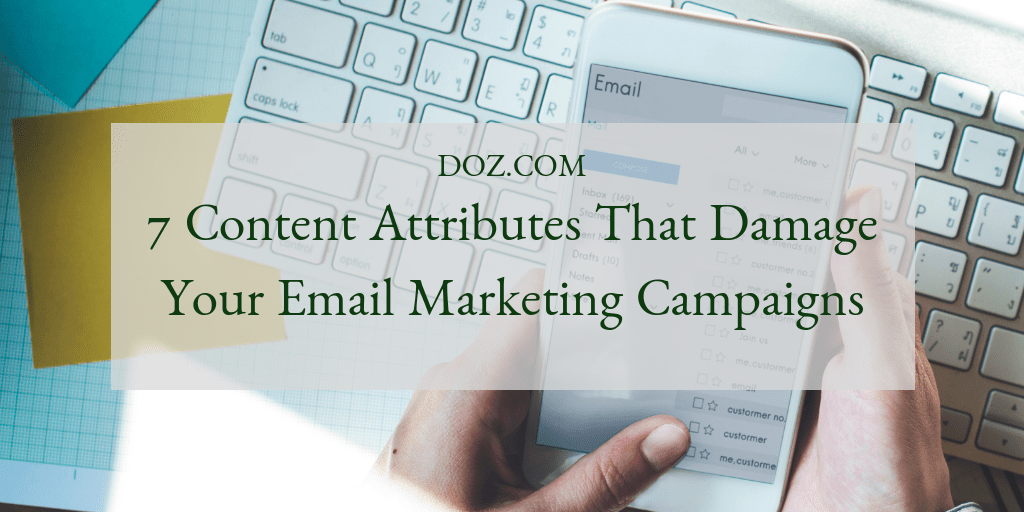 If you have experience with email marketing, you've probably heard that this method is great for building a long list of leads and has the highest ROI for businesses. Some measure it at $38 per every $1 invested, which is clearly impressive.
If you're reading this article, chances are that you've tried email marketing but didn't quite get the kind of ROI you wanted, so you're wondering what could be a problem here. Well, unfortunately, there's a lot of things that could go wrong with email marketing campaigns, and many of them are content-related.
In this article, let's take a look at seven content attributes that could easily reduce the effectiveness of your email marketing effort and cost you a lot of deals.
Poor Subject Lines
What's the first thing that a recipient of your email sees when he or she receives your email? The subject line. In the world where the number of consumer emails sent and received per day exceeds 281 billion, there's very little room for error when it comes to subject lines because inboxes of your customers are packed with messages.
In other words, no one is going to take a second look at a boring subject line that doesn't have any value for the customer. In fact, since 47 percent of email recipients say they open an email based on the subject line, you have to do it right.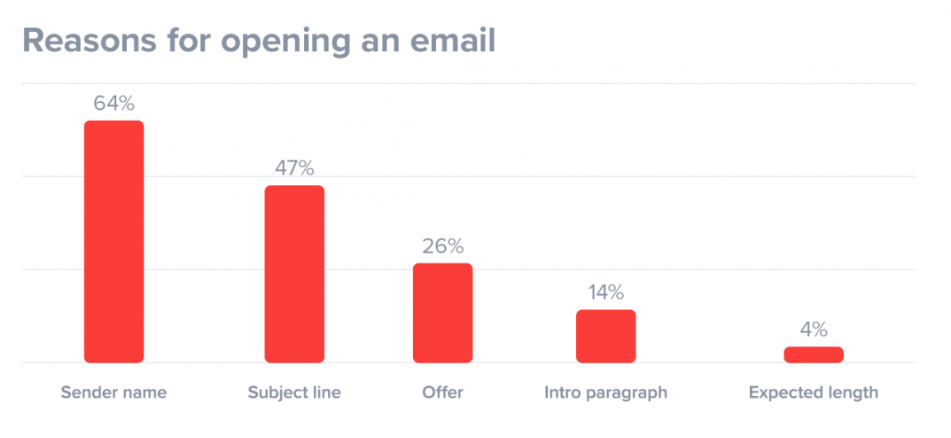 A line that has the chance of being noticed and enticing enough to convince the recipient to open the message typically meets at least some of the following requirements:
Personalize by including the name of the recipient. This can increase the opening rate by as much as 20 percent

Create a sense of urgency, e.g. "a 24-hour sale!"

Describe specific benefits for the recipient, e.g. "Increase the effectiveness of your email marketing campaigns with these 5 tips."

Personalize by sending relevant content based on the recipient's browsing or buying history.
No Clear CTA
A CTA is a critical component in the content of your email because it highlights the step that you'd like the recipients to take. For example, this could be a button that redirects them to a landing page where they can buy your product or get other information that you would like them to see.
In order to focus the attention of the recipients on the CTA, marketers and graphic designers make them stand out. For example, they give it a distinct color and place them at the center of the body of an email to make sure that it's clearly visible.
Let's take a look at how it's done. Below email comes from an Italian coffee producer Illy and provides an example of a well-designed CTA that's clearly visible and stands out from the rest of the body.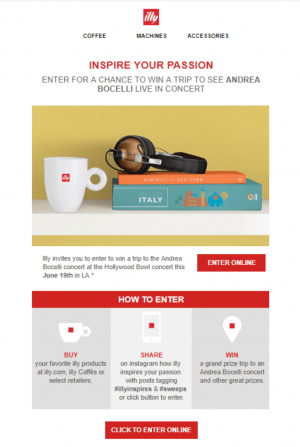 In fact, as you can see, this email has two CTAs ("Enter Online" and "Click to Enter Online"), which is another good idea to entice leads to convert. The designer has used the white space very well to make them stand out and selected a bright red color which is contrasting to the background (the red color is also the color of the brand, which explains the choice).
If your emails don't have a clearly visible CTA like this, it may explain why their performance is subpar.
A Lack of Action-Oriented Text in CTAs
Take one more look at the email example above and you'll see that the CTA features a text that describes an action: "Enter Online." Using these action-oriented words is the best way to go because they are now-oriented and exciting.
Basically, try to make your CTA text answer the question "Why should I click this?" If you immediately think of some benefits for the recipient, e.g. in the above example, it's a chance to get to an awesome concert featuring Andrea Bocelli, then feel free to experiment to make it even more exciting:
"Take me there"

"Let Me Buy My Ticket"

"Let Me See Andrea Bocelli."
As you can see, you're only limited by your imagination here. Here's a couple of nice examples from McDonald's.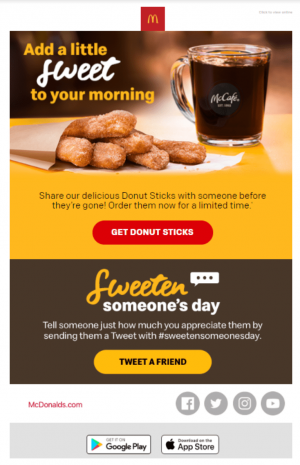 While these two CTAs may not be the most creative. They're still pretty good because they're not boring, describe what happens after the recipient will click on them, and, of course, are action-oriented.
So, the bottom line: try to keep your CTA copies focused on the benefits for the recipient and action-oriented.
Poor Preview Text (or a lack of it)
One of the most popular email marketing mistakes is a lack of preview text optimization (the preview text is the text that appears after the subject line in the inbox). It's an amazing opportunity to provide more content to the recipient without them even having to open your message.
Let's consider some examples. Chances are that if you open your email, you see a lot of unread messages. And you don't really want to open unless you suspect that it has some good value for you.
However, if an email catches your attention by giving you details you may be interested in, chances are high that you'd stop for a second and consider opening it.
For example, this email was sent by Wired to promote their new offer. In addition to describing the offer in the subject line, they've done a great job by including the details "12 months of Wired for just $10."

In many cases, this tiny bit of information delivers that much-needed additional motivation to open the letter.
This one comes from a British health retailer Holland & Barrett. As you can see, the preview text adds another important detail of the offer: free next-day delivery. This may very well be important for a recipient interested in getting a good deal.

Conveying your marketing message within tight word limits is a pretty difficult task, that's why many email marketers use professional copywriting tools like TrustMyPaper and subject line testers like CoSchedule's checker.
A Lack of Visuals
Humans are visual learners (Facebook posts with visuals get 2.3 times more engagement than those without images), so they appreciate good-looking visuals that complement email copies.
For example, take a look at this email from a Danish retailer Jysk: the image preceding the text does a great job at delivering the most essential information about the offer and makes a good transition to a more detailed description.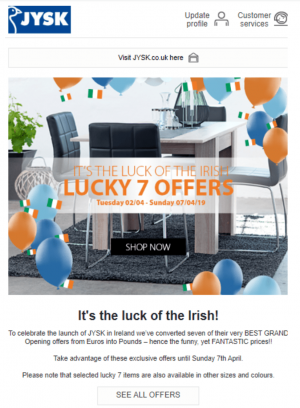 So the secret here is to make the visual relevant to the message of the email, e.g. show an advertised product or set the mood like in the above example. Don't add images just for the sake of adding them.
No Value for Customers
Many businesses send emails basically just for the sake of doing it, so many of their emails don't really have any value for the recipients. It's hard to believe that a business would do that because of the high risk of losing leads, but the stats don't lie: the #2 reason why emails recipients choose to unsubscribe is the irrelevancy of the content.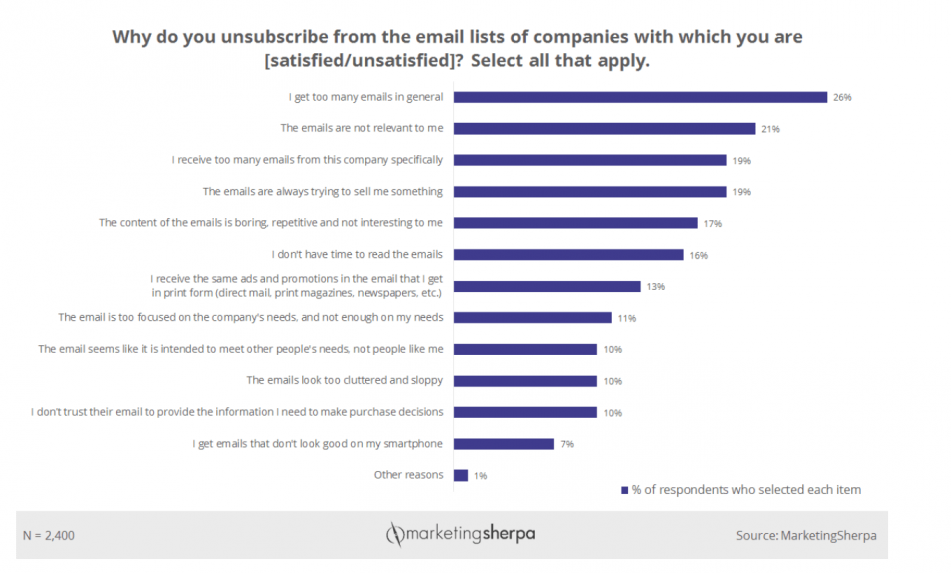 To effective, your email marketing campaigns have to provide value for the target customers. This includes helpful and actionable content like how-to articles, video tutorials, discounts, sales notifications, industry news, etc.
Always remember "the online store example:" the most common reason why people subscribe to newsletters of online stores is to get coupons, discounts, and exclusive offers (so this is the content they consider helpful). Giving them something else would make them look for this stuff somewhere else.
The Copy is Too Long
Sometimes businesses try very hard to deliver as much information as possible to their customers via email marketing campaigns. The result is super long messages that no one really has time to study.
While the universal formula for a perfect email in terms of length doesn't exist (it really depends on the purpose of the email as well as the target audience), research suggests that sales emails with 20 lines of text – that's about 200 words – had the highest click-through rate.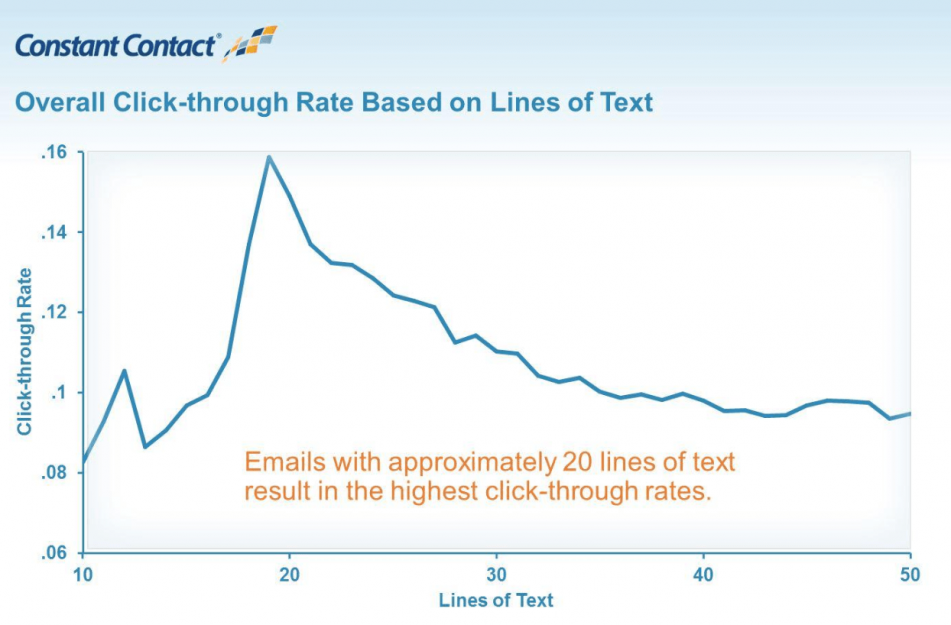 So, try to keep your sales email copy under 200 words to get the best results. As for other types of emails, your best bet is to start with a number close to 200 and test different lengths.
Over to You
The above content characteristics can easily reduce the effectiveness of your email marketing campaigns and even convince a lot of people to unsubscribe. So try your best to avoid them and focusing on the best practices that we also described here.
Remember, if you follow these tips, you're increasing the chances of getting that impressive email marketing ROI that everyone is talking about. Hopefully, you'll be on the way to this goal soon!
Author Bio
Diana Nadim is a writer and editor who has a Master degree in Marketing. She combines her passion for writing with her interest in research and creates thought-provoking content in various fields. Diana also runs her own 3to5Marketing blog. What inspires her the most in her writing is traveling and meeting new people. Follow her on Twitter.