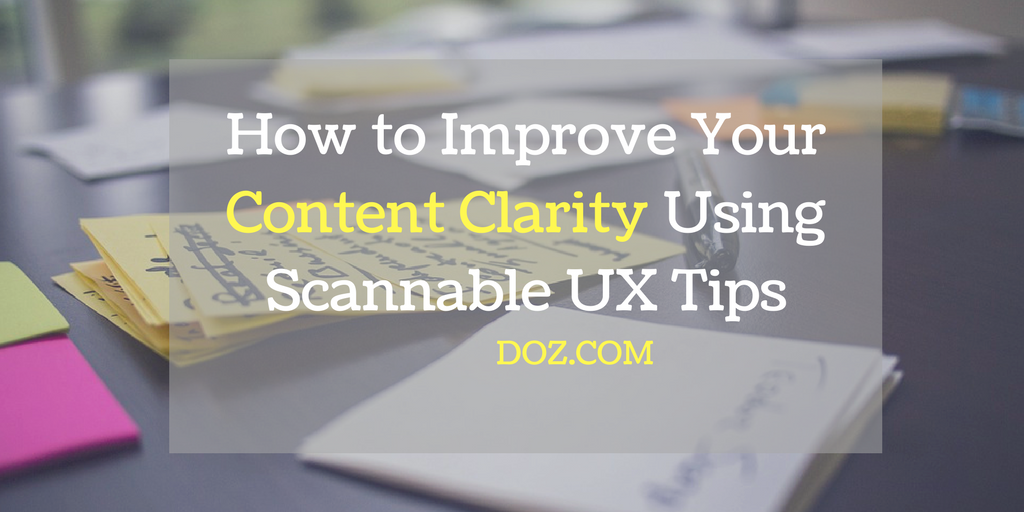 ---
This is an article by Gloria Kopp. She is a UX designer at Paper Fellows. You can follow her on Twitter.
---
User Experience, more commonly referred to as UX, is an extremely complex subject when it comes to websites and can incorporate every aspect of it. Some of these aspects including the overall site performance, colours used, font (both size and style) and much more.
However, while UX is predominantly focused on the actual technology that the website runs on, you will also need to place a considerable amount of attention into your actual content. Unfortunately, especially among small businesses, the content aspect can be easily overlooked which can be catastrophic for your business.
Here to give you a helping hand, you'll find several UX that you can use to make your business stand out and completely user-friendly.
Consider the Size of Your Font
The modern-era has flooded the online market with devices of all shapes and sizes. Some of your readers may be using tablets and smartphones. Others may be using 40-inch television displays on the wall.
This means when it comes to picking your font size, you've got to bear everybody in mind. Consider that 16pt is the recommended font size by some and percentages use by others. Find what looks suitable and readable of the font you've chosen to use.
So you can experiment and find the font size that works for you and your website, use dedicated online font tools like Icomoon and Edge Web Fonts.
Use Precise Headers
Imagine if this piece of content that you're reading now didn't have any sub-headings and was just one big block of content. It was extremely difficult to read, and the chances are that you probably wouldn't even start.
Using headers means you can split up and divide your content into readable sections, ensuring that it's scannable and easy to digest. More information on headers can be found at sites like State of Writing and Academadvisor.
Match Your Brand
When it comes to actually uploading your content to your website, you want to make sure that everything fits into place and works. If you've got sentences sticking out and end at inconsistent lengths or poorly formatted images, your users are going to have a bad time.
Instead, use website building tools like Balsamiq and Go Mockingbird to make really easy websites that fits everything perfectly.
Use the Enter Button
When writing content, the whole aim of the game is to make sure that your content provides value and then can be easily digested by your reader. If you've got long paragraphs that are a good ten or twenty sentences or lines, this is going to cause a problem for your reader.
"Instead, make sure you press enter and break up your paragraphs so, although the amount of text doesn't change, it becomes far easier to read" – explains Tracie Hayes, a UX Designer at Resumention.
Use Related-Content Solutions
This is an extremely common problem that most affects small businesses and websites and is something you should be aware of.
Whether it's located on the sidebar or at the bottom of your piece of content, having a related content section is a great way to keep readers on your website and allows them to delve into more information that they want to read, rather than having to find it themselves.
For more information on related content, to set up the solution or to produce the content from scratch, get in touch with the experts at services like Essay Roo and Boom Essays.
Keep Things Short & Sweet
While long-form content tends to provide more value to your readers, it's highly recommended that you refine and shorten your content as much as possible. Most people don't feel like they have enough time to read content properly.
They may be on a bus, walking to work, sitting on the sofa and you may only have minutes with their attention span. In most cases, the short you can get your content, the better off you'll be. It also helps to make your content easily digestible.
To easily keep track of your content when you're writing, you can use free online tools such as Easy Word Count.
Summarize Your Content in Blocks
If you're writing a really valuable piece of content for your readers, which is highly recommended, by the way, be sure to summarize your paragraphs into different segments so your reader can easily see if it's relevant to them or to summarise briefly if they don't want to read the whole section.
For example, for this section, you could write something like:
"Summarising your content is so important to making sure your user has the best experience, and your long-form content is easily digestible."
To make content summaries easy, you can use formatting tools such as Cite It In and UK Writings.
As you can see, there are many ways you can incorporate elements of UX into your website's content, and it all focuses on creating the best experience. That means you should always bear your readers in mind and never assume; always be the best you can be.