Social media has established itself as a wonderful platform that binds everyone together at one place. Whether you are a marketer, an entrepreneur, a millennial, or a designer, your foremost aim is to connect with your people – people who trust you.
And how would you do that? Func Media is here to help you, they create original short-form videos that are perfect for social posts, targeted ad campaigns, Instagram stories + more.
Stories…!!
Your people are mad about Stories as they are an exciting part of their lives since infancy. They react to each and every Story they come across in the same way they did when they were kids. This is what actually social media utilizes to impress its followers. Snapchat, Facebook, Instagram, WhatsApp, to name a few are all leading through their featured Stories even more than the newsfeed.
What do your people first look for when they open any of these apps on their phone – Stories, "what their connections are up to".
This curiosity is something that works as your social media marketing arsenal. How ?
What can you expect from social media Stories for your brand ?
Storytelling is an art that you have to develop, rather flourish, to support the fact that even a small amount of quality content fosters engagement with a larger audience. Neurological research proves that Stories are the best way to attract people, rule over their memories, and build strong relationships with them. You can grab the time and attention of your people only if you are a great storyteller.
Brands with a good Story allow you to connect with your people in a more personalized way to dig deeper into their problems and hence give a solution which solves it in a manner that no one else can. These Stories are a great opportunity for you to make more people aware of your brand.
It is not how much content you create, but in which form you present it matters the most. You are not alien to the significance of storytelling on social media. But one thing you might be missing out is the right way to lead with this powerful asset.
Here are 10 ways in which you can use Stories to give a boost to your brand
Tell a Story that has a STORY in it
It is good that you have planned to tell a Story. But wait! What kind of story are you going to narrate? An inspirational Story, an emotional one, or something that is able to express the message behind your Story. Make the content of your story relevant to what you want your people to understand.
Develop a perspective of your audience, specifically a group of people that you are going to address through your Story. Create your story keeping in mind that group so that it can perfectly resonate with them. Having insights into the likes and dislikes of your target audience can help you in this.
For example, if you are telling a Story to the young generation craft your thoughts to align with their way of thinking. Say, you own a clothing brand, then your Story should able to explain how your brand can create a difference in the present clothing style. They must get an answer to the question – what makes your brand worth wearing ?
Don't be boring while narrating your story
There are many ways to narrate a Story. Either you can fill it all with text or headlines stuff or you can choose to be creative and use visuals to make it speak in real life. Make use of videos, images, creative but clear text, to quote a few examples. If your Story is flooded with long paragraphs or unnecessary links, your audience will prefer sliding it just after a glimpse of it.
And if you are thinking to tell the main idea of your Story in just one shot, then never ever experiment with these long pieces of text. You will end up with your Story being ignored by your people. Instead, try to use something that automatically grabs the attention of your audience to your Story. Like ?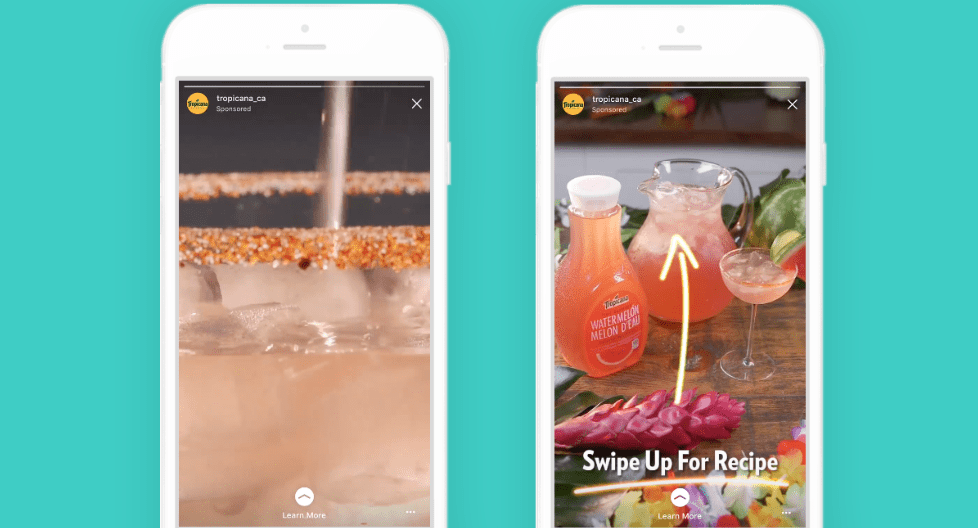 You can refer to the storytelling technique of the Tropicana brand. They creatively used arrows to instruct their viewers to mix the juice with Sangria and then added an option to get the full recipe by "Swipe Up" on Instagram.
Better ask your people what they like
Suppose, you already know what your people expect from you or your brand's next launch. Be it a new update or functionality if it's a gadget or added comfort if it is a footwear brand, it will be a bit easier for you to fulfil the demands of your audience. Sounds good, right?
But you cannot ask everyone about their likes and dislikes as your audience is not a small community or group. A clever way is to use Stories to get an opinion from your people. Facebook and Instagram stories can help you. People often choose to reply to a story if they find it interesting or expect something else from it. If they like your ad they might praise you for this, showing their excitement for the new product by replying to your Story.
You can also use Instagram polls to insights into your audience' preferences. Make these polls ask them questions with two options to select any one of the available choices. These questions can be anything that the brand speaks about.
Use multiple forms of expression
A product looks good in packaging. The images are also attractive and pleasing. But your audience wants more. They are not going to buy anything by just looking at the outer cover of your brand. They want to know what makes the product useful to them and without seeing it they would not able to decide.
The main idea behind this illustration is to make you understand the game of multimedia in your brand's Story. When you use more than one form of expression to narrate your Story it creates a meaningful impact on your audience.
For instance, if your brand represents a cosmetic item, there are different ways in which you can narrate your people how beneficial it is for them. Post images of the product from different angles to make it look real on screen. Make videos of your product showcasing how to use/apply it. This would make them relate your brand to their real-life needs.
Embed your Stories with links
Being a marketer or digital marketing consultant like myself, you have to take care of your sales while narrating Story to your people. As the main intention behind creating Stories is to explain to the audience what your product matters to them and ultimately prompt them to make a purchase.
You can make use of the Story features provided by Snapchat and Instagram. These platforms provide you with an option to add links in your Stories like "Swipe Up" feature that take the viewer to the hero of your Story, your product. Furthermore, you can opt for URL shorteners to analyze the feedback of your Story.
Links make it easier for the audience to inquire additional information about the product through direct references.
Tell your Story by user-generated content
An interesting and proven way of storytelling is to make your people the lead character in it. When you narrate a Story that is familiar to their own, there are more likely to trust your brand. People like seeing themselves on screen and when they see other people like them taking benefits from your product, they are more attracted to it.
User-generated content is the most common form of engagement that many businesses use today. Share experiences of your community members with your people using user-generated content. What you have to do is, when your followers from the community leverage from your brand, just capture it and tell their Story to the audience by sharing their pictures and videos. A different way is to create a hashtag for your brand and then tell a Story.
These have helped TOMS for its #WithoutShoescampaign that their people used to share their own Story spending a whole day without shoes. They posted their Stories walking on the beach, roads, and other places with their shoes kept aside and mentioning the hashtag on each of these Stories.
Talk to your people personally. When they listen to your brand's Story from you it will create a sense of authenticity and practicality in your Story. You can then tell your Story more effectively and in an impactful manner.
To converse with your people directly, go live on Instagram or Facebook as both of them encourage storytelling by their Live feature. Your people also prefer to engage with their connections 'live' rather than those are already finished. There you can tell your brand's Story, explain how to use your product or answer to the questions asked by your audience. It is a more realistic way of storytelling which involves personal interaction with people.
Prepare yourselves before you go live. Decide a three-structured plot for your video which has an introduction about your purpose, the main Story and then a climax scene.
Create interest by creating suspense
People love mysteries, and more than that they enjoy solving it. When they find something of their interest, they are curious to know more about it and keep looking for the latest updates. This increases their activity on a particular page.
Take advantage of this curiosity in your marketing efforts and tell your Story in parts. Do not try to split everything in just one Story. Create interest among your people by posting short videos or images giving a hint to your next launch. They would want to know more about it if they find your Story plot exciting. This increases the chances that they will definitely listen to your next Stories to solve the mystery you created in the previous one.
You can make use of consecutive posts on Twitter to create suspense throughout your Story. Reveal it in parts by engaging with a greater number of people on each new fact or information.
Your audience wants something which is useful to them. Your Stories also should have the capability to provide them with resources that are helpful to them. While promoting your brand you can share something of their interest.
Tell your people the Story behind your brand. What is it actually meant for and what you want it to do for your people? Explain the main message of your brand through storytelling. Do it on a regular basis so that your people stay connected with you and your brand. Make them understand through your story the significance of your product in their daily life.
The grocery store "Whole Foods" is making a good impact on its audience with tweets telling the Story of healthy living. They regularly share healthy eating habits and tips with their people. They also add links to their recipes of items on Whole Foods.
Emphasize on existing customers
When you have already told your story to some of your people do not let them forget about it. Your audience who already trust you are hard to retain than the one whom you have to target. Customer retention is very important to make people purchase from you again. Your audience looks for improvement and innovation in everything and on the basis of this they decide whether to make a purchase or not. Let your Story remind your audience of the good experiences they had and of more fun they are going to have with your new products.
Keep them updated about everything related to their purchase. For instance, if you are marketing for a travel agency and some of your people are already a member of it then you can share the recent updates about new journeys or offers on tickets to stay connected with them. Moreover, if they are interested, they would contact you again for travel purpose.
A quote by Mitch Joel sums it all about how important is storytelling for a brand's success and reputation.
"The brands that win are the brands that tell a great story. When it comes to transmedia storytelling, the brands that win are the brands that tell many great stories and are able to connect them all together".
Author Bio
Internet marketing consultant Lorenzo Gutierrez works with brands who want to grow their revenue online. His work has gone on to help organizations in competitive industries thrive online. Lorenzo also writes for a number of industry websites on marketing as well as business and in his free time enjoys gardening. Connect with him on LinkedIn.