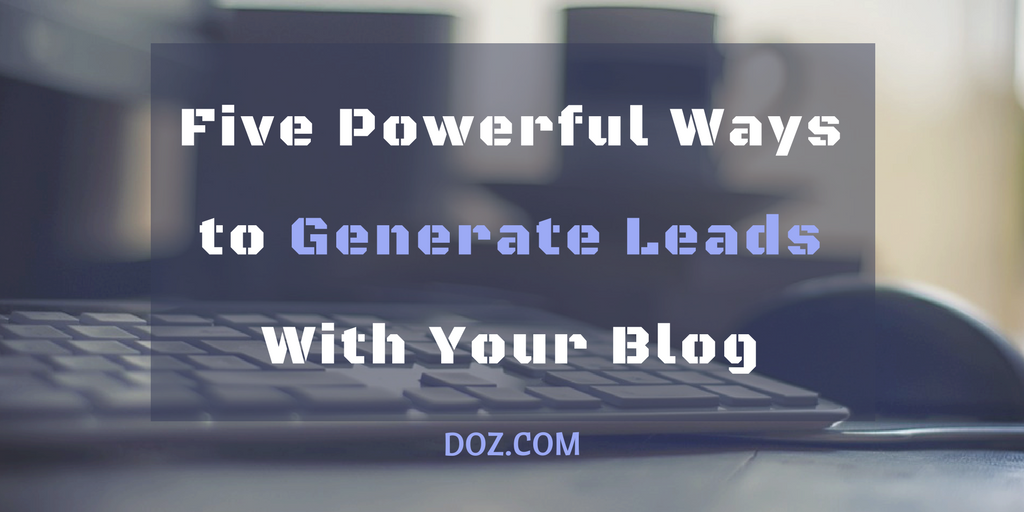 ---
Vincent Hill is an expert writer who writes on different categories like how to start a blog, content writing, blog design and much more. His writing is not only descriptive but also meaningful. He loves to share his ideas on different categories. Feel free to follow him on Facebook.
---
There are a lot of ways on how to start a blog and how to manage them. And assurances that you have already one on your own and you are more concern on the latter – managing them. It's very much easy to create and write blogs. However, the management and generation of targets are the tricky parts of blogging especially when your blog aims to connect and engage with different prospects, such as your future clients and audiences.
As a start, what is lead generation?
In actuality, lead generator or as some may refer to it as lead magnet – it is the "thing" that you offer "freely" to your blog visitors and audiences in the exchange of their contact information. This information usually includes email addresses, residential addresses, and contact numbers.
So, why generate leads and target?
It is a very crucial question that must be answered internally. But let me share you the facts why the generation of leads is as much important as blogging itself.
In obtaining the information specified above, you are engaging your prospects to whatever you are providing, whether tangible products and goods or services. You can easily target these people because you have already the access to their contact and location details.Moreover, it enables you to stabilize your operation in marketing because it gives you enough convenience and efficiency in connecting with your audiences.
The more leads you have, the more chances and possibilities of opportunities for your business growth and expansion.
Now, the real question is how to generate leads with your blog?
Remember that before your prospects decide to give their information details with you and your blog, you must have something that would really catch their attention and curiosity. Your free offer must be of something that the prospects are truly interested in. More often than not, the most effective way to have a real connection with them that would really make them give their personal details are the things tailored to their necessities and wants.
There are a lot of ways you could apply to generate leads with your blog and these are considered to be the most powerful ones that have been proven to be effective and efficient:
1. Offer Free Guide or Report
Offering free guides and reports has been found to be one of the most effective tools in generating leads. Through and by this way, you are enabling the target audiences and prospects to download your file after providing their details (email address, contact numbers, etc) in a form to proceed with the downloading.
One great example here is Tarot.com – it is a site where people could get their personal horoscopes and updates on a daily basis. Aside from the name and the email address where the program could send the horoscopes and updates, the need of their birth dates and other information are asked as well for horoscopes are generally based on these kinds of details.
By signing up, audiences of this site could get a more personalized and customized insight where in fact a huge factor making the site and the blog a more preferred one than other generic contents on different websites.
2. Crafting Top Ranking Headlines
Studies show that 90% of people online read the blog headlines but only 20% of this will completely read the contents of the posts in your blog.
It only goes to show how crucial and important your headlines must be. Aside from being catchy and not sounding generic, note that headlines are the clues and key points of your blog contents, so they must be very well informative and direct.
You may use different styles and techniques in creating your headlines. Just make sure that these headlines are short, direct, informative, yet creative and not generic.
3. Use Opt-In Forms Strategically
Opt-In forms are the most used strategy in generating leads. Being most used, meaning almost all of the blogs today are being integrated with different kinds of opt-in forms.
These forms are usually found on the sidebars and footers of the page. It largely encourages the audiences and readers to subscribe to the blog to receive contents on their own email inboxes.
In addition, to this 'subscribe' forms, some are integrated into a form of commenting and testifying sections. Before audiences and readers could express their own opinions, testimonies, and inquiries, there is first a need for them to input their names and email addresses.
4. Social Media Outreach
One factor to consider in expanding your audience and in attracting more leads is your social media networks. This is one of the most powerful tools in generating leads. Most of the people being targeted as prospects are participants and owners of profiles from different social media platforms.
You can generate tons of leads by sharing your blog posts and contents through different platforms. Promoting your blog via these channels increases your traffic. Consequently, more people will visit your blog which makes them aware that your brand exists.
5. Utilize Persuasive Calls To Action
Take note that a good content and blog post does not only have a great headline but it also must end with a strong persuasive call to action.
The most usual call to action statements became too generic and less effective making it not helpful at all in generating leads and prospects. Instead of saying "Sign Up", "Buy", or "Subscribe" – use words such as "Get Yours Now" or "Get Started."
Play with your wordings and check what effects best with your prospects and audiences.
If you really want to maximize the full potential of your blog in generating leads, these are actually the best and most effective ways. You may opt to add some details on your own to make it more personalized and intact with your blog.
It's your call.
But generally, keep in mind that the key to generating leads is simply to have a great blog. Make sure that all of the contents are significant and valuable enough for your readers. Undoubtedly, your blog will be an embodiment of a powerful lead-generating tool.