We thought New Year was a good starting point to have a look back at 2013 and also give an overview of 2014.
In 2013, we Launched DOZ.com
After several months of private beta, testing and iterations, getting feedback from clients and marketers, adjusting our offer, we finally came up with a public version of DOZ. We went through an amazing mentoring program at Kicklabs for 6 months, which helped us getting ready for the Launch. Indeed, we launched at the Launch Festival in San Francisco, in March 2013. This exposure was highly profitable to get press coverage, clients and even investors. Here is a post where I summarized this event.
In 2013, we get our Visas
This year, we also had to argue about our will to build a company and hire people in the US. While, we totally understand that immigration is a matter that requires government regulation, we were disappointed by the energy, time and money it took. Now we are all set and that's a good asset for DOZ. Here is our US Immigration story on FWD.us.
2013, in figures
+4,000 marketers & site owners
30 countries & 15 languages
+200 marketing campaigns
+50,000 hours of marketing tasks
5 hires & hundreds of Nerf  shots
50 kg (110 lbs) of coffee
Pursuing our mission in 2014 !
At DOZ, we are driven by three beliefs:
Marketing should be more transparent

Marketing should be as easy as advertizing
Marketing skills cannot be held by just a few big agencies
Over the past year, we have released DOZ, which allows any website to order organic traffic in Cost Per Click campaign. First innovation. DOZ is also based on a unique model, sourcing the best marketers around the world, matching their skills and personality with campaigns from our clients. Second innovation. Finally, we have designed an easy to use platform that allows watching every single detail of a marketing campaign, making it understandable for both clients and marketers. Third innovation.
Our clients understand what marketing really means
In two clicks, DOZ clients have access to every task being performed on their campaigns. One more click, and they have explanation of the usefulness of each task and its concrete application, with an attached report, docs, or a link to visualize the result online.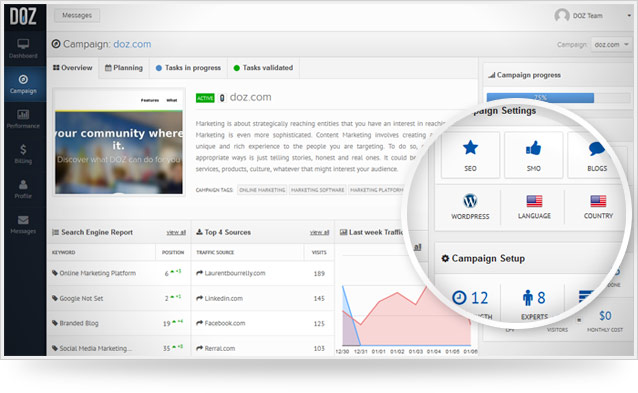 We are even making "consulting", a no BS deliverable. Concrete recommendations from top-notch marketers to make our clients stand out on the web. Same thing for stats; we want our clients to focus on what matters the most for them.  For every publication clients can monitor the traffic driven from it. Why? Because there is no marketing without results!
Start a DOZ campaign right now to increase your qualified audience.
Our marketers are working on what they like
Marketers are better at marketing what they really like, DOZ algorithms assign tasks based on social profile, past experience, hobbies etc.
Since a campaign is a dozen of small tasks, marketers can work only on what they are the most willing to work on. Maybe you don't like content and would rather work on strategy. Maybe you don't like link building but prefer on-site optimization. Maybe you don't like community management on personal social networks but prefer building communities on professional social media. Etc.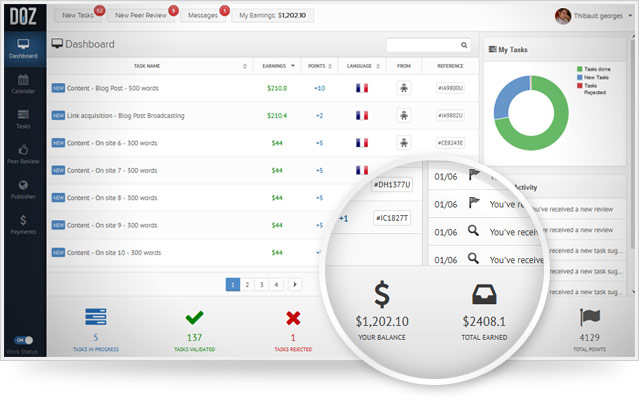 We have also released, in the last version, a "Publisher" feature. It allows website owners who are looking for alternative ways to monetize their website, to display related content from DOZ Network. Because ads might not be well targeted, might not engage your audience, and might not pay as you deserve; DOZ Publisher will help you to share content that are relevant to your visitors and which will enrich your site.
Join DOZ Network now and start doing marketing as it should be.
A new release for a better Marketing experience
Number of UX improvements have been applied to all the user interfaces to make DOZ a great platform for both Clients and Marketers. We want DOZ platform to have the DOZ culture: efficient and performance-driven.
Faster :
Rest API
APC cache
framework AngularJS
database requests optimization
User-friendly :
maximizing the data dedicated space
responsiveness of the platform that makes it accessible from any devices (mobiles, tablets)
better data visualization with the use of Google Charts Library
inspired by flat design principles
Secured :
the platform is fully secured through SSL
payment information are stock through Stripe
What's next ?
In 2014, we will be releasing an "on demand" plan for enterprises and agencies. Imagine a SaaS to manage organic marketing campaigns, prosource the best marketers all around the world and pay per performed task.
We will also push our own API to help marketers build application on top of DOZ, and clients integrate DOZ to their marketing software or business intelligence dashboard.
DOZ also has very big news coming soon, so stay tuned !