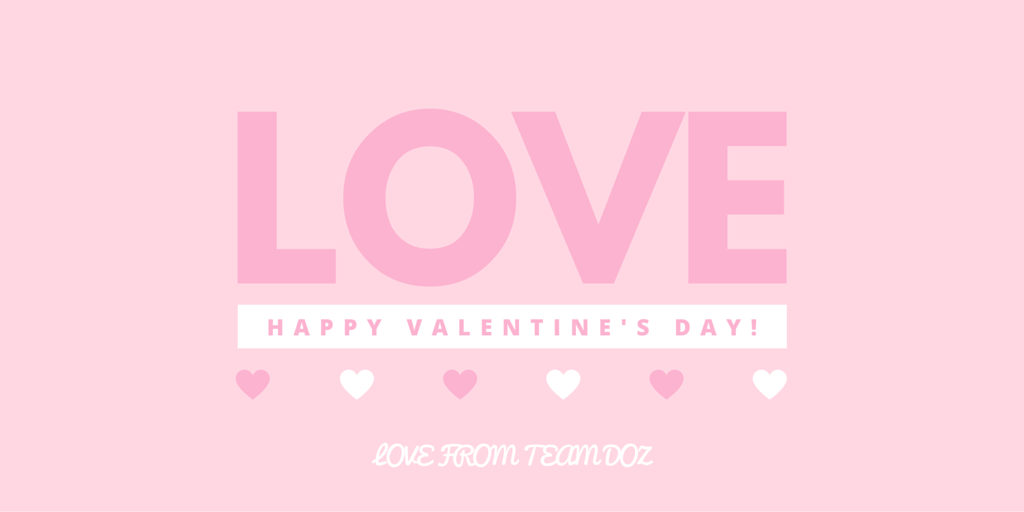 It's Valentine's Day and the DOZ team is gearing up to celebrate in style.
What's on the menu?
Well everything from walks on the beach to romantic dinners, a trip to the cinema and cuddling on the couch. What a romantic bunch of software developers, marketers, salespeople, administrators and, yes, even content creators we are!
To get a taste for what's on the V-Day menu for Team DOZ this year, I polled them on two questions:
Their ideal Valentine's Day surprise; and
The ideal Valentine's Day gift.
To be honest, a few of the team were a little coy in their responses. It seems that the engineers, in particular, seem to be focusing more of their time on coding our brand new UX than sharing their Valentine's Day plans with the marketing team.
However, most everyone found time to select a preferred gift – or is that have one selected for them? – for the big day, and a couple of the choices are, shall we say, surprising.
Here's how Team DOZ is going in to the Valentine's Day weekend.
The Perfect Valentine's Day
DOZ has an international, multicultural and ethnically diverse team in its offices in San Francisco and around the world. It's no surprise, then, that when it comes to the perfect Valentine's Day celebration there are a few different ideas.
CEO Anji had only one thing on his mind for Valentine's Day: a football match at the famous Stade Velodrome in Marseille, France. With the home team flying high on the table and with the summer bringing the UEFA 2016 tournament to the stadium, Marseille might just be the place to be.
Engineer Gary wants to take things a little bit slower. All he's asking for is a romantic dinner, though he never specified whether he would be just eating, whether he'd be cooking, or whether he'd be hitting one of the local restaurants. If he's going to be booking a seat at a table somewhere, he better hurry up: as our post from yesterday explained, the search traffic for romantic dinners is spiking today.
Customer Success Manager Diana and her dog Ruby both opted for the perfect Sunday together: a picnic in the park. Diana's long been a part of the DOZ team, travelling around the world to work out of DOZ offices on two continents. Ruby is a more recent arrival but is wining fans on the whole-company video chats with every passing week.
Account Manager Ben, Sales Executive Jeremy, and the Project team's Karima all opted for the classic Valentine's Day combination: dinner and a movie. With Star Wars still in theaters and no Valentine's Day blockbuster on the cards, what sort of movie are they pegging for? My suggestion: Die Hard. Yes, it is more than just the world's best Christmas movie, it's also the perfect film to pull on the ol' heartstrings, too.
Administrator Monique prefers her Valentine's Day relaxing, nominating a massage and spa session as the best possible alternative to a regular Sunday. For Account Manager Carine the perfect Valentine's Day starts early with a warm blanket and hot coffee. Yes, breakfast in bed is the way to her heart, as is music for another member of the team. Community Manager Charlotte prefers a musical diversion and to set a smile on her face this Valentine's Day you need only spring for some concert tickets.
And as for official DOZ European office dogs Google and Largo, both nominated "running around with other dogs" as their preferred Valentine's Day activity. Yes, it's true.
The Perfect V-Day Gift
I also polled the team on the gift they most hoped to receive from a significant other this Valentine's Day.
Although, to be honest, this question came with a catch.
Realizing how busy the team was, I suggested a back-up gift which the less creative or more time-strapped team members could endorse simply by not changing it. Hence, while the team has chosen a range of…different…Valentine's Day gifts, it's also likely that they didn't so much 'choose' it as 'had it assigned to them' by the marketing team.
Carine fit into the first group, eschewing something red, white, and flowery and instead keeping her fingers crossed for a car. This car, to be precise, a Bentley Mulsanne that retails for something approaching $300,000 on a good day. It has a 6.75 liter engine, an 8-speed automatic transmission, and weighs north of 5800 pounds – and it is only lacking breakfast in bed to make it the perfect self-contained Valentine's Day gift.
Engineer Eric has a young son at home and it's perhaps why he pegged for the Moff Band this Valentine's Day. This rather cool toy slips over the wrist of an infant and turns every movement into music. A pro tip from one father to another: don't let the kid attach it to the dog.
Developer Hafid pitched for something a little different to Eric. With a song in his heart, Hafid selected this wall print with the lyrics to the romantic classic You Are My Sunshine printed in loud, living letters. The Product Team's Sami decided that a giant teddy bear was a better alternative, while his teammate Ayman went for romantic classical music to set the perfect mood.
Developer Nicolas was another to head down the teddy bear route, and his giant Peppermint Mocha Bear would be a valuable – and potentially comfy – addition to the office. For Designer Konrad it must have been difficult to make a decision between everything on offer, and so he ended up with the works: a Valentine's Day gift set and the only gift that comes with a warning that assembly is required. Far more simple, and not to mention practical, was this gift assigned to busy Engineer Gael – though a couple of the two-star reviews have us shifting uncomfortably in our collective seats.
DOZ's CTO and Co-Founder Faouzi was assigned a rather special, spotty, Valentine's Day frog. What could be more perfect for our one-of-a-kind tech leader than a one-of-a-kind stuffed toy? It's limited edition and has dozens of five-star reviews, as does Faouzi, of course.
And finally, Account Manager Thibault went for the ultimate musical gift this Valentine's Day: a Barry White-voiced music box singing the classic song Can't Get Enough of Your Love. Is there anything more classy than Barry White in your hand? Yeah, I didn't think so.
Happy Valentine's Day
From all of us here at DOZ to all of our community of clients and experts in 22 countries around the world have a great weekend, a wonderful Valentine's Day, and we'll see you back on the blog on Monday.