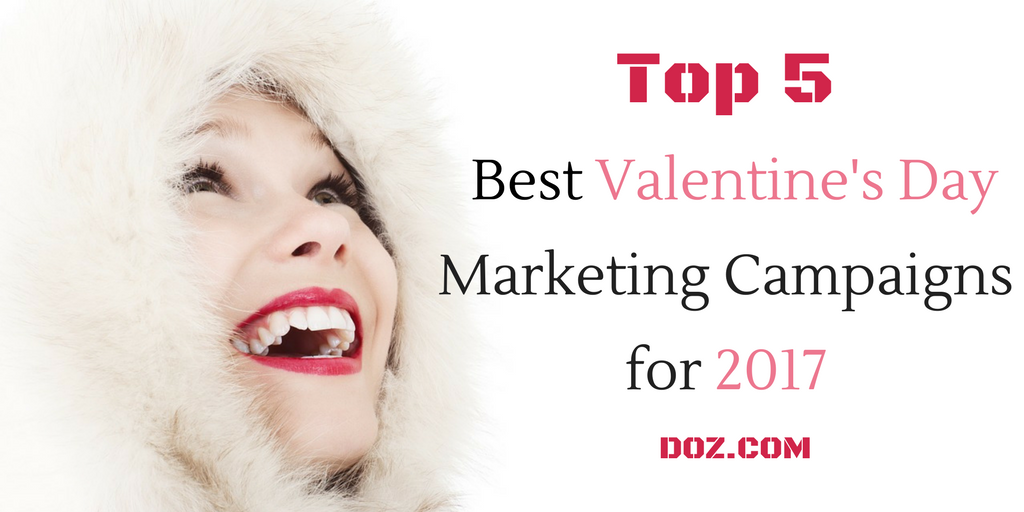 Are you in love?
Is there someone you want to ask out or for whom you have been cooking for? Can you think of a person you want to offer a pretty chocolate box to? Your daughter, your son, your mom, your dad, your pet, your lover…? (Actually, do not try your pet, it will make them sick.)
Is there anything more universal than love?
No. And Valentine's Day – the "lovers' day" – is, indeed, as universal as the value it spreads.
From a marketing (business) perspective, Valentine's Day is also, sometimes merely, a new opportunity to market products and make profit.
Depending on the company's size, and industry, from the local supermarket to the huge chocolate brands, diverse campaigns are triggered, and ads pop up a little everywhere. For you only, our dearest reader, DOZ has decided to make a top 5 of the best Valentine's Day campaigns this year. Enjoy!
#1 – Durex cuts the cliché
https://www.youtube.com/watch?v=TMHHV88D1Ic
When I mention 'love' what comes up to your mind? Romantic love right? Red roses, Cupid and his bow, hearts…
And when I talk about a 'date' on Valentine's Day, can you also visualize the whole picture? Restaurant, champagne, date, romance, flowers…
In any of these pictures did the word 'sex' ever came up to your mind? No, or at least it is not what we raise our kids to believe. Not that sex is not part of it, just that it is not explicitly included.
This is why Durex decided to cut the cliché. Not only does the company 'cuts' it by trying to sell condoms on the most romantic popular night, but also in the commercial, literally cuts red roses, the basic symbol of passion, for a whole 'new' one: sex itself.
'Make it more exciting' encourages you to leave the old for the new, and proposes an alternative to Valentine's Day's old stereotypes. Durex is new, Durex is young. Passion is not only about love, but also about lust. Wake up guys!
#2 – M&M's launches a new concept
As a brand belonging to the giant group Mars Inc., and as a very embedded brand image, it gathered up extreme brand loyalty from customers. Ultimately, this means that the group has already a customer base that will greatly help them in their marketing campaign.
Overall, all M&M's has to do is to give a reason to its customers to buy their products. And this, my dear reader, is the best moment to push forward their new concept: customized M&M's.
Red, the famous M&M's character is, as always, at the core of the campaign. The brand uses him to reinforce the brand image, and attract usual customers even more.
#3 – Mrs Fields' have food and sex strongly linked
Whilst the link between sex and food is famously known, Mrs Fields makes food being more important for a female human than sex.
In the ad, she has been waiting for it 'all day long'. The ad tries to make its viewers 'feel' that woman's feeling, of having her husband call her whilst eating cookies that would satisfy her more than anything.
Similarly to Durex, Mrs Fields emphasizes the fact that what women are really waiting for on Valentine's is not the love, but the lustiest pleasure of food.
#4 – Boots starts with a thought
On another basis, Boots makes it more about 'romance'. Indeed, not only did the brand choose to emphasize feelings of romantic love, but of love in general by depicting the small moments that create our very existence.
'It all starts with a thought' says everything: we love someone, think about them, and feel the need to show they mean a lot to us; thus, to buy them presents on Valentine's.
The campaign makes the thought evolve through every stage. The ad mirrors pretty well our own minds and perceptions, our own wills, desires, and feelings when thinking about someone we love. This is an attempt to join us in that thought, leading us, eventually, to buy the product. Pretty smart, uh?
#5 – Pandora chooses nothing more complicated than a heart
https://www.youtube.com/watch?v=GY5th_UXVaM
For Pandora, everything seems fairly easy: indeed, the company decided to show off nothing more than a man searching the perfect present for his girlfriend. Whilst there is this attractive female salesperson that tries on everything, and would make almost anyone love any idea she had, he does not seem to figure out what he really wants until he sees that one jewel in the showcase.
It is funny to notice that no matter how seductive that blond woman can be, the only person the man has in mind is his girlfriend back home. At the end, the 'perfect' jewel is a heart – simple, yet meaningful.
Conclusion
Whether the companies are emphasizing the cliché, only relying upon it, or completely destroying it, they are all fitting their own brand image into the tradition of Valentine's Day.
In the end, these various marketing techniques were used towards one and only goal: let us sell our own idea of love.
Happy Valentine's ♥