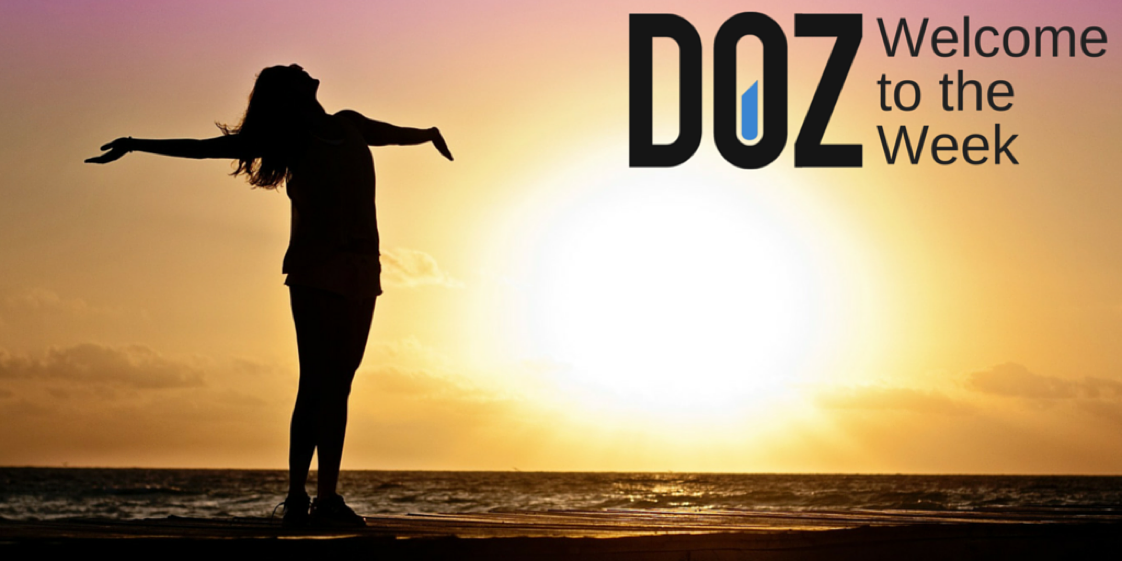 Welcome to the week!
I don't know about you but I'm planning on having a good week. I'm full of energy, I'm motivated, I've got a plan, and I'm going to be pumping out the fresh copy and designing up a storm all week.
Definitely all day. Or until lunch. Argh. Mondays, amirite?
But, hey, don't let my rollercoaster of weekday emotion bring you down. Collected here are some of the most interesting articles I've come across in the last week from the world of marketing – read on, click through, and get your week off to a great start!
Something for Nothing
Here's a gift from us to you.
In case you missed it, DOZ released our latest eBook on Wednesday last week. In 20 Trends in Digital Marketing for 2016 you'll get a taste for the lay of the land in digital marketing as the new year gets underway.
We've identified twenty trends that will impact the digital domain covering everything from blogs to search, social media to drones, and explainer videos to mobile marketing.
If you didn't get your copy yet, click to download it for free now.
Sharing is Caring
Writing and publishing great content is just the beginning; promoting that content and getting that content shared and promoted by others is the essential second step. WPLift has pulled together a great list of social sharing plugins for one of the most popular content management systems and website platforms around, WordPress. Of these, Monarch by Elegant Themes is particularly impressive – if you haven't tried it before, it's entirely configurable and worth experimenting with.
So Much More than Annoying Emails
LinkedIn is the world's premier social network for professionals but it also has a bad reputation for contacting users often. I mean, very often. Too much. But that's not to say that there isn't great value to be found on LinkedIn, especially for businesses seeking leads. Writing at News Cred, Rick Whittington offers a series of strategic suggestions and tactical moves to generate more leads from your LinkedIn network. So much more than an online resume host, LinkedIn is an option worth exploring in 2016.
Tools, Tools, and More Tools
I'm always on the lookout for tools that are going to make my life easier. When that Product Hunt email arrives in my inbox each day, I read it with a hunger that some may consider inappropriate for a simple newsletter. I felt the same way reading Pascal Briod's latest Medium post on the tools that he uses as a Head of Product. Some of these I already knew well and use including Typeform, Google Analytics, and Podio. Others, though, are new to me and I'm keen to try. Check the list out for yourself – there's value in that there post!
This Week on the DOZ Blog
Did you know that DOZ is powering marketing in more than twenty countries? It's true, and one of those countries is Australia.
Tomorrow marks Australia's national holiday, Australia Day, which might not be the most exciting name for a holiday but definitely is a welcome day of rest in a long, hot Southern Hemisphere summer. We're celebrating with our Australian customers and marketing experts by highlighting some of the most exciting startups to come out of the land Down Under, helping with some tips for optimizing marketing for an Australian audience, and presenting our favorite Australian advertisements from the last 10 years.
Call it 'Australia Week' on the DOZ blog – if you're interested in marketing to Aussie consumers or businesses, it's a week of must-read content.
Want More Marketing Goodness?
Every Monday morning DOZ delivers the best marketing content directly to inboxes around the world. Subscribe to DOZ's Marketing Monday for a generous serving of the best in digital marketing, SEO, and the tactics and strategies to drive your business forward this year. Want in? Add your name to the list and start your week a little smarter.

Time to Get to Work
Got an article that others should read? Did you write something amazing that deserves a bigger audience? Did you stumble across a site this week that you just can't believe you hadn't found before.
If so, let us know and we'll share it with the world, crediting your good self, of course, with the tip. Send your sources straight to Content Manager Dylan and you could be featured in next week's Welcome to the Week post.
Alright: try as you might, you can't change the day.
It's still Monday morning and it's time to get to work.
Welcome to the week – now make it count!