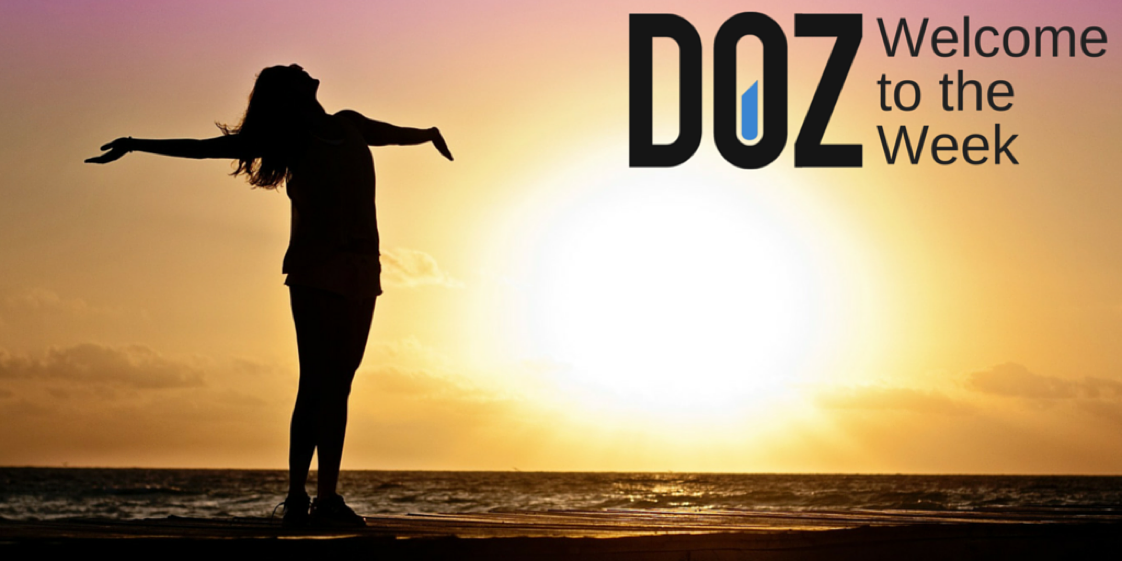 Welcome to the week!
It's Monday – are you smiling?
At DOZ we're looking forward to a big week. We've rolled out some new features on our platform, we've got a week packed with great themed content queued up and ready to go, and the sun is slowly but surely returning to the northern winter skies.
In the marketing world the Spring conferences are not too far away, the business world is getting set for tax time, and the sporting world is getting set for the end of March Madness and the finals of the European Champions League.
Wherever you are in the world and wherever you are starting out your Monday morning, we're happy to say welcome and provide some of the best links in marketing to help you kick start the working week.
Inside a Content Marketing Strategy Session
The bloggers at Swift Social put out a wonderful blog post last week wherein they explained their content strategy going forward. While people explaining what they are doing to succeed is the stuff of many a blog post, this one is interesting for its focus on what wasn't going to be featured on the Swift Social blog in the future. Read the post and note how factors like time, interest, freshness, the size of the team and their high expectations for their own content come together to exclude certain content and push them towards other content. It's a fascinating look behind the scenes in content marketing and well worth reflecting on.
Level-Up Your Email Game
I have a young son who, if I gave him the choice, would adore the chance to spend all day playing video games. I don't, of course, and not only because he is easily better at most every video game than I am. It seems that the team at Outbrain are also gaming fans as their latest post, Email Marketing Cheat Codes, uses the familiar jargon of the video game to help businesses level-up their email marketing game. The post is packed with some great tips and covers everything from the basics (sender names, subjects, time to send) through to the more complex elements of an email marketing strategy. There's real value here – read it all.
A Million People Walk into a Bar…
…and buy nothing. Judging on traffic the bar is a success, but it didn't generate a dollar in revenue. This example is a central plank in the argument at Boost.re that it's time to ignore vanity statistics like traffic and social shares as indicators of the sort of content to build and promote. They're right, of course: simply bringing in visitors or going viral isn't necessarily enough to generate revenue or long-term customers. Fortunately, though, the post doesn't just tell you what to avoid doing wrong but also offers a nice Amazon-based strategy on how to get things right. It's smart and it's actionable, and this makes for a good blog post.
Getting the Timing Right
The team at Buffer is well known for their great content and especially for their insights on social sharing. We've linked before on the blog and social media to some of Buffer's work on scheduling social media posts, and we're linking to them again now because they have a great new article about serving up blog posts on Facebook. With the expansion of the Facebook Instant Articles feature to the general public a new channel for sharing content has opened up for bloggers and businesses alike. The Buffer post explains how to connect Facebook Instant Articles to your WordPress site to make sure everything runs smoothly. If you're using WordPress – and more than a quarter of the internet is – it's a worthwhile read.
This Week on the DOZ Blog
We're celebrating St. Patrick's Day this week on The DOZ Blog with a focus on marketing, of course. We'll look at one of the most famous St. Patrick's Day marketing efforts of the last fifty years, the McDonald's Shamrock Shake, and we've got an interview with one of our Irish team members here at DOZ, too. We'll be presenting a wrap of the best in St. Patrick's Day marketing from around the web as readers emerge from their Guinness-induced Friday morning hangovers. We're especially proud to welcome a guest post on the blog tomorrow from Lyndi Catania of the marketing team from Huemor that will help any business capitalize on event marketing around holidays like St. Patrick's Day – it's not to be missed.
Want More Marketing Goodness?

Every Monday morning DOZ delivers the best marketing content directly to inboxes around the world. Subscribe to DOZ's Marketing Monday for a generous serving of the best in digital marketing, SEO, and the tactics and strategies to drive your business forward this year. Want in? Add your name to the list and start your week a little smarter.
Time to Get to Work
Know a great piece on marketing that we missed? If so, let us know and we'll share it with the world, crediting your good self, of course, with the tip. Send your sources straight to Content Manager Dylan and you could be featured in next week's Welcome to the Week post.
Remember: St. Patrick's Day is not until Thursday. This means that if you're planning on slinking into the office late on Friday you'll have to squeeze a little more work into the first four days of the week.
And that means it's time to get going.
Welcome to the week, now get out there.