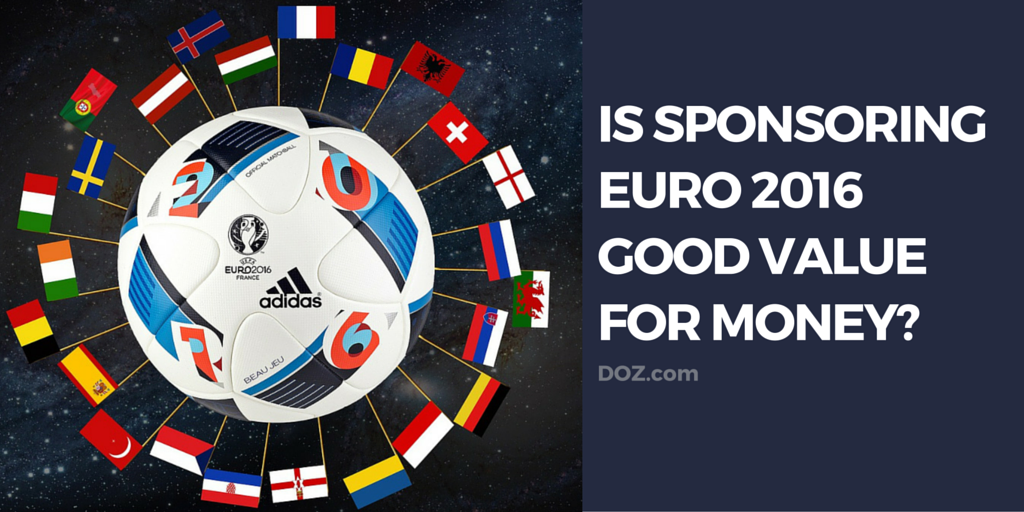 The Euro 2016 football championship is entering its final weeks.
After dozens of matches involving teams from Iceland to Russia the finals are underway and the excitement is rising across Europe – and especially in France – as the race to crown the European champion narrows to a final few nations. With every match now a knock-out, every minute on the pitch counts. Tens of thousands of fans and tens of millions more watching on television, online, listening to official radio feeds, and even on official smartphone apps hang on every kick, every save, and every last-minute shot.
Buying access to those millions of viewers to market your products and services should be a no brainer, right? Though it can be expensive to buy your way into the exclusive club of Euro 2016 sponsor, the pay off in terms of eyeballs and the enormous captive audience means selling should be easy.
But is it?
The investment of tens of millions of euros, dollars, yuan or yen to win a place as a major sponsor of the Euro 2016 event might offer some access that can't be bought any other way. But it also means a big investment of time and financial resources on a single event in a year where there are a number of big sporting and cultural events vying for attention. With the Olympics just around the corner, is a bet on the Euro 2016 football championships a good investment?
In this post we intend to explain why it might not be.
Euro 2016: Major Sponsors
There are ten major sponsors who have poured tens of millions into the Euro 2016 championship. They represent a variety of industries and, this year, a variety of world geographic areas, too.
If you think a sporting competition you probably think sporting goods, or at least that's what Adidas hopes you think. The German firm is backing the competition as well as a number of the squads who appear in the competition, too.
It's hot in France right now and if you need a drink you can buy from major sponsors Coca-Cola and Carlsberg. It's not all Coke and pints, though, with both companies taking advantage of their sponsorship to sell everything from bottled water to non-alcoholic drinks and low-alcohol beer.
In the automotive world there is Continental, a tire manufacturer, and Hyundai-Kia, the South Korean vehicle manufacturer. You'll find plenty of both of their products on display in host cities and shuffling officials to stadiums from the official hotels. The team buses, though, generally aren't Made in South Korea…
Time for something to eat? You can hit up American behemoth McDonald's that is the official restaurant and supports all the children who stand with the players before the match. McDonald's has a long history of sports sponsorship, their less-than-healthy culinary offerings aside.
Of course, you can't watch the matches on TV without, well, a TV. Major sponsor Hisense has you covered there, and you can keep your friends updated on how disappointed you are in your team's performance via official communications sponsor Orange.
Finally, if it is all too much for you, book yourself a trip east with Turkish Airlines and organize a stop in Baku, the Azerbaijan capital and home to oil company SOCAR. It might help you forget how much you lost in that workplace bet on Romania to go all the way.
And who might be joining you on that journey to forget about Euro 2016?
Some of the executives who invested their company money in being an official sponsor in the first place.
Who Do People THINK is Sponsoring Euro 2016?
It's one thing to be an official sponsor of a major event.
It is quite another to be recognized as a sponsor by the public you are trying to reach.
Before the tournament began one firm quizzed the public about who the official sponsors of the Euro 2016 tournament were. The results were a little surprising – here's the top ten:
Coca-Cola
Adidas
Nike
Carlsberg
MasterCard
McDonald's
Visa
Heineken
Barclays
Budweiser
Yes, six out of ten of the sponsors the public believed were associated with the Euro 2016 competition were not official sponsors of the event. What's more, companies like Nike, Heineken, and Budweiser are in direct competition with official sponsors of the event and haven't paid a penny for the official badge that their competitors have.
Other official sponsors were recalled by the public but far down the list. Orange, Hisense, and Hyundai-Kia were recalled by less than 1 in 100 respondents to the survey.
And Continental, Turkish Airlines, and SOCAR?
Not a single person offered up those brands as having any association with the Euro 2016 competition.
Considering that official sponsors of the competition are paying in the high eight figures – the Hisense deal is valued at $90 million alone – you might wonder where the value in sponsoring an event lies.
Big Investment, Low Return?
If the audience you are trying to reach is getting you confused with a competitor or – even worse – is not even aware you are sponsoring the event they are spending hours watching, talking about, and commenting on the internet about, is this a good use of marketing funds?
The answer has to be no.
Add to this the ambush marketing and free rider marketing that competing firms can undertake, and the very fact that the sports superstars are free to wear and promote brands they prefer in various ways (boots, headphones, drinks, social media snapshots) and you've got to believe that a $100 million investment in a three week tournament is a bad deal.
Conclusion
Companies are willing to pay to have their products and services associated with major sporting events like Euro 2016, the Olympic Games, the Tour de France, and the super Bowl. Yet the pay off for sponsors isn't always there. As research this summer has demonstrated, fans of the events can't always name the major sponsors, confuse them with non-official sponsors, and sometimes only break through to less than 1 in 100 fans if they break through at all.
For companies getting ready to spend millions of their marketing budget on sponsoring a major event they need to reflect on the potential payoff and whether they'll see a return on the investment they are about to make. Any marketing effort needs a return on investment, and it is not clear that the Euro 2016 championship is going to offer that to all their sponsors.
Have you bought anything from an official sponsor of an event because they were the official sponsor? Did you confuse any of the non-sponsors for major sponsors of EURO 2016? Let us know on Twitter!