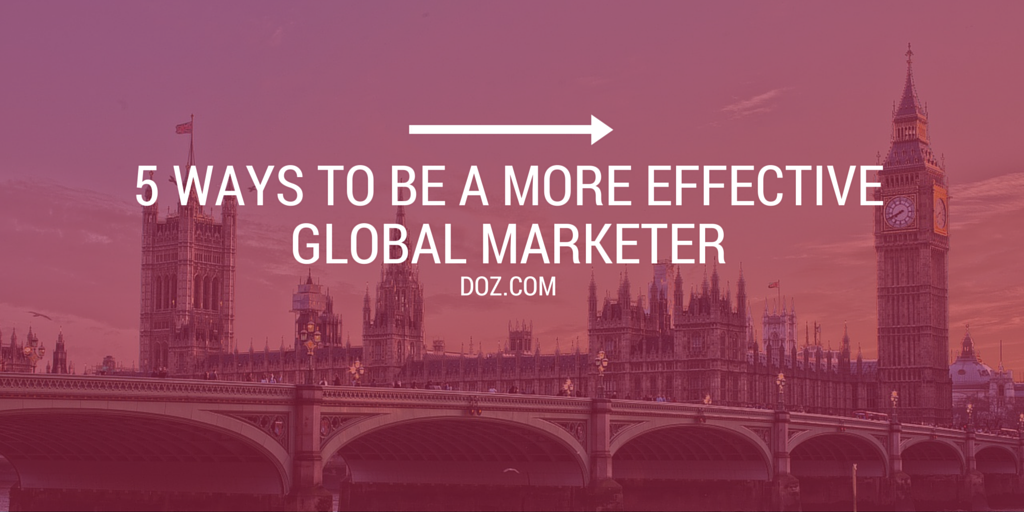 This is a guest post by Ricardo Nunez. He is the founder of lusosystems.com, a firm specializing in professional SEO services focused on getting results. You can follow them on Twitter here.
Online technology and the internet allow global presence for any business. Effective digital marketing strategies as well as a broad range of innovative marketing tools available online can create and enhance the brand of any global business or organization to enable it to reach new geographical markets around the world. This results in not only greater brand exposure but increased profit potential and the ability to have a positive impact on many different nations and different cultures.
The natural part of the overall marketing process is localization, which allows a business to reach a global audience. Localization essentially helps a brand to develop marketing content that is targeted to the local markets in their local language.
Keep in mind that localization of the marketing materials is not just about straight translation aimed at reaching linguistic accuracy. It's about building a proper buying and selling consumer experience that can be culturally adapted into the local level, while still retaining the integrity of the brand.
How do you do this effectively and efficiently?
1. Hire the Right Team
When businesses attempt to take on the global marketplace, it's almost impossible for one man or one small team to handle the task alone. You will need global professionals to assist along the way, and who you hire can make all the difference. There are two ways to go about this, and both have their advantages. A company can either hire an individual or team to be a presence in the country they are marketing to, or they can hire an inside international marketing representative.
Hiring an outsider who lives in the target country gives you the advantage of a deeper cultural and linguistic understanding than you might have otherwise. There is also a trust issue, wherein some individuals in certain countries might trust a 'local' more so than someone who resides overseas.
Hiring an insider international marketing representative gives you more control, since the person might be easier to communicate with on a day-to-day basis without the limitations of time zone and language differences.  The person might also be located right in your office, making it easier to meet to develop strategies and report on the progress of any given campaign
Whichever you choose, hire someone you trust. This person will likely make recommendations for you to modify how you present your brand based on the country you are selling to, so it's important to believe in their expert advice and know that it's backed by knowledge and experience.
2. Understand Cultural Differences
While it's not necessary to know every language in every market you are targeting, having a basic understanding of your global audience can help to increase and improve the presence of your brand. If you're marketing to France, for instance, your website needs to be translated into French. It's also wise to be aware of time zone differences for all correspondence that takes place offline.
Cultural divides can also cause a large audience in any given country to misunderstand what you are representing or trying to sell. Avoid this by remaining cognizant of various cultures or hiring a team who can assist, especially in the markets that are most important to you.
3. Embrace Online Marketing
Publishing content on the internet means you can publish to the whole world immediately. Content can essentially reach anyone around the world who has an internet connection. Publishing on blogs or on company websites in the form of online events on the best webinar platforms, videos, articles, social media streams, white papers, and graphics can put your business ahead of your competition. A properly driven content marketing strategy is vital for establishing a global brand and will form an essential part of any localization and globalization strategies.
Your global marketers should offer compelling information in order to persuade a global buyer for B2B and B2C. According to recent research, many buyers will first conduct some research before they talk to the sellers. Offering content will create an effective dialogue as the buyers find out more about the company and the product. Moreover, regular content builds awareness and promotes engagement that is helpful in initiating the purchasing process.
4. Localize Your Global Marketing
This can build a great global influence, which can trump the sum of individual efforts. When the local team is integrated with the global marketing team, central content can be generated, translated, and tailored for adaptation into individual markets. Localized experts can also play an integral role in the global marketing division by helping the content be easily assimilated into the global audience. For the best localization workflow, it is better to centralize your efforts or at least your communications and collaborations.
5. Social Media Marketing
For global brands, social media activity localization is vital. Global marketers should aim at offering translated versions of the posts on social media in order to capture a wide audience, since many consumers will often look for opinions and information regarding products and brands from other customers. Digital marketers rely heavily on their tools and software. Check out this HootSuite review to get a closer look at one of the most popular social media management apps. It is very important to understand what the customers are saying about certain products and services or brands in the international markets to help the business improve their products and services across the globe. As with campaigns in the company's home country, correspondence needs to occur regularly. If a customer comments or offers praise or criticism, failing to answer can cause a divide and might even result in lost customers. Ensure all communication is prompt, professional and in the person's native language, so it is easy for the customer to understand without the need for translation.
Conclusion
It is evidently important to use digital content and centralize the production of content when reaching new markets. Moreover, the latest tools should be used to create, distribute, and monitor the global marketing campaigns, to supplement these global marketing strategies and ultimately, lead to their success. The most successful companies have learned that this is a prime way to gain business, increase product awareness and ultimately, net increased profits.