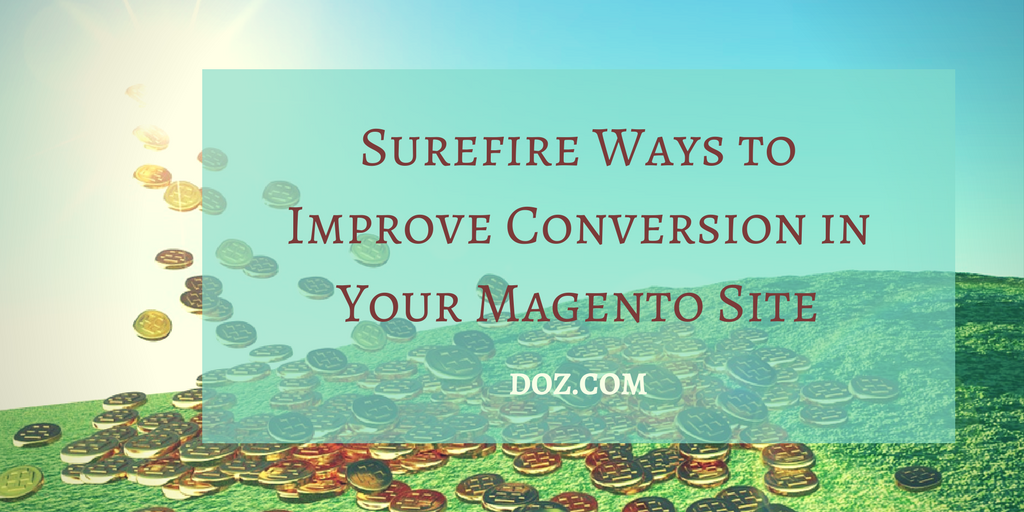 Every e-commerce site has the same goal – increase revenue. The best way to achieve this goal is to improve conversion rate, and although it may sound like a complex process, there are many straightforward strategies to calibrate your Magento store for optimal performance.
Magento is one of the biggest e-commerce platforms on the globe, with a staggering 26% market share and more than 2,00,000 online stores actively running. It is an open source platform, which allows for transparency and collaboration between users. In the highly competitive e-commerce niche, online retailers are facing tough challenges to survive, despite choosing the platform which offers the best in-built features and functionality.
How to deal with a low conversion rate
The conversion rate is like a precious garment made out of a delicate fabric which requires special treatment and attention. Only comprehensive analysis and proper understanding of what practices you should follow for your store will give you a clue as to know how to form the right marketing strategy for your Magento store.
Check out these helpful tips to help you reach a world-class conversion rate in your Magento store.
Go responsive and offer a smooth user-experience
Adopt a multi-device approach by using responsive designs that ensure easy upgradability –including the optimization of keywords, URLS or marketing campaigns. Additionally, focus on providing the best user experience to your customers by customizing the layout of your store and the size of CTA buttons such as 'Add to Cart", "Buy Now" etc. These buttons should be of a size, shape and color that visitors can easily find and click.
As mobile commerce is now the default way that people shop online, you'll need to convert your Magento store into a mobile-ready shop. You can also use a Magento search extension to provide your customers with a superior site search experience.
InstantSearch+ is one of the fastest and widely sought-after Magento search extensions, helping to improve conversion on your e-commerce site. This Magento search extension automatically combines merchandising with search results so that customers get both relevant and appealing results, leading to an improved conversion rate.
Use a professionally designed Magento theme instead of free Magento themes
Each online store is unique in terms of merchandise and branding, meaning that it targets different customer demographics. From a broader marketing perspective, a custom Magento design converts better than a free, generic Magento theme.
Here are four reasons you should not go for a free theme design:
Brand image: In addition to offering more limited branding options, a free theme may have been seen by potential online buyers in another store, as free themes are used by any number of online stores. This can cause visitors to immediately raise a red flag, and have second thoughts about making a purchase from your online store.
Technical support: Free themes don't come with technical support. If a feature stops working, you can't count on anyone for help. Choosing a reliable Magento custom theme for your store can help you fix any problem that may arise in future.
Upgrades: Being a constantly evolving e-commerce platform, Magentooften upgrades and incorporates new features. You can't rely on free themes to support this evolution, and they might start showing errors any time.
Functionality: when you buy a free theme, it is not possible to add new features or functions. Whatever Magento theme you may pick, you'll require professional Magento development services from experienced professionals to support you in making your online store the best it can be.

Clear call to action
When a potential customer is deciding whether to buy something from your online store, they want clear and straightforward information. If the information is in anyway unclear or confusing, their chances rise of creating uncertainty in the customer's mind, paving the road to site cart abandonment. Therefore, it is important that your Call to Action (CTA) buttons are clearly visible, ensuring that the customer knows exactly what will happen once they click. Be mindful, however, that too many CTA's can also be off-putting and distract the customer from what you want them to do: Checkout.
Finally, remember that clarity is also important when it comes to copy. Using direct language such 'Add to Cart' has been found more effective than using words like 'Purchase' or 'Buy'. In running tests, remember that whatever works for another site might not work for your store – so keep trying until you get it right.
Don't keep your customers waiting
Waiting is the most frustrating thing a customer can endure when online shopping. In fact, it's one of the reasons online shoppers prefer it to shopping in-store. Optimize your website for high speed performance to ensure better SEO and to gain an edge over your competitors. Every page should load as fast as possible, especially the checkout process. Moreover, optimize all image sizes and formats, as this will significantly reduce page load time.
Propagate trust-building strategies
Since Magento is an e-commerce platform which processes sensitive information in its transactions as well as data exchanges, finance security is becoming a foremost concern.
Undoubtedly, Magento has excellent built-in features and functionality to tackle this. However, it would be a smart move to introduce the latest encryption technologies and pass the security test for valid certifications from world-renowned institutions and depict those trust building seals, certificates, and badges on the Magento storefront as well as checkout pages. This could help your e-commerce business establish its reputation, decrease uncertainty among shoppers and further increase conversion rate. When relevant, offering guarantees on your products can also increase conversion rate.
Clearly define your return policy
Along with considerations related to user-experience, payment terms, and security, you must define your return policy clearly. Often, Magento stores offer free returns with a prescribed set of conditions for the time, cost, and other issues related to the product. Thus, highlighting the return policy at the right stage during the online shopping experience can boost conversion.
Whatever your e-commerce business model may be, your bottom line is fetching more revenue and closing more sales to enhance ROI. Unfortunately, creating a visually-appealing online store and launching it on the web isn't enough. The good news is, it's certainly doable if you optimize your Magento site specifically for conversion.