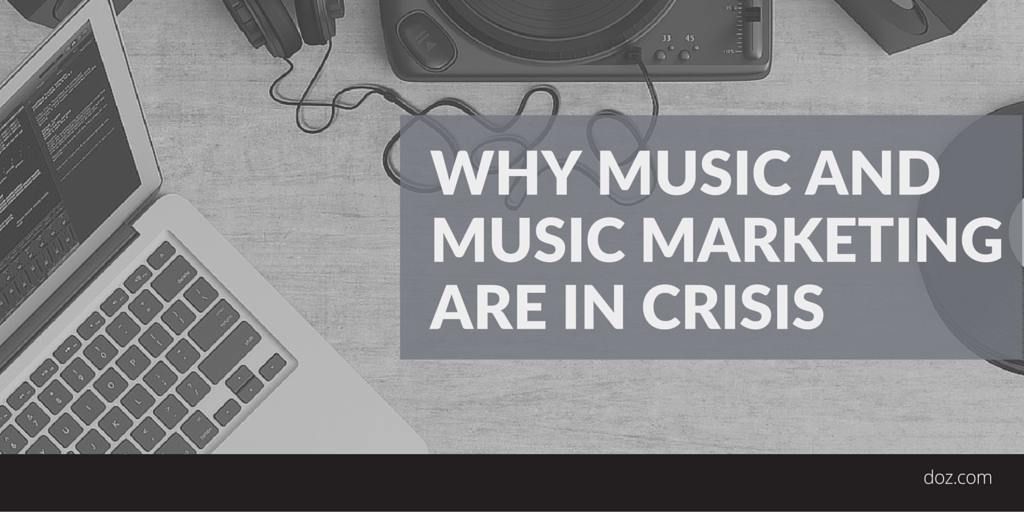 I work in the technology field and keeping abreast of the news about marketing, technology, and Silicon Valley is part of my job. I keep Twitter scrolling on a second monitor, I read the right subreddits, I hang out at Inbound.org with other marketers, and I make sure I have all the newsletters I can possibly read (or, well, scan the subject line before deleting) every day.
So I hope you'll forgive me, then, if I was under the assumption that, when it comes to music, streaming is where it is.
Because it's not.
In this post I'll lay out just where the music that people are listening to is being played, the sort of music that is being listened to, and how the growth of streaming – while significant – may not save the music industry after all.
Let's start with where this streaming speculation came from.
The Growth in Streaming Music
Not everything about streaming is hype.
Indeed, it is a major segment of the US music market and is only becoming more important with each passing year. As the chart below demonstrations, in just the last couple of years streaming music has experienced a growth in revenue of more than a billion dollars while, at the same time, downloaded music shrunk by half a billion dollars and physical music by more than 400 million dollars.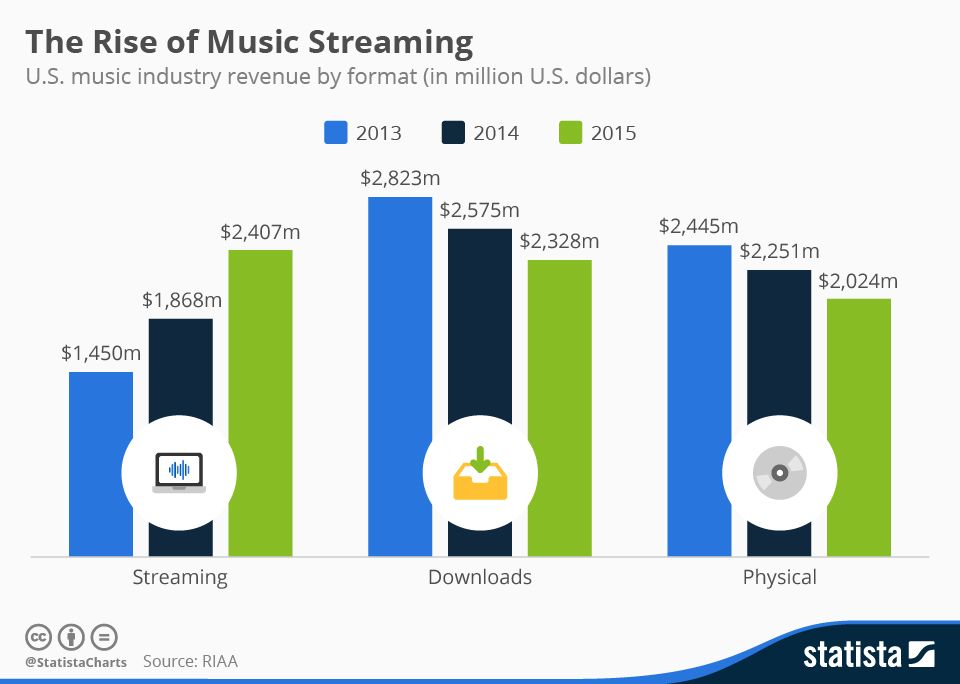 Revenues from streaming music has overtaken both downloads and physical media as the industry's leading revenue source and has done some in only a handful of years.
It's easy to imagine why this is the case.
For one thing, the expansion of cloud computing and the increasing availability and affordability of bandwidth – especially mobile bandwidth – has enabled streaming services to thrive.
For another, the advantages of streaming media in terms of the music catalogue it allows access to is clearly an advantage over physical media or digital downloads. While an iPod might allow you to take all of your favorites with you in your pocket, streaming music offers you all your favorite tunes plus anything else you might want to listen to not on a separate device but on a device you already own.
So why isn't the music industry celebrating the rise of streaming media?
It's because the growth in streaming is only part of the story. To understand why streaming music is not going to save the music industry or enable new artists to break through it is necessary to dig a little deeper.
Music on the Move
When Americans are driving in their cars they are not getting their music from online streaming sources. Instead, they are mostly falling back on reliable options like AM and FM radio.
Only about one in five Americans listen to online radio or online streaming music in their cars. In comparison, around double that number listen to digital media they own (on an MP3 player, a phone, or stored on a USB, for example), more than half use a CD player regularly, and more than 8 in 10 listen to the radio.
Considering the proportion of time that Americans spend in their cars – a proportion of daily life that is far greater than their European or Asian counterparts – this is proof that streaming music has not yet made the jump to one of the areas most conspicuous for the consumption of music.
But even if streaming is not breaking through in American commutes, road trips, and other car journeys, isn't it still breaking through on desktops, on phones, in offices, and in the ears of the consumers most likely to listen to new music and promote new artists – the young?
Sadly, no.
New Music versus Back Catalog
The music that people are listening to on their devices – CD players, MP3 players, on the radio, on streaming devices, and even vinyl – is far more likely to be older music than newer music.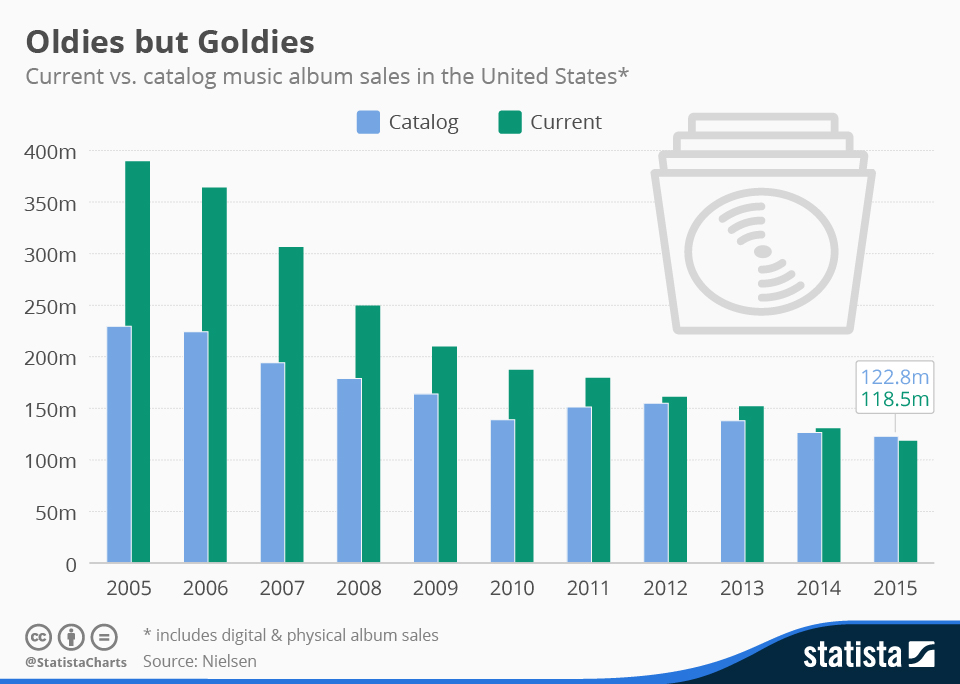 The chart above is instructive.
In 2005 new music (labeled 'current') outstripped back catalog music by nearly 2 to 1. Yet in the decade that followed consumption of both current and back catalog declined significantly, but new music consumption fell far more.
Between 2005 and 2015 sales of back catalog music dropped by around 50%. The 'old stuff' was being bought less often no matter the delivery (physical, digital, streaming) to the consumer.
But in the same period sales of new music dropped by more than two thirds and now represents sales that are less than the total for back catalog music.
It seems that, in line with the Regurgitator song, people like the old stuff better than the new stuff.
Why This Matters to Music Marketing
If you're looking to market music or if you are considering marketing to music lovers, then knowing where to do that matters – a lot.
Streaming is certainly a domain where there is significant growth and, in revenue terms, it is the most lucrative for the industry. However, streaming services offer both paid and unpaid options, with the paid options generally offering better service and – significantly – fewer or even zero advertisements. For a marketer, the paid streaming services are not all that attractive, and for musicians, songwriters, and bands seeking to promote their music the dominance of back catalogs on such services offers a tough way to access new listeners.
Physical media – the CD's, box sets, and vinyl albums – are still somewhat and option for a new band looking to break into the industry, especially as production has been democratized and access to promotional avenues has been opened up via online marketing. Yet for marketers physical media sales are an unattractive option. Besides in-store promotions or cross promotions via product placement in physical media support materials, there's very little opportunity to promote their business or advertise on physical media.
With downloads there is a chance to advertise at the point of sale, and many download sites are happy for the advertising revenues that marketers deliver. The people visiting download music sites are interested in music, however, and may be less interested in the offerings not associated with their favorite band or an associated product. For new bands, digital distribution is an easy and cheap way to reach out to new fans, but the data suggests that the back catalogs of established acts are what people are willing to buy, store, and listen to; the new music just isn't breaking through.
All of this makes modern music marketing difficult.
The new bands and musicians have trouble breaking through no matter the platform, and advertisers have trouble breaking through anywhere other than streaming sites and download sites – and even then the odds seem stacked against then.
A solution needs to be found, but it seems tough to imagine where it will come from.
Solutions?
The different stakeholder groups have different motivations here.
The consumer wants access to a wide range of music (but prefers the back catalog) for a low cost and on demand. The artists want their new music to have an opportunity to become back catalog one day and want to be paid, yet find it hard to break through. Record labels and industry groups want to make money off both new music and back catalog sales, but they are finding only small revenues from the increasingly popular streaming services and losing out big time on physical media and download sales.
Any solution will have to find a way to please at least two of these stakeholder groups for, if it doesn't, the wider industry and the consumers who support it will surely lose.
Conclusion
Marketing of and alongside music is changing, and fast. Streaming services have upended the music market and consumers are increasingly spending their money on streaming music than physical media or downloads. Yet the opportunities for new bands to break through and for the music industry to extract the necessary revenues from streaming remains problematic, and for marketers of music, musicians, and who seek to reach music-loving audiences, this presents a significant hurdle.
Solutions are being sought by key stakeholders, but it remains difficult to image just how this problem – and it is a problem – will be resolved.