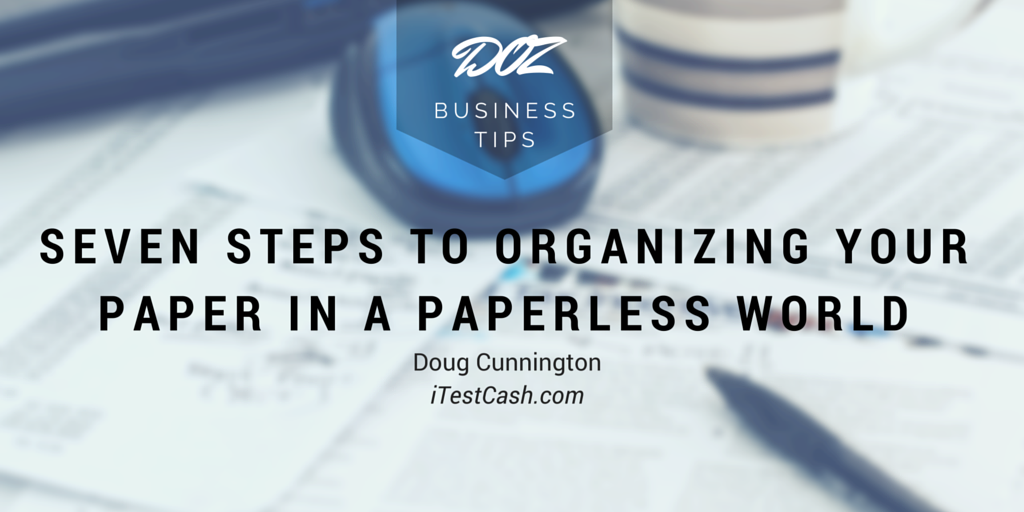 Doug Cunnington writes for iTestCash.com providing information and products to better organize and protect startups, small businesses and growing companies. Follower him on Twitter or visit his Facebook page.
Many offices rely heavily on technology for their day-to-day workings, not only to keep things organized but to promote a greener office environment, too.  But no business can go without dealing with some amount of paperwork or printed documents. It's not uncommon for many businesses to get overloaded with paperwork, junk mail, reports and bills. There's also the important documents including licenses and corporate records that shouldn't be consigned to the recycling bin and that you'll always need to have close to hand. Finding your way through all of this paper can become an arduous task when seeking that one specific receipt or document you need right now. But with an organized, well-defined system, those time consuming nightmares will be a mere memory.
Here are the seven steps to getting your paper world as ordered as your paperless world.
1. Take the Time to Organize
Before you start organizing you need to come up with a game plan.
Think about how you are going to organize your files. Think of any possible situation where you'll have paper that won't be able to be filed properly. If you can think of one, then come up with a solution. Think of categories and sub-categories of paperwork, but don't be too specific about your categories. Something too specific will mean it won't be used often, and if you're too specific about each folder, you'll soon have hundreds of categories and sub-categories.
Before you start writing a name on each file folder, make sure you have a plan that allows for future growth and adapts to what you need. Otherwise, months down the line, you'll be back at the drawing board with a confusing pile of papers around you once again.
2. Secure Important Documents
Keep your important documents in a safe and secure location, which is also still easily accessible by you. With today's technological advancements, you can utilize mobile timestamping to secure your important files.
While electronic copies are space-savers, the original document is often still required for legal reasons. Such documents include permits, a business licenses, tax information and personal items like your birth certificate or the title to your house where a scanned copy might not hold up in court or at the bank. A fireproof and waterproof safe will help keep everything organized and protected in case of an emergency.
This filing safe should be kept especially clear of clutter and only used for sensitive and non-replaceable documents.  Keep everything clearly labeled so that items can be found quickly and easily if you need to ask a trusted individual to assist you with obtaining one of the documents.
3. Destroy Anything Non-Essential
Getting organized means minimizing the amount of paperwork you already have across your office, at home, and even in your vehicle.
With your filing and storage system in place, go through all miscellaneous paperwork and decide what is necessary to keep, what you can scan and store electronically, and what you can shred. Shred as much as you can of the paperwork you don't need. In short: if it's not going to be stored, then get shredding. If receipts are causing you grief, then use a receipt management scanner app for your smartphone.
Why shred instead of just packing it all to the curb? Shredding paper is essential to prevent anyone stealing any important information once you throw your documents out.  Ripping up a piece of paper a few times may be ok for old reminder notes, but it doesn't work for documents containing sensitive information.  A high quality shredder will be able to shred documents and even hard media like CD's, DVD's and ID cards to protect you and your business from identity and information theft. After that, you can give it to Sydney scrap metal buyers and they'll take care of the recycling.
4. Create a Daily Paperwork Routine
Once you've come up with a paperwork-organizing plan, stick to it.
Don't see it as a one-off only to be forgotten about until weeks or months later when the whole thing is once again overwhelming. Make sure everyone in your office knows about the new filing system, and make sure that they respect it.
For yourself, place a mail tray in your office where you can easily access it. Color-coded or labeled trays will help you keep your paperwork organized while it is still on your desk.  Set aside time each day to sort through any incoming mail and paperwork and process it immediately. Depending on the document you can scan, shred or securely store your incoming paperwork in just a few minutes. Stick with this schedule so that paperwork doesn't build up and become a pile of stress mocking your organization plans from the corner of your office week after week.
5. Get Efficient When Generating Paperwork
Even in an office environment where you're largely paperless, communicating by email, and billing online you may still use pen and paper to help generate ideas.
If pen and paper are still a big part of your creative process, then there's no reason to change your way of working in an attempt to avoid paper. Inspiring new marketing techniques need not be limited to new apps and digital note taking.  A wave of inspiration may strike with an idea, drawing or a few sentences and a sticky note, notebook or even the back of a piece of junk mail may be the only adequate medium for sharing this information. These scraps of paper covered with doodles and thought-provoking ideas should not be ignored, or worse lost. Keep them organized and filed to draw upon their inspiration again.
6. Money Management
Paper money can often be overlooked just as easily as paperwork is in this cashless, paperless, and technology friendly era.  Just because credit cards and online payments options have made transferring money easier doesn't mean that paper money is no longer used. If your business handles any significant amount of paper currency a money counting machine is beneficial to increase both efficiency and accuracy. Don't let human error cause mistakes that will end up causing your more time and energy to fix.
7. Cloud Storage
Finally, for those of you worrying about digital space, you can worry no more. With cloud storage systems like Google Drive you can store all of your documents that you'll be digitizing, and you can even allow any colleagues or clients access to help collaborate on projects. Dropbox also gives you the option of online storage, and also share them automatically with colleagues or clients. These are two of many options that can help take your paper world to the paperless cloud.
Conclusion
Even in this highly digital world there is still plenty of paperwork to manage and keep organized.  Don't let it become the thing that bogs down your business and prevents future growth.  Keep it organized and as stress free as possible and you will help your business become more streamlined every day.