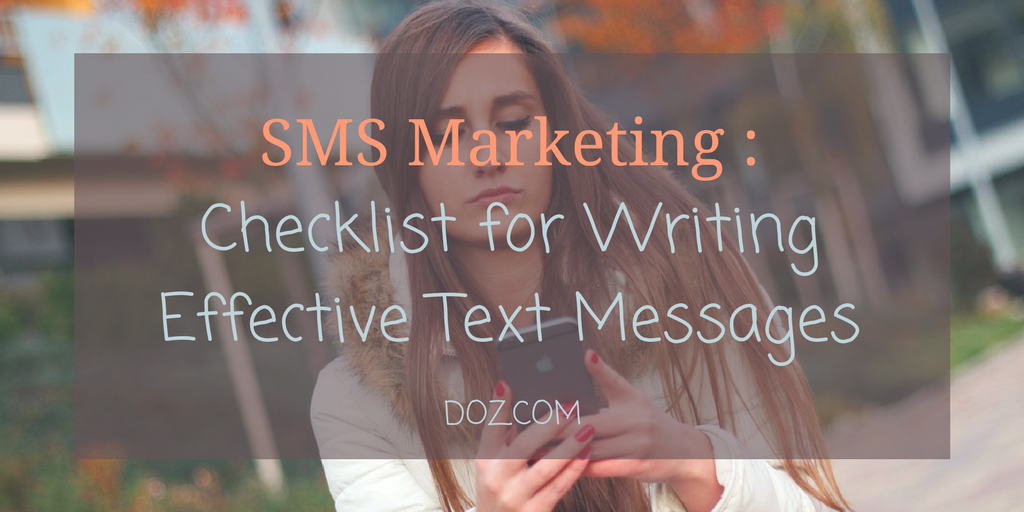 It seems like everyone has a smartphone now. It spans the generations, including young and old. With the technology comes the use of text messages, which has replaced the majority of phone conversations for many people. Studies have found that there is a much higher chance of your message being read if you send it via text than email – with the open rate of 98% for SMS messages vs. 22% for emails. And, businesses are catching on to this fact and incorporating text messages into their marketing efforts and finding great success.
The automotive chain, Pep Boys, has an older demographic of customers and is a brick-and-mortar store, however, they have been able to use SMS marketing to improve customer service and provide discounts and offers to their clientele. Their campaign resulted in a 9% redemption rate on the coupons that they were sending.
SMS messaging campaigns work for service businesses as well. One salon has boosted their margin significantly by introducing this style of marketing in their business. They send appointment reminders, beauty tips, and even last minute cancellation openings out to their clientele.
To make the most out of an SMS campaign you have to follow some basic ground rules:
Personalize It
There are two ways to personalize your text message and they are both equally important. The first step is letting the recipient know who the message is coming from.  It's easy to think that your customer will know the message is from you because they opted into receiving the messages in the first place, but that is not usually the case. Consumers sign up and agree to be contacted by lots of companies in exchange for free or discounted items and you want to make sure they know the message is coming from your business.
Many businesses, like Texas Roadhouse, accomplish this by leading off the message with their business name. For example, one message sent out by the restaurant was, "Texas Roadhouse: Thanks for joining! Click here for your Free Legendary Appetizer [link] Offer valid for 2 weeks." Each message that they send starts out with the name of the restaurant and customers are able to see who it's from before even opening it.
The second way to personalize a message is by including the name of your customer into the message. This especially goes a long way if you own a smaller business, like a hair salon, instead of a national chain restaurant. It's important to your clientele to believe that you know who they are when you are reminding them of an appointment, and including their name in your message accomplishes that.
Grab Their Attention
Text messaging has become a part of our everyday lives. Over 40% of Americans check their phone within the first five minutes of waking up each day. People are constantly receiving messages throughout the day. If you want your message to stand out from the rest you need to find a way to grab their attention.
Make it Count
Customers do not want you to waste their time. When you send a text message to a customer it needs to provide value. Look again at the Texas Roadhouse example used above. They could have simply sent a text that said "Texas Roadhouse: Thanks for joining! You will now begin receiving offers in the future". This would get the point of the message across to the person receiving it. They would know they were signed up to receive offers. But, the message would provide no value to them at that moment. Future value doesn't count. People want it and they want it now.
The message above offered a free appetizer. If you are a fan of the restaurant enough to sign up for their marketing campaign this is of value to you. And, since they put a time limit on the deal it encourages people to come in quickly to take advantage of it. This is the perfect example of providing value in the message.
Make it Relevant
A message cannot be valuable if it is not relevant. The more you are able to learn about the recipient of the message the more relevant the texts can be. Sending an offer on free kids meals with the purchase of an adult meal to an 18-year-old with no children is not going to convert to a sale. It will just frustrate the recipient. Send too many irrelevant messages and the recipient will most likely opt out of receiving further offers from your company.
Use a Power Word
Power words make great attention grabbers. They are words or phrases that stir up emotion within the reader. These include words like: free, new, instantly, you, secret, improvement, and now. Power words have been proven to help convert sales. These words connect with the reader and help them engage. Think about it from your own perspective – if you receive a message and see the word "free" doesn't it make you keep reading to find out the details?
Give them the Details
Now that you have their full attention through using power words, and providing value, it's time to help them take action. This is where you need to spell out the details for your reader. They need to know what to do in order to take advantage of the information that you are sending them. With only 160 characters to use strategy is the key to success. Think what the most important details are and if there is a way to provide them with additional data.
You can include a link for them to click if they are interested in more information. Use a link shortener, like Bitly, to help save on the number of characters you are using. Or, they could have the option of replying with a certain word to get the process started. Is there a deadline they need to know or a location? Make sure the crucial details are made available within the message or that you provide an easy way for them to get the information.
Wrap it all up with an easy call-to-action. Create a sense of urgency in responding to the message. Try including phrases like "limited time offer" or "last chance".
Final Dos and Don'ts of SMS Marketing
Remember, just because you are sending a text message doesn't mean that the rules of professionalism don't come into play. Avoid using "text lingo" like Gr8 instead of great. Keep in mind that your messages are reflecting on your brand as a whole. The occasional use of an emoticon is ok, but avoid overdoing it.
Carefully choose when to send your message. If you send it when the majority of people are commuting it will end up mixing in with the other messages they've received while on the road. If you send it when most people are sleeping you might irritate your customers. And, most importantly do not overwhelm your list with messages. You should limit the number of messages you send to no more than 4 a month.
Many businesses are finding great success with SMS marketing. The key to having a successful campaign is following these guidelines. They will help you grow your list, convert customers, and increase your sales, all while providing valuable information or offers to your customer base. It's a win-win for both sides.